NSU Newsroom
SharkBytes
Horizons
This version of NSU News has been archived as of February 28, 2019. To search through archived articles, visit nova.edu/search. To access the new version of NSU News, visit news.nova.edu.
This version of SharkBytes has been archived as of February 28, 2019. To search through archived articles, visit nova.edu/search. To access the new version of SharkBytes, visit sharkbytes.nova.edu.
NSU Wellness Magazine is now available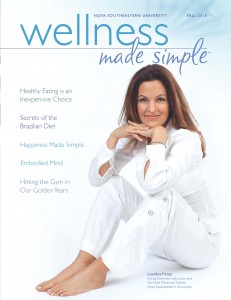 The 2010 issue of Wellness Made Simple, NSU's wellness magazine, is now available. All NSU faculty, staff, and administrators, will be receiving individual copies now and in the upcoming weeks. This issue of Wellness Made Simple explores healthy eating and the six dimensions of wellness: social, occupational, spiritual, physical, intellectual, and emotional. We bring stories that matter most to you in your quest to live a healthy lifestyle and experience the joy of wellness.
While many people understand that eating a healthy diet is essential to wellness, not too many practice it. Their busy lives leave them little time to cook nutritious meals, opting for fast-food and TV dinners – which are easy options for harried lifestyles. Still, there are others not eating healthy because of a stereotype that healthy eating is too expensive, compared to eating less nutritious meals. This issue shines the light on eating right, so you can make better choices in the supermarket and in your kitchen.
We also explore happiness and whether anyone knows the true meaning of happiness. Perhaps there is not a concrete definition for happiness. Maybe what defines happiness is all around us. Instead of focusing on the destination, focus on the journey. In doing so, we can appreciate the special moments in our lives that we often overlook. Our dependence on technology is making our lives busier than ever. We take work home, constantly answer e-mails, and always check our social pages. Isn't it time for us to slow down and focus on wellness, so we don't become workaholics? Meditation might be worth trying to help us de-stress and free our minds. A tried and true practice since the beginning of time, meditation promotes calmness and helps further spiritual development.              
As usual, Wellness Made Simple brings you the latest wellness tips and events for you to enjoy as a member of the NSU family. We have everything, including the NSU Biggest Loser challenge, the NSU Health and Wellness Fair, A Day for Children, the Shark Shuffle 5k Run/Walk, and more. Take advantage of these activities designed to foster healthier lifestyles. Also, don't forget to take advantage of university resources such as the NSU Health Care Centers, RecPlex fitness center, Sports Medicine Clinic, campus recreation, and student counseling, among others. For more information, please contact managing editors Ken Ma, M.B.A., at ken.ma@nova.edu; or Marcela Sandigo, M.B.A., at pmarcela@nova.edu.
---
---