NSU Newsroom
SharkBytes
Horizons
This version of NSU News has been archived as of February 28, 2019. To search through archived articles, visit nova.edu/search. To access the new version of NSU News, visit news.nova.edu.
This version of SharkBytes has been archived as of February 28, 2019. To search through archived articles, visit nova.edu/search. To access the new version of SharkBytes, visit sharkbytes.nova.edu.
Impressive Slate of Entrepreneurs Inducted into Huizenga Business School's Hall of Fame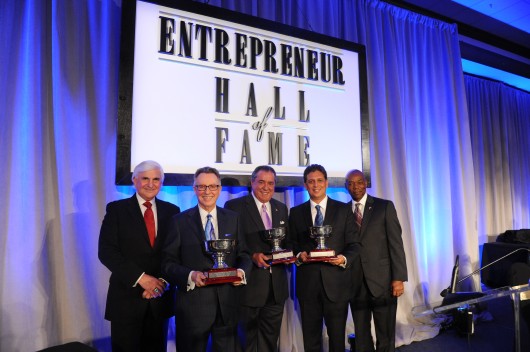 (Photo caption: NSU President George L. Hanbury II with Hall of Fame inductees Thomas H. Shea; Felix S. Sabates, Jr.; Armando Leighton, Jr. and Interim Dean J. Preston Jones.)

NSU's  H. Wayne Huizenga School of Business and Entrepreneurship recently inducted three South Florida business leaders – Thomas H. Shea; Armando Leighton, Jr.; and Felix S. Sabates, Jr.– into its Entrepreneur Hall of Fame, the Huizenga Business School's highest honor.
The event, which was held at the Signature Grand in Davie, drew 550 guests. International sales expert Grant Cardone served as event emcee, and welcome remarks were given by NSU President George L. Hanbury II, Ph.D., and Huizenga Business School Interim Dean J. Preston Jones, D.B.A.
Other special guests included NSU Chancellor Ray Ferrero Jr., J.D.; NSU President Emeritus Abraham S. Fischler, Ed.D.; Huizenga Business School Dean Emeritus Randy Pohlman, Ph.D.; entrepreneur and fellow Hall of Famer Ron Bergeron; Board of Trustee Chair Ronald G. Assaf; Board members Mike Jackson,   Zachariah P. Zachariah, Alan B. Levan, Mitchell W. Berger,  Rick Case with his wife  Rita, Joseph C. Amaturo, John H. "Papa John" Schnatter, Steven J. Halmos, Thomas J. Miller, and many other Hall of Fame members.
"This year's inductees into the Hall of Fame are exceptional business and community leaders, and we are proud to have them join the Huizenga Business School family," said Interim Dean J. Preston Jones, D.B.A. "Their entrepreneurial character exemplifies what we teach our students; they are models of personal and professional success."
The Entrepreneur Hall of Fame was established in 1990 to honor the achievements of outstanding entrepreneurs who contributed not only to the growth of a phenomenal entrepreneurial business, but have also demonstrated a willingness to contribute time, effort and financial resources to programs and activities that enhance the quality of life in the communities in which we live.
For more information on the Entrepreneur Hall of Fame and to see past inductees, visit: http://www.huizenga.nova.edu/EHoF/HOF.htm
*  *  *  *  *  *  *
About the 2013 Inductees
Thomas H. Shea
Chief Executive Officer, Right Management – Florida/Caribbean
While working as a human resources executive in 1979, Thomas H. Shea saw an opportunity to assist laid-off workers in Florida transition to new careers. Shea quit his job and with his spouse Maureen, opened Florida's first outplacement firm out of his home. Within two years, Right Management, a nationwide career management company, approached Shea about a partnership.
Today, Right Management's Florida/Caribbean Division is consistently one of the best performing divisions of the company and is one of only three independently owned regions in Right Management's network. The Division is part of a national network of resources, offering expertise in talent assessment, leader development, organizational effectiveness, employee engagement, and workforce transition and outplacement with locations in Fort Lauderdale, Miami, Jacksonville, Orlando, Tampa and San Juan, Puerto Rico. The company has remained successful by observing the changing employment environment and providing new services. Offerings to businesses and employees have been expanded, including the introduction of organizational consulting and talent management development. The Division has enabled more than 40,000 people in Florida and the Caribbean to advance their careers.
In addition to shaping South Florida's Human Resource environment, Shea has developed programs like Booming VOICES, in partnership with the Community Foundation of Broward. The program engages retirees in community service. Shea also serves on boards such as the Florida Council of Economic Education and the Broward Workshop.
Armando Leighton, Jr.
CEO/Founder, CRS Jet Spares
Armando Leighton, Jr. grew up in Hialeah, FL, where he attended Miami Lakes High School and Miami-Dade North Community College. He earned an associate of science degree in marketing and management and an associate of arts degree in business in 1978. His entrepreneurial spirit and love of aviation were sparked at the early age of 13 when a neighbor offered to let him work after school and during holidays at his aviation company. He jumped at the chance to earn $1.50 an hour and held various aviation-related jobs throughout high school and into college.
In 1982, with a total of $2,000 in savings, Leighton established his own company, Corporate Rotable & Supply, Inc., out of his family garage. His ability to speak intelligently with pilots, mechanics and purchasing agents enabled his new company to thrive. Within three years, the company's inventory filled the garage shelves and sales exceeded $1 million with only one part time employee – Leighton's mother, Mirta Oviedo, who remains a loyal employee today.
Outgrowing its facilities more than once, the company moved into a 43,000-square-foot facility in Fort Lauderdale in 1991 and international customers' needs are met through offices and distribution centers in London, Singapore and Brazil. One of Leighton's proudest accomplishments was designing a D.C.-powered generator to replace an unreliable one in the Bombardier Learjet 35 & 55 Series jet. After six years of development, he received FAA approval and brought it to market in 2002.
Giving back to the community is an integral part of the culture at CRS. Employees and their family members at all levels eagerly support numerous charitable organizations throughout South Florida. Leighton has supported: Gilda's Club South Florida, Jack & Jill Children's Center, Museum of Discovery & Science, Broward College/ Aviation School, Holiday Park and Recreation, Broward Workshop, Pine Crest School, and has served on the board of directors of Community Foundation of Broward and WPBT Channel 2. In 2008, Armando was honored with the "Excalibur Award, Small Business Leader of the Year," an award given annually by the Sun Sentinel. He has been a resident of Broward County for more than 30 years with his family.
Felix S. Sabates, Jr.
Chairman, Trinity Yachts, LLC
Born in Cuba, Felix Sabates, Jr. immigrated to the United States at age 16. His first job was selling cars in Charlotte, NC where he proved to be a fast riser and accomplished salesman. He was recruited to work for Top Sales Company, where he was so successful that he was able to buy the company in just a few years, growing the business to more than $6 billion in sales.
Sabates has a long history of involvement in sport and recreation activities, including being involved in NASCAR as an owner, as one of the original owners of Charlotte Hornets, and currently as part owner in the Charlotte Bobcats. He also started the first indoor soccer league and was one of the initial investors in the World Football League.
He later branched out into the yacht business, buying the largest custom yacht builder in the U.S., and is co-owner of International Yacht Collection, with offices in Fort Lauderdale, Monaco, Newport, Palm Beach, Nassau and Sint Maarten. Returning to his early professional roots, Sabates most recently entered the automobile dealership business, growing his business and earning the award for #1 Mercedes dealership in the nation by JD Power.
Sabates serves on the boards of the Carolinas Medical Center, University of North Carolina – Charlotte (UNC), and Applica (Black & Decker). He also served on the North Carolina State Banking Commission for seven years as a commissioner. He has contributed generously of his time and fortune to philanthropic causes, including the Boys and Girls Clubs of South Florida. He holds honorary doctorate degrees from both Elon University and UNC.
---
---