NSU Newsroom
SharkBytes
Horizons
This version of NSU News has been archived as of February 28, 2019. To search through archived articles, visit nova.edu/search. To access the new version of NSU News, visit news.nova.edu.
This version of SharkBytes has been archived as of February 28, 2019. To search through archived articles, visit nova.edu/search. To access the new version of SharkBytes, visit sharkbytes.nova.edu.
2013 Undergraduate Commencement: Celebrating the Success of NSU's Graduating Class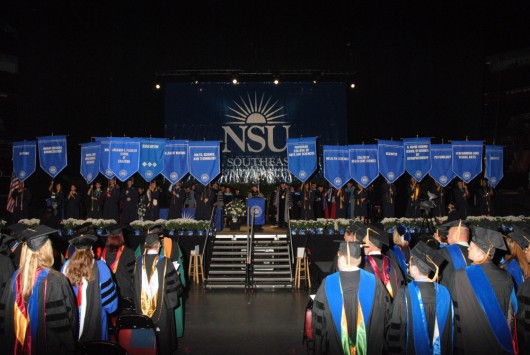 More than 900 NSU students crossed the stage at the 2013 Undergraduate Commencement ceremony on May 11 at the BB&T Center in Sunrise. Thousands of friends and family members, as well as more than 120 NSU faculty members, joined in celebrating the achievements of the graduating students from NSU's Farquhar College of Arts and Sciences, Abraham S. Fischler School of Education, College of Health Care Sciences, College of Nursing, and H. Wayne Huizenga School of Business and Entrepreneurship.
Highlighting this year's exercises were speeches from NSU president George Hanbury II, Ph.D.; class of 2013 member Yineth Sanchez, who earned bachelor's degrees in legal studies and philosophy; and Bertice Berry, Ph.D., an educator-turned-entertainer, lecturer, and comedienne.
"All of you will be embarking on new beginnings," Hanbury said. "I hope your time here at NSU has taught you the value of lifelong learning."
Citing the university's eight core values, such as community and diversity, Hanbury focused on the importance of maintaining one's integrity.
"Integrity is like a mirror: once shattered, it's difficult or impossible to restore," Hanbury said. He challenged each of the graduates to live with integrity.
"I'm not going to sugarcoat it for you … life is hard," Hanbury said. "[But] those who work hard, pursue their dreams, and lead an honest and ethical life with integrity—those are the ones who will rise to the top."
Speaking on behalf of her classmates, Sanchez reflected on the lessons learned inside and outside the classroom as undergraduate students at NSU, and how to apply those lessons going forward.
"Today is not just about personal success," Sanchez said. "It's about using our knowledge to make a difference in the world. With this knowledge, we have the opportunity to better ourselves and our community.
"As we leave Nova Southeastern University … let us accept the challenge of making a positive difference in all the lives that we touch."
Drawing from the 2012–2013 academic theme of "Life and Death," keynote speaker Berry presented an energetic and uplifting address that even included moments of a cappella.
"Research and my mother prove that 100 percent of people who are living will die," Berry quipped. "But, we also know that not 100 percent of the people who are living are truly living."
Berry advised students that "you can't take yourself for granted." Furthermore, you must rise above the obstacles you face in life. Despite growing up poor and being told she "wasn't college material," Berry overcame adversity to not only graduate from college, but also earn a Ph.D. in Sociology from Kent State University by age 26.
"It's up to you to figure out what to do with the fact that you are here," Berry said. "When you live with purpose, you come up with destiny."
Baccalaureate Reception
The night before Commencement, NSU hosted the annual Baccalaureate Reception, a social event that recognizes and celebrates the achievements of the university's graduating class. About 1,500 people attended the event, including graduating students, family members, and friends, as well as NSU faculty and staff members.
---
---