NSU Newsroom
SharkBytes
Horizons
This version of NSU News has been archived as of February 28, 2019. To search through archived articles, visit nova.edu/search. To access the new version of NSU News, visit news.nova.edu.
This version of SharkBytes has been archived as of February 28, 2019. To search through archived articles, visit nova.edu/search. To access the new version of SharkBytes, visit sharkbytes.nova.edu.
Symposium on the Influence of Social Media on Highly Publicized Criminal Trials, Oct. 27
You are invited to join the Shepard Broad Law Center for a panel discussion to discuss the effects of Facebook, Twitter and YouTube, as well as commentary, on the Casey Anthony Trial and other highly publicized criminal trials. The discussion will also include ethical constraints on mental health professionals who involve themselves in media proceedings. This symposium is being hosted by the NSU Criminal Law Society and the Nova Trial Association.
What:            Influence of Social Media on Highly Publicized Criminal Trials
Date:              October 27, 2011
Time:            5:30 p.m. to 7:00 p.m.
Location:    NSU LAW – Large Lecture Room
Following the symposium you are invited to join us for a reception located in the Faculty Study.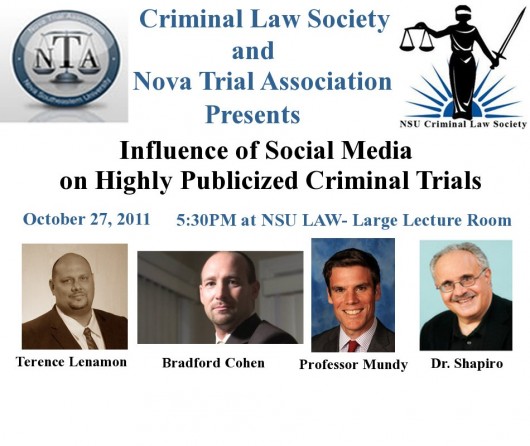 Biographies of the panelists follow:
Bradford Cohen
Fort Lauderdale Criminal Lawyer Bradford Cohen, recently noted, "Top Notch Criminal Defense Lawyer" by Catherine Crier of Court TV, and called the "go to…miracle worker" by TMZ.com, he is a requested expert legal commentator on CNBC, NBC, The Dan Abrams Show, Nancy Grace, Fox News, CNN and Celebrity Justice.
He has criminal trial experience in both Federal and State Courts. He has handled Federal criminal matters in and outside the State of Florida, including but not limited to White Collar Crimes, Extortion, Gun Charges, Mortgage Fraud, Bank Fraud, Theft, Drug Trafficking, and 1st degree Violent crimes. Bradford is a sought after criminal attorney for tax matters, both civil and criminal due to his extensive background in finance and accounting. Although, high profile in regards to legal commentary and his experience in Criminal Defense, his notable clients recognize his representation is discreet and aggressive, without compromising their rights.
Hugh Mundy
Professor Mundy is an Assistant Professor of Law who teaches Lawyering Skills & Values I & II and supervises the Criminal Justice Clinic. He joined the Shepard Broad Law Center after eight years with the Federal Public Defender in the Middle District of Tennessee and the Southern District of New York. As an assistant federal defender, Professor Mundy represented clients in a broad range of cases involving narcotics, firearms, immigration, federal benefits, and internet-based offenses. In addition, he argued multiple appellate cases in the United States Court of Appeals for the Sixth Circuit. Prior to serving as an assistant federal defender, Professor Mundy was an Equal Justice Works Fellow at the Tennessee Justice Center in Nashville where he participated in litigation to expand services for children under the state's managed Medicaid program. Professor Mundy also clerked for the Honorable A. Richard Caputo in the Middle District of Pennsylvania.
Professor Mundy holds a Juris Doctorate from The Catholic University of America where he was a Charles & Louise O'Brien Public Interest Fellow and a Dulin-Haynes Law & Public Policy Fellow. He received a Bachelor of Arts in English from the University of Notre Dame.
Terence M. Lenamon
Terry Lenamon is a Florida Bar Board Certified Trial Lawyer – a significant accomplishment that few attorneys have achieved.
Martindale Hubbel rates Terry as an AV Preeminent attorney. An AV Preeminent rating is given to only the top 2% of the legal profession for excellence in both ability and integrity.
With over 17 years experience and more than 100 jury trials under his belt, Mr. Lenamon has built a reputation as one of Florida's most respected criminal defense lawyers. His skilled, high-quality defense has been sought by many high-profile clients including Ceasar Mena and Casey Anthony and has led him through 20 first-degree murder trials and eight death penalty cases. That experience has brought him national recognition as a go-to commentator on death penalty issues.
Whether it be capital crimes or DUI, Mr. Lenamon puts his trial skills to work for clients accused of the most serious of crimes and facing the most serious of punishments. His cases have been profiled on national television shows including "The Point", Nancy Grace and "The First 48." He has successfully persuaded the State to waive the death penalty more than 26 times.
Mr. Lenamon is an active participant in the Trial Lawyer's College, has taught techniques in mitigation investigation for the Florida Association of Criminal Defense Lawyers and was chosen to present techniques on creative brief writing in capital litigation.
David Shapiro, Ph.D.
Dr. Shapiro is a Professor of Psychology at the Center for Psychological Studies where he teaches in the Forensic Concentration.  He has taught at Nova since 2000 and prior to that had taught at the John Jay College of Criminal Justice and at Johns Hopkins University.  He is also an Adjunct Professor of Law at the New York Law School's online program in Mental Disability Law. He has been Board Certified in Forensic Psychology by the American Board of Professional Psychology since 1979 and has taught many continuing education courses in psychology and law. He has also been involved in ethics education for over thirty years and led a task force which made significant contributions to the APA Code of Ethics. He has served on the ethics committee of the American Psychological Association and has chaired the Ethics committee of the American Board of Professional Psychology. He has been President of the APA Dision of Media Psychology. His recent presidential address dealt with ethical issues when psychologists interact with the media.
---
---