NSU Newsroom
SharkBytes
Horizons
This version of NSU News has been archived as of February 28, 2019. To search through archived articles, visit nova.edu/search. To access the new version of NSU News, visit news.nova.edu.
This version of SharkBytes has been archived as of February 28, 2019. To search through archived articles, visit nova.edu/search. To access the new version of SharkBytes, visit sharkbytes.nova.edu.
Sports Medicine Panel Just One Part of Athletic Training Month Celebration at NSU, March 19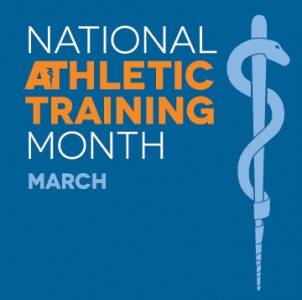 In honor of National Athletic Training Month, the Farquhar College of Arts and Sciences Athletic Training Education Program (ATEP) will host an interprofessional education panel discussion with NSU's Health Professions Division, featuring a quartet of athletic training professionals discussing sports medicine.
"Patient-Centered Care in Sports Medicine" | A Panel Discussion
Wednesday, March 19, 2014
Noon–12:45 p.m.
Terry Building | Room 2107–Auditorium A
The panel will include Dustin Gatens, M.S., ATC, a head athletic trainer at NSU; Steve Pfister, M.S., PT, OCS, part of NSU's sports medicine interdisciplinary team; Stephen Russo, Ph.D., faculty athletic representative at NSU; and Elizabeth Swann, Ph.D., ATC, associate professor and athletic training program director at the college.
All are encouraged to attend and participate in this free discussion.
NSU Athletic Training Majors Aid Sharks, Athletes Across Community
Athletic trainers are everywhere, ready to aid athletes of all ages as they strive toward success. Here at NSU, athletic training majors not only help the Sharks, but they're also active in the community.
Each year, NSU students are on hand to assist at several local races and athletic events, such as February's A1A Marathon and March's Riverwalk Run in Fort Lauderdale. They also volunteer at Camp Katina, the annual gymnastics event for local children hosted by Jason and Katina Taylor. The athletic training majors gain valuable, practical experience while providing community members first-rate medical service.
Celebrate National Athletic Training Month at NSU
All students, faculty, and staff members are invited to join in the celebration of National Athletic Training Month at NSU.
—On Friday, March 21, it's Athletic Training Night at the ballpark as the Sharks take on St. Leo at the NSU Baseball Complex. Admission is free. Gates open at 5:00 p.m.; first pitch at 6:00 p.m.
—Check out this special athletic training video airing on SharkTube across campus
—Learn more about the professional and personal lives of current and future athletic trainers: listen to the award-winning ATPodcast series, co-created by Pradeep Vanguri, Ph.D., associate professor and coordinator of athletic training at clinical site. Also available on iTunes.
---
---