NSU Newsroom
SharkBytes
Horizons
This version of NSU News has been archived as of February 28, 2019. To search through archived articles, visit nova.edu/search. To access the new version of NSU News, visit news.nova.edu.
This version of SharkBytes has been archived as of February 28, 2019. To search through archived articles, visit nova.edu/search. To access the new version of SharkBytes, visit sharkbytes.nova.edu.
South Florida Coral Reefs to Get a Helping Hand – Anchorage Changed to Help Avoid Mishaps
NSU Researchers Play Vital Role in Project
FOR IMMEDIATE RELEASE
FORT LAUDERDALE/DAVIE, Fla. – There's no denying it – our coral reefs are in danger.
Given that healthy coral reefs are a must to maintain healthy oceans, it's vital that we do whatever we can to ensure they not only survive, but thrive. To that end, researchers at Nova Southeastern University's (NSU) Halmos College of Natural Sciences and Oceanography have been working with other experts to help protect South Florida's coral reefs.
There are commonly known threats to our coral reefs – climate change, pollution and disease, all of which are contributing to the reefs' decline. And while these garner the yeoman's amount of attention, there's one that's been around since humans first took to the seas: boat damage. Every year, reefs around the world suffer damage from either boats "running aground" or by dropping their anchors where they shouldn't.
Partnering with the U.S. Coast Guard and the Florida Department of Environmental Protection, NSU has helped the modification of the Port Miami Anchorage Area in Miami Beach. These changes in design and configuration will protect more than 600 acres of coral reef from future impacts by having vessels avoid the protected areas and reducing the current anchorage area by nearly three square nautical miles. Additional benefits include decreased shipping hazards because the new anchorages provide adequate depth for the safe anchorage of new, larger, Post Panamax shipping vessels that may now utilize post-expansion Port Miami.
"This is a great example of coastal marine spatial planning where both use and conservation were balanced to make a positive change," said Brian Walker, Ph.D., a research scientist at NSU's Halmos College . This modification ensures that vessel anchoring will be conducted more safely and that the coral reefs are spared from this chronic stressor and the biological communities on over 600 acres of reef habitat can begin to recover."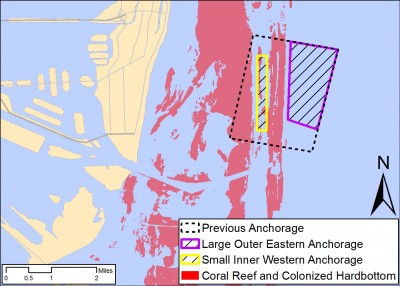 The new anchorages are the result of extensive collaboration between numerous stakeholder groups, agencies, universities and private citizens at federal, state and local levels. Studies conducted by DEP and NSU showed that anchorage modification was necessary to reduce reef damage to the ecologically and economically important northern portion of the Florida Reef Tract. Ranging from the northern boundary of Biscayne National Park to the St. Lucie Inlet in Martin County, this reef system provides over 70,000 jobs and $6.4 billion annually to Florida's economy. It is also home to approximately 45 coral species and over 305 fish species, some of which are listed on the Endangered Species Act. These corals and fish communities attract tourists both regionally and globally.
This study led to the formation of a working group coordinated by USCG, DEP and NSU, where a group of varied stakeholders including federal and state agencies, port pilots, Port Miami administration, university scientists and other shipping interests worked together to design the new configuration.
"In an era of tight budgeting, competing priorities and different organizational cultures, we were able to accomplish this project by remaining flexible and not losing sight of our common goals," said Paul D. Lehmann, U.S. Coast Guard Seventh District Prevention Waterways Management Division.
Be sure to sign up for NSU's RSS feed so you don't miss any of our news releases, guest editorials and other announcements. Please sign up HERE.
###
About Nova Southeastern University (NSU): Located in beautiful Fort Lauderdale, Florida, Nova Southeastern University (NSU) is a dynamic research institution dedicated to providing high-quality educational programs at the undergraduate, graduate, and first-professional degree levels. A private, not-for-profit institution, NSU has campuses in Fort Lauderdale, Fort Myers, Jacksonville, Miami, Miramar, Orlando, Palm Beach, and Tampa, Florida, as well as San Juan, Puerto Rico, while maintaining a presence online globally. For more than 50 years, NSU has been awarding degrees in a wide range of fields, while fostering groundbreaking research and an impactful commitment to community. Classified as a research university with "high research activity" by the Carnegie Foundation for the Advancement of Teaching, NSU is 1 of only 50 universities nationwide to also be awarded Carnegie's Community Engagement Classification, and is also the largest private, not-for-profit institution in the United States that meets the U.S. Department of Education's criteria as a Hispanic-serving Institution. Please visit www.nova.edu for more information about NSU and realizingpotential.nova.edu for more information on the largest fundraising campaign in NSU history.
About NSU's Halmos College of Natural Sciences and Oceanography: The college provides high-quality undergraduate (bachelor's degree) and graduate (master's and doctoral degrees and certificates) education programs in a broad range of disciplines, including marine sciences, mathematics, biophysics, and chemistry. Researchers carry out innovative basic and applied research programs in coral reef biology, ecology, and geology; fish biology, ecology, and conservation; shark and billfish ecology; fisheries science; deep-sea organismal biology and ecology; invertebrate and vertebrate genomics, genetics, molecular ecology, and evolution; microbiology; biodiversity; observation and modeling of large-scale ocean circulation, coastal dynamics, and ocean atmosphere coupling; benthic habitat mapping; biodiversity; histology; and calcification. The college's newest building is the state-of-the-art Guy Harvey Oceanographic Center, an 86,000-square-foot structure filled with laboratories; offices; seminar rooms; an auditorium; and indoor and outdoor running sea water facilities. Please visit cnso.nova.edu for more information.
Media Contacts
August 16, 2017
Joe Donzelli | Office of Public Relations
954-262-2159 (o) | 954-661-4571 (c)
jdonzelli@nova.edu | www.nova.edu | @NSU_Joe
Florida Department of Environmental Protection
Press Office
305-795-1222
---
---