NSU Newsroom
SharkBytes
Horizons
This version of NSU News has been archived as of February 28, 2019. To search through archived articles, visit nova.edu/search. To access the new version of NSU News, visit news.nova.edu.
This version of SharkBytes has been archived as of February 28, 2019. To search through archived articles, visit nova.edu/search. To access the new version of SharkBytes, visit sharkbytes.nova.edu.
Softball Head Coach Wins 400th Game With NSU in Split Day Two of Eckerd Spring Invite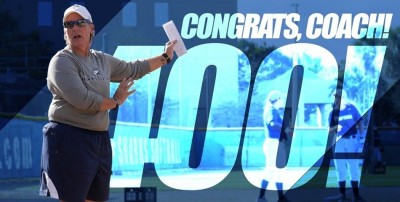 The Nova Southeastern University softball team (4-2) went 1-1 during day two of the Eckerd Spring Invitational Saturday, Feb. 14, defeating Young Harris (3-2), 11-6, and losing to Shorter (3-0), 8-7. Head coach Lesa Boneè earned her 400th win with the program, increasing her total as the winningest coach in program history.
NSU vs. Young Harris
The first game of the day featured two narratives, with the first half of the game playing out as a pitching duel that would be opened up in the final innings. Rebecca Thornton (So., Lodi, Calif.) carried her performance from Friday, Feb. 13  into this game, pitching near-flawlessly over the first five innings. Thornton prevented seven of nine batters from knocking the ball out of the infield. Thornton allowed a double in the first inning and a single in the fifth, shutting down the rest of the Lion offense.
Meanwhile, the Sharks were active on offense but stranded a handful of runners on base in the first four innings. In the fifth, NSU popped out to a 3-0 lead. Dakota Villella (So., Hollywood, Fla.) and Lorena Spaulding (Sr., Pembroke Pines, Fla.) each reached base to start the inning. Te Reo Powhiri Matautia (Jr., Auckland, New Zealand) broke the scoreless tie with a RBI bunt single. Katrina Ammons (Sr., Jacksonville, Fla.) and Thornton each followed up with batted in runs to put the Sharks ahead by three scores.
NSU had their biggest inning of the season in the sixth, scoring eight runs. The Sharks would blow the scoring margin wide with only three hits by staying patient and drawing seven walks. The Sharks scored in a variety of ways, including two walked in runs, one on a wild pitch, one on a throw to a separate base and another on a passed ball. The biggest hits in the eight-run inning came on a RBI single to second base from Ammons and a double to right center from Shelby Cogan (Sr., Fort Lauderdale, Fla.). The double came after four walks and scored two runs.
With an 11-0 lead, Young Harris needed to score at least four runs to keep the game from ending after six innings. The Lions came through, scoring four on a series of extra base hits and a crucial sacrifice fly with one out. NSU went hitless in the seventh inning and Young Harris tacked on two more runs to cut the Sharks' earlier lead in half.
In the win, Matautia, Ammons and Cogan combined to drive in six of the Sharks 11 runs, with Matautia scoring two runs herself. Thornton finished with three earned runs and a pair of strikeouts over six innings. Entire release
---
---