NSU Newsroom
SharkBytes
Horizons
This version of NSU News has been archived as of February 28, 2019. To search through archived articles, visit nova.edu/search. To access the new version of NSU News, visit news.nova.edu.
This version of SharkBytes has been archived as of February 28, 2019. To search through archived articles, visit nova.edu/search. To access the new version of SharkBytes, visit sharkbytes.nova.edu.
Sharks Baseball Wins NCAA Division II National Championship
NSU beats Millersville University, 8-6
For the first time in program history, the Nova Southeastern University baseball team (44-16, 18-6 SSC) has won the NCAA Division II National Championship!
The Sharks defeated the Millersville University Marauders (52-7, 25-3 PSAC) on last Saturday afternoon by a score of 8-6.
"It's been a lot of hard work, dedication and support to get to this moment," said head coach Greg Brown. "We've focused on the vision of being here and being prepared to win a championship."
No stranger to adversity, the Sharks found themselves in a 3-0 hole after the first inning, as Millersville scattered five hits to throw the first punch.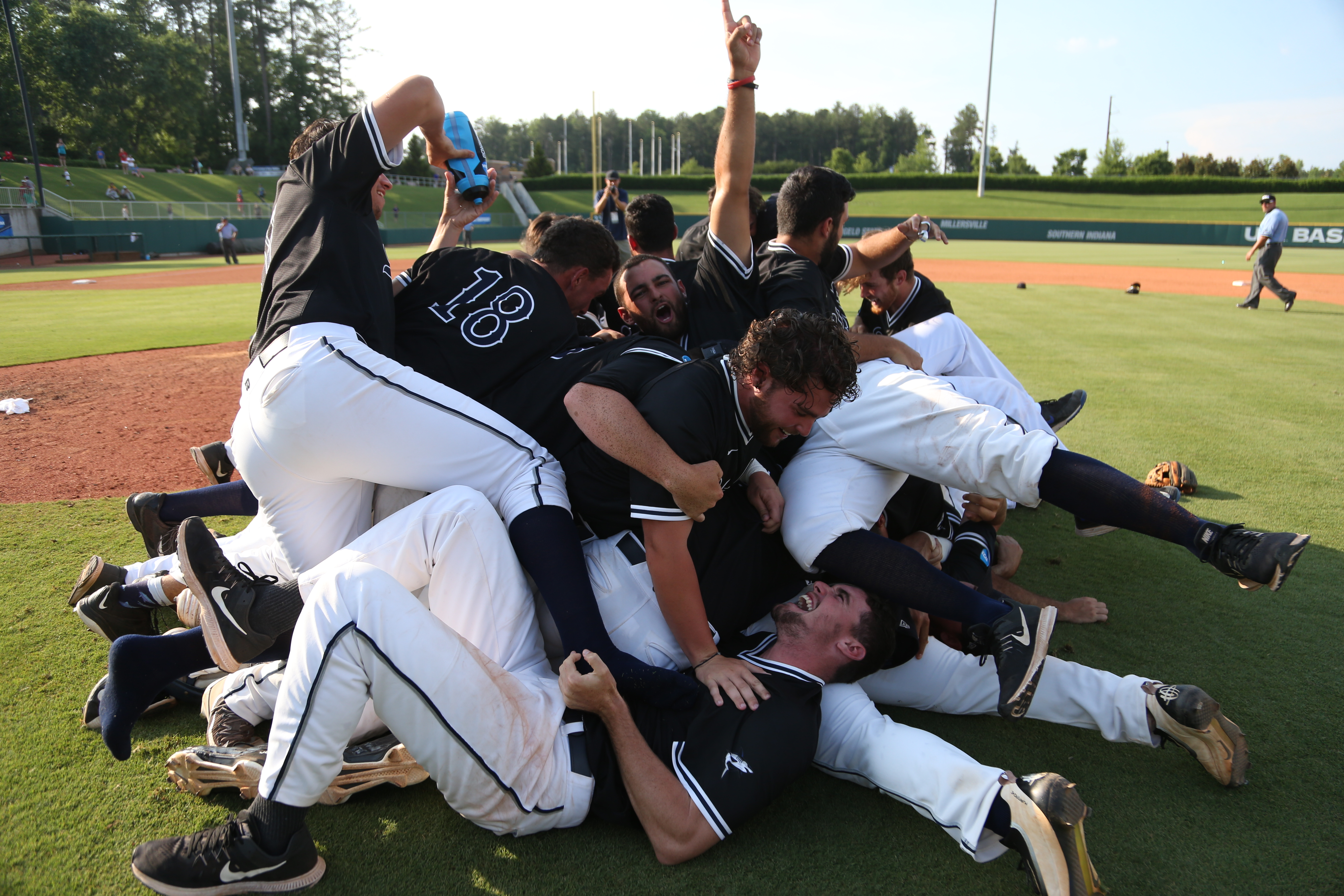 The Sharks got on the board in the third inning when Kevin Suarez launched his third home run of the year, a two run shot over the left field wall to cut the Millersville lead to one. "Kevin's home run changed the momentum of the game," said Brown. "My favorite part of it is that he's been scuffling in the cage and his hard work paid off."
Millersville responded with a run in the top of the fourth inning against starter Jonny Ortiz to extend their lead to 4-2. The Sharks returned the favor in a big way in the bottom of the fourth, scoring six runs to take a 8-4 lead. The scoring began with a two-run home run from All-Tournament team selection Danny Zardon. Dylan Woodsthen gave the Sharks the lead, dropping a single in front of the Millersville right fielder to drive in Sebastian Diaz. The Sharks then took advantage of a dropped fly ball in centerfield, scoring two runs to take a 7-4 lead. The six run inning was capped Jancarlos Cintron-Torres scoring on a Brandon Gomez fielder's choice.
Steven Fleming relieved Ortiz in the sixth, tossing two scoreless innings in relief before turning the ball over theRonald Patella. Patella allowed one run and with runners on first and second and two outs in the eighth, Brown decided to go with his closer Devin Raftery to finish the game. Raftery got the final four outs, allowing one runs in the ninth before the celebration began.
"I was fortunate enough to take over a program that was ready to win and was built by our Director of AthleticsMichael Mominey and Ryan Romero," said Brown. "The support has been amazing and we continue to set the bar higher and we are now at the pinnacle point of Division II baseball."
"In this moment all I can really say is that so many memories just flashed through my mind and probably will for a long time," said Director of Athletics Michael Mominey. "The tradition of NSU baseball started not too many years ago and for the 2016 team to be National Champions, it's just very emotional yet so gratifying. This championship is shared with so many great players and teams that have come before this 2016 club, but they deserve the credit for achieving what all of those teams had set out to do. These guys are truly the pure definition of a team and I couldn't be more proud to be standing right here with them."
On behalf of Director of Athletics Michael Mominey, head coach Greg Brown and the entire Nova Southeastern University baseball program, we would like to thank all Shark fans for their support throughout the 2016 season.
---
---