NSU Newsroom
SharkBytes
Horizons
This version of NSU News has been archived as of February 28, 2019. To search through archived articles, visit nova.edu/search. To access the new version of NSU News, visit news.nova.edu.
This version of SharkBytes has been archived as of February 28, 2019. To search through archived articles, visit nova.edu/search. To access the new version of SharkBytes, visit sharkbytes.nova.edu.
Rowing Wraps Up Preseason: Q&A with Head Coach Heather Barney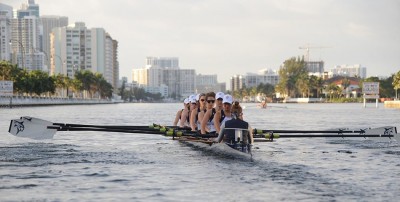 The No. 2 Nova Southeastern University rowing team has finished preseason schedule, in which it raced in three scrimmages throughout the early spring. NSUSharks.com sat down with new head coach Heather Barney to talk about the preseason and her crew.
Q: Can you talk about your overall outlook on the preseason?
A: We had a very productive preseason. One of the things that was really important to us when we put our schedule together was that we wanted to put our women in opportunities that would challenge them to grow. So we were really excited to get to go up against three really strong teams that we haven't had a chance to see in the past. One of the things they felt like they struggled with last year was that they won a lot of early-season races against not-terribly fast crews and then, at the end of the year, saw some speed. So this year we definitely front loaded and saw some fast crews early on.
We took a different approach and had three scrimmages that were almost like joint practices. They ranged anywhere from two minute pieces to six minute pieces, multiple shots per scrimmage, which gave them the opportunity to see where they were at, assess, and go back and see in real time where the improvements were. So from piece one through the end of the workout, we kept seeing improvement. Being able to be in a competitive situation that is hard to replicate on your own was incredibly valuable.
It was an incredibly productive three weekends and they conducted themselves really well. It was more of a challenge than they are used to at this point of the season and they did a phenomenal job of making the most of the opportunity.
Q: What were the biggest challenges the Sharks faced during the preseason?
A: We are definitely still working out lineups. As new coaches, it takes a while to get to know the rowers. They are learning a new style of rowing and that has been pretty evident. Our style fits with some people better than others and some people's learning curve is steeper than others. Also, getting to know how they approach racing and who steps up in the moment. One of the challenges was that we didn't know who the fastest eight rowers were, and we are still working through the hierarchy a little bit. So the lineup changed every single weekend, it was never the same in either boat. They did a good job of going out and making the most of it.
Also, the level of competition was very high. Bates has finished in the top three of NCAA's every year since 2007. They won the Head of Charles Collegiate 8 last fall, which is the most prestigious non-DI race of the fall. They beat Barry at that race and were ahead of some crews that we'll see later in the season. Grand Valley State is the three-time defending American Collegiate Rowing Association Champions. They have won it by 10+ seconds every year. They go to Dad Vails and race in the Division I race, and two years ago they won by many lengths of open water. Georgetown is a DI school that is making leaps and bounds. Our scrimmage was their first competition since they raced at the Princeton Chase in the fall, and they put in a top-20 finish. So we knew we were going up against well-established programs that have had consistent coaching for many years. They are a little bit ahead of us as far as our development as a program, and I thought our women did a phenomenal job taking that as an opportunity and not as an intimidating scenario. They know if they are going to get faster they need to see fast crews.
Q: Overall, how did the group respond as a whole to such strong competition?
A: Very well, we had some incredibly close pieces against Bates. They learned a ton over the course of that weekend. Against Grand Valley State, the highlight was that our 2V was out ahead of their 2V the whole workout. And against Georgetown… what I loved was that from piece one to piece four, they got closer and closer. Our 1V had a huge learning curve over that scrimmage. The last piece was as close to our normal race rating as we got that day, and I thought they did a great job from where they were earlier to putting in a very competitive last piece.
Q: Are there seat battles going on still and are the rowers still competing for spots in the top boat?
A: We are fortunate to have a good bit of depth and a good number of senior veterans who have accomplished a lot in their time. We also have some youngsters who have been very competitive, worked really hard and are making leaps and bounds. So we are getting there, but are probably a few days from having our lineup down.
Q: What were you able to learn about your freshman class over the last few weeks?
A: Our novices are doing an incredible job. They've done a lot to impact our culture and are getting better at making impacts physically. We've had them out a lot in pairs, which is not your typical novice experience. They are getting a ton out of that experience, and we are pumped about their development moving forward.
As far as our recruited freshman, we have four this year. Victoria Porretti (Norristown, Pa.) is our coxswain and she's doing an excellent job. The rowers really respond to her. She's steady and has a great attitude in terms of learning. Kamaye Nichols (Miami, Fla.) is a freshman rower, and we always knew she was a good technician, but she's been doing a nice job making boats go really fast. She was in our 1V this past weekend and did a good job. Danica Buse (Marysville, Wash.) has been stroking a lot, which is not a position she is used to. She's created a really nice rhythm and has been doing a great job making her boats go fast. Jenna Beavon (Kettering, Ohio) was out with an injury most of the fall and we were really excited to see her come back. She pulled a new PR on her 2K and is getting better and better over time. All four of them are doing a nice job and will make major contributions this year.
Q: What do the Sharks need to do moving forward to get ready for the first meet against Barry?
A: We need to finalize lineups, even though lineups are never necessarily finalized, but we are getting closer to what we're confident is our first eight. It's a little bit challenging having a rivalry race so early in the season, especially since we see them so many times throughout the season. We are definitely excited to go out and race them, but we'd definitely prefer to beat Barry in May than beat Barry in March. We definitely need it to be a continuation of our progression of the speed we need to have at the end of the season.
Our biggest goal at this point of the season is that we want them to lay down the biggest base rhythm that they can. Right now, we want to be in a positon to have phenomenal base speed over 2,000 meters, for which we can later on build good shifts and good sprints. So right now it's putting the lineups together and getting them working together as a unit.
The Sharks will travel down to Miami on March 28 to begin the season against the Barry Bucs. Check back with NSUSharks.com throughout the year for updates and news.
---
---