NSU Newsroom
SharkBytes
Horizons
This version of NSU News has been archived as of February 28, 2019. To search through archived articles, visit nova.edu/search. To access the new version of NSU News, visit news.nova.edu.
This version of SharkBytes has been archived as of February 28, 2019. To search through archived articles, visit nova.edu/search. To access the new version of SharkBytes, visit sharkbytes.nova.edu.
Realizing Potential: Young Alumnus Provides Legacy Gift, Matching Gift, and Annual Gift to NSU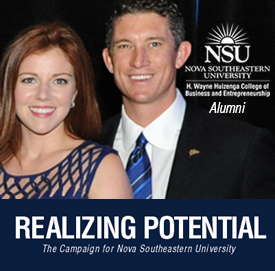 William Scott Parker, Jr. M.B.A ('06) is a Huizenga College of Business alumnus, a member of NSU Ambassadors Board, and a founding member of NSU's 1964 Society. He is also just 37 years old. In his own words, he describes why he passionately supports NSU: "I look at where I am in my career, and to be honest I wouldn't have my current job if I didn't get my M.B.A. from NSU. I'm an alumnus and my family resides in Fort Lauderdale. We plan on giving to NSU well beyond my company match for the Veterans Resource Center, and the planned gift that my wife and I recently undertook. We committed to the planned gift that will support The NSU Fund, because it's the most impactful way that we can support the Realizing Potential campaign at this point in time. As our careers progress, we're hopeful it will allow us to continue supporting NSU well into the future. Building great facilities, attracting top professors and educating talented students at NSU only enhances the business community and the living environment in South Florida. Talented alumni will remain in our communities well beyond graduation, they will join local companies, create entrepreneurial businesses and raise their families; it's a cyclical, almost a self-fulfilling prophesy making South Florida a more thriving environment.
"There are many elite universities across the country, most driven by strong endowments that've been built and supported by alumni over multiple generations. We have a premier university here in Broward County that has been championed by the generosity of local philanthropists over the years. There are so many impactful names throughout our community that are associated with NSU; whether it is Huizenga, Halmos or Horowitz. I think that's wonderful, however we need alumni to begin stepping up if the university's long-term goals are to be met. For graduates that attended NSU and received an education that's pivotal to their success, I believe it falls on our shoulders to secure the sustainability of this university for future students and the betterment of our community.
"I think as a relatively younger alumnus – I'm 37 years old – my commitment is to lead by example in upping my philanthropic ante as I realize further financial success in life. Hopefully my actions will prove inspiring, or at least cause other graduates to take pause and think about if now is an appropriate time to begin giving back to the university. There are so many highly successful people in in South Florida that are NSU graduates working in multiple professional disciplines; I interact with them on a daily basis.
"[My wife] Sarah is a Florida native born and raised in Miami and West Palm Beach, and I think she sees the impact that NSU is having on South Florida from multiple angles. NSU is one of the largest employers in Broward County; the jobs the university creates and professionals it graduates are impactful.  As the university continues to grow and thrive the byproduct will result in South Florida being a better place to live, work and raise families.
"We started off supporting the Ambassadors Board by the sponsoring the annual golf tournament.  I always tell people that the Ambassadors Board is positive for business, positive for Broward County, and most importantly positive for NSU.
"Our family committed to the planned gift because we wanted to do something meaningful for NSU after I recently heard Dr. Temple speak at an Ambassadors Board breakfast meeting. Very exciting things are transpiring at NSU from a medical perspective. Research will soon be underway that could one day save the life of people we know. Also watching the Oceanographic Center go up and seeing what a marvelous facility has been produced upon its completion; I'm passionate about fishing, and the future health of our oceans for generations to come. My wife and I are not at levels in our careers currently where we can stroke personal checks of $25,000 or $50,000. However, the ability to make a planned gift to NSU allows our family to make an influential difference for future NSU students; the fact that our gift will be counted for NSU's current Realizing Potential campaign only makes our donation that much more satisfying. For Sarah and me to have the ability to make a $10,000 gift that will produce $100,000 of benefit to the university in the distant future is very exciting. I can only imagine the university's potential if NSU continues on its current trajectory, and is successful in getting alumni more philanthropically involved.
"My parents, Sarah's family, my business partners at The Parker-Harrigan Group and many friends all live and work here in Broward County and throughout South Florida. That makes giving to NSU something we view as tangible and beneficial on multiple levels, Sarah and I have bought-in to promoting the university with our time and finances. We're involved in terms of going to events and in spreading the word regarding the potential of this institution. We believe that financially supporting NSU will allow the university to continue building premiere facilities, attracting top professors and educating talented students. Sarah and I have witnessed firsthand that many successful NSU graduates remain in South Florida, making Fort Lauderdale and the surrounding areas better places to live, work and raise our family."
---
---