NSU Newsroom
SharkBytes
Horizons
This version of NSU News has been archived as of February 28, 2019. To search through archived articles, visit nova.edu/search. To access the new version of NSU News, visit news.nova.edu.
This version of SharkBytes has been archived as of February 28, 2019. To search through archived articles, visit nova.edu/search. To access the new version of SharkBytes, visit sharkbytes.nova.edu.
Realizing Potential: Student Praises NSU for Accommodating Diverse Areas of Interest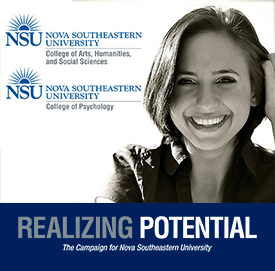 Brielle Rassler says she has been an NSU student on and off for 24 years if you count the Mailman Segal Center Mommy and Me class she attended when she was just six months old. She also performed as a middle school student on "the beautiful Miniaci stage." But she really began to spread her wings first as an undergraduate in the College of Arts, Humanities, and Social Sciences, and now as a second year student in the College of Psychology doctoral degree program.
In her words:
"I enrolled at NSU in the fall of 2010 and have been a student here ever since. My favorite part of my undergraduate experience at NSU was the freedom I had to customize my degree and my learning experience. I was a transfer student from a musical theatre conservatory and wasn't exactly sure how to translate all of my passions and interests into a degree. I switched majors many times and ended up graduating in December 2013 with a dance major and a double minor in psychology and substance abuse studies. I don't think there is any other university in the world that would accommodate such diverse areas of interest.
"I also took advantage of the university's amazing on-line class offerings, allowing me to work and pursue many interests while maintaining a fulltime course load. And thanks to [donor] generosity and commitment to the success of NSU and its students, I was able to receive a 100 percent academic scholarship for my undergraduate tuition. I also auditioned and was awarded yearly scholarships through the Division of Performing and Visual Arts.
"As I approached graduation, I knew that I wanted to pursue a graduate degree in psychology. I wanted to be Dr. Brielle! NSU's Psy.D. program in Clinical Psychology seemed to be the perfect fit, and in fact, it was the only program I applied to.
"I am now in my second year of the Psy.D. program. My favorite experience thus far has been participating in a two week trip to deliver psychological and other services to people in severely impoverished villages in Swaziland, a small country in South Africa. I am also an employee at NSU, serving as a Graduate Assistant in the President's Office. I love my job and my program, and I couldn't be happier or more fulfilled… Or so I thought.
"A few months ago, I again found myself in the Miniaci Performing Arts Center, this time as a member of Temple Adath Or, celebrating Rosh HaShannah and Yom Kippur. As I sat at my desk that day, I felt a nudge that said 'google rabbinical school.' Thus began my new journey, passion, and academic and professional endeavor. I soon found the ALEPH Alliance for Jewish Renewal, a distance-learning seminary that allows students to attend live Skype classes, leading to an ordination as a Rabbi. I am very proud to say that I am currently studying at ALEPH and am on my way to becoming Dr. rabbi Brielle.
"I also have always had a passion and desire to work with those suffering from eating disorders. There are many food-related rituals and experiences built into the religion and culture of Judaism. Unfortunately, Jewish women are over-represented in the eating disorder community, and many find that they have to compromise their religion to accommodate their recovery or vice versa. What often happens is the patient distances themselves from both their religion and their recovery, leaving them isolated and in relapse. My mission is to create the first residential eating disorder treatment center that specifically caters to the needs of Jewish women. I also plan to visit treatment centers around the state to facilitate Shabbat and holiday services for their patients.
"I [also] want to tell you about a wonderful experience I had recently with our [Celebration of Excellence] distinguished honorees. I was the recipient of a scholarship from the Miniaci family last year and as a result was invited to a photoshoot that would appear in the Sun Sentinel. Each member of the family made a point to engage in meaningful conversation. I showed Dominic the x-ray of my cervical disc implant from a recent surgery I had and I spoke with Beatriz about our mutual interest Judaica and her work with Jewish Family Services. When it was time to say goodbye I walked over to Rose and she held my hand, looked me in the eye, and wished me love and luck in all my endeavors. I felt in my heart she really meant it.
"Students hear about these families and we see their names on buildings and it's easy to feel separated from them. But on that day all of that changed. I spoke with these beautiful people and discovered that while undoubtedly special, they are human, just as I am.
"I see so many successful, and generous people from all walks of life sitting together and celebrating the excellence that is each one of you. I want you to know that you inspire me every day to do the best I can so that one day I will be sitting in your seat as a philanthropic contributor to this great university, listening to the next generation of Sharks talking about their plans for their futures.
"I want you to understand the impact that you have on the lives of NSU students. The education that I am receiving in the College of Psychology costs just over $1 each minute we spend in class. That means that each dollar you contribute is one minute that we get to spend focusing on the world-class education we are receiving, and not on mounting interest on our student loans. As someone who has personally benefitted from those minutes you have donated, I want to take this opportunity to say thank you. Thank you for believing in this university, in its students, and in me."
---
---