NSU Newsroom
SharkBytes
Horizons
This version of NSU News has been archived as of February 28, 2019. To search through archived articles, visit nova.edu/search. To access the new version of NSU News, visit news.nova.edu.
This version of SharkBytes has been archived as of February 28, 2019. To search through archived articles, visit nova.edu/search. To access the new version of SharkBytes, visit sharkbytes.nova.edu.
Realizing Potential – Lead Donor Awards $450,000 to Mailman Segal Center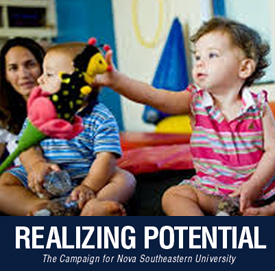 Don Taft was a retired senior executive whose passion became enriching the lives and improving the confidence and self-image of hundreds of children and adults in our community who have intellectual disabilities. Prior to passing away in 2011, Taft joined H. Wayne Huizenga as one of two lead donors to help spark NSU's first comprehensive fundraising campaign. His legacy continues to grow thanks to the Don Taft Family Foundation.
The foundation's latest gift to NSU supports the Developmental Assessment Clinic at the Unicorn Children's Foundation Clinics at NSU's Mailman Segal Center. The goal is to expand comprehensive assessment and intervention services. The need is great as prevalence rates of autism spectrum disorder (ASD) are at an epidemic level, with current CDC estimates identifying 1 out of 68 children (1 out of 42 boys; 1 out of 189 girls) with ASD.
Children with ASD struggle with social communication and repetitive and restrictive behaviors leading to strained relationships with peers and family members in addition to decreased independent functioning throughout school and adulthood. Across the United States, a diagnosis is not received, on average, until he child is over 4 years old, even though diagnosis can reliably be obtained as early as 18 months of age. The average age of diagnosis is even older for children in high-need communities experiencing barriers to services. This delay in diagnosis delays crucial early intervention services and much needed support for families which highlights the critical need for expanded access to high quality assessment and interventions in our community.
"The TAFT Foundation's gift to the NSU's Mailman Segal Center for Human Development has made a positive and lasting impact on our community.  Through their generosity, families with children with autism or other developmental challenges can access quality clinical and educational services, find important resources, obtain diagnoses, find appropriate programming and gain much-needed support," said Roni Cohen Leiderman, Ph.D., dean of the Mailman Segal Center for Human Development.
From innovative, direct-service programs to academic coursework and research—responding to the needs of those affected by autism is a major focus for the university. NSU treats children on the autism spectrum in medical, dental, and behavioral health settings, and we conduct groundbreaking research in nutrition, brain development, behavior, diagnosis, and other areas affecting those with ASD.
Many of NSU's innovative initiatives are national and international models, and would not be possible with-out donors committed to Realizing Potential: The Campaign for Nova Southeastern University. The Taft Foundation serves as a prime example.
Taft, together with H. Wayne Huizenga served as the two lead donors for what become NSU's first comprehensive fundraising effort. Realizing Potential – The Campaign for Nova Southeastern University aims to raise $250 million through philanthropy. Another $300 million in external funding will be raised from sponsored research, service and training projects.
Prior to his passing in February, 2011, Don Taft was a business leader, philanthropist and a strong supporter of the South Florida community. In 2009, he combined his passion for athletics, helping special needs youth and NSU when he made a generous gift to the university and the Don Taft University Center was named in his honor, becoming the permanent home of the Special Olympics Broward County.
POINT OF INTEREST
You can follow Taft's lead in engaging and empowering people with disabilities. How? Simply ask Siri "How do I start a conversation with a person who has a disability?" Siri will answer "It is easy. Just say Hi!"
Apple's CEO, Tim Cook was quoted as saying "Inclusion inspires innovation and communication is the key. Start with Hi and take time to learn more. #JustSayHi"
According to the World Bank, about 15% of the world's population, or approximately 1 billion people, live with some form of disability.
---
---