NSU Newsroom
SharkBytes
Horizons
This version of NSU News has been archived as of February 28, 2019. To search through archived articles, visit nova.edu/search. To access the new version of NSU News, visit news.nova.edu.
This version of SharkBytes has been archived as of February 28, 2019. To search through archived articles, visit nova.edu/search. To access the new version of SharkBytes, visit sharkbytes.nova.edu.
One Month Later: NSU Continues to Respond to Marjory Stoneman Douglas High School Tragedy
­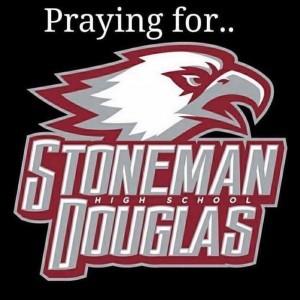 As we all struggle to cope with the tragic events at Marjory Stoneman Douglas (MSD) High School last month, Nova Southeastern University (NSU) students, faculty and staff have mobilized to aid in the community's comfort and support in multiple ways. Some of the actions taken include:
Mental Health Counseling
NSU's College of Psychology conducted immediate and ongoing debriefing sessions with first responders who were on scene.

Experts in crisis response and school violence assisted Broward County Schools in planning its response to all who were affected.
Faculty, alumni and advanced doctoral students provided direct services to children, an MSD athletic team, parents, and school personnel countywide.

Several faculty members and students were among the first on the scene, providing on-site emergency crisis counseling.

NSU Psychology Services Center is providing free services for those affected by this tragedy and is deploying trained faculty and advanced doctoral students as needed to schools and community organizations.
The College has nationally recognized faculty in psychology and counseling who are trauma trained experts, including the psychologist who responded to the Columbine High School tragedy as well as other school shootings.
Faculty have participated in forums designed to educate the community about mental health, prevention, crisis response, and supporting our children in schools.

NSU Student Affairs scheduled "Parkland Strong: NSU Support and Debrief," for those having trouble understanding why the incident occurred and who are feeling shocked, saddened, angry and more. Event facilitated by faculty members of NSU's College of Psychology.
NSU's College of Arts, Humanities, and Social Sciences has also assisted in the tragedy. The Brief Therapy Clinic in the Department of Family Therapy is providing ongoing, free therapy sessions for those directly affected by the MSD tragedy.
NSU's Brief Therapy Clinic director supervised a team of advanced doctoral family therapy students who met with school bus drivers and attendants.
Faculty member and several advanced family therapy doctoral students provided on-site emergency crisis counseling in Parkland on Feb. 15.
Stable Place, under the supervision of NSU's Shelley Green, Ph.D, is providing ongoing, free equine therapy for those directly affected.
The Promise Program, an ongoing collaboration with Broward County Schools, is providing prevention strategies, counseling and help with trauma recovery of high school students referred for threatening behavior.
Workshops with community partners are being organized on age-appropriate conversations parents should have with their children about the tragedy.
NSU's Animal Assisted Therapy Program is scheduling workshops for first responders.
Family therapists provided support for participants at Broward College's "Poems for Parkland: Poems for Peace" event on March 13. The Humane Society's therapy dogs and Stable Place's equine therapists were also on hand.
NSU's Office of Suicide and Violence Prevention facilitated "Processing Parkland" for students, staff, and alumni. Some in attendants were first responders to the MSD incident. Another meeting will be scheduled later this month.
An NSU Field Traumatologist is providing "Introduction to Psychological First Aid" trainings for NSU students, alumni, faculty, and community providers.
Students, faculty and staff were reminded of internal counseling resources available to them. Given the school is within our community, there are nearly 150 current NSU students, employees and alumni from MSD, so we wanted to ensure they were aware of available assistance from Henderson Student Counseling Services.
Other Actions
Blood drives were organized on campus drawing record levels of donors.
A student-organized vigil was held on campus. It was open to the NSU community and the S. Florida community at large.

This included remarks made by a MSD shooting survivor (15-year old daughter of an NSU professor) who spoke out against gun violence.

A new club on campus that talks about human rights, called Amnesty, signed a petition advocating for gun control in honor of the MSD shooting.
Responding to a public request, the Student Government Association, the student club "Delight at NSU" and the Black Student Union all put together banners with words of encouragement for the MSD students that were displayed at the school when the students returned.
The NSU Hillel club sold "hamantaschen," a filled, triangular pastry usually associated with the Jewish holiday of Purim, with all proceeds donated to a gun reform group.
The Campus Cursive club, whose goal is to bring tangible acts of love to their peers, wrote letters of encouragement to MSD students
NSU's RecWell, the college's fitness and recreation center, provided an opportunity for their members and students to write condolence cards.
The International Muslim Association sent letters to elected officials.
NSU is home to multiple Subject Matter Experts who can provide insight and guidance related to the mass school shooting at Marjory Stoneman Douglas High School in Parkland, Florida.  Please CLICK HERE for a list of our experts in school shootings, suicide awareness and prevention, child and adult psychology/how to cope with tragedies and family therapy.
---
---