NSU Newsroom
SharkBytes
Horizons
This version of NSU News has been archived as of February 28, 2019. To search through archived articles, visit nova.edu/search. To access the new version of NSU News, visit news.nova.edu.
This version of SharkBytes has been archived as of February 28, 2019. To search through archived articles, visit nova.edu/search. To access the new version of SharkBytes, visit sharkbytes.nova.edu.
NSU Women's Golf Captures Back-to-Back National Championships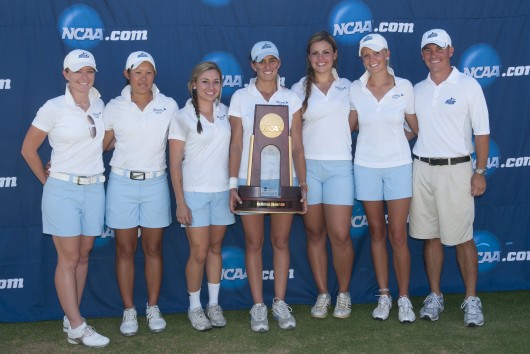 Photo caption: (L to R): Assistant coach Amanda Brown, Sandra Changkija, Taylor Collins, Maria Garcia-Austt, Nicole Whitmore, Abbey Gittings, and head coach Kevin Marsh.
The NSU women's golf team capped off another magical season on Saturday, May 15.  The team beat Rollins College with a 40-stroke victory at Longbow Golf Club in Arizona to claim the NCAA Division II National Championships for the second straight year.
"The season we just had is historic for NCAA Division II women's golf," said NSU head coach Kevin Marsh. "Nine team titles, including a conference and regional championship, eight individual titles, our fourth NCAA Division II National Player of the Year, our third NCAA Division II Freshman of the Year, and a team scoring average which was the lowest in Division II history. This is a season these girls and I will remember for the rest of our lives."
The defending national champions led from start to finish in the 72-hole national championships. NSU raced out to an eight-stroke lead after the first round of play and took control of the Championships in the second round by firing a tournament low team score of 285 to distance themselves by 29 strokes from the field. After gaining another six strokes in the third round, the Sharks punctuated their title by adding five more strokes to their lead in the final round to win by a total of 40 strokes.
"Since August there have been questions on a daily basis about the chances to repeat as National Champions and for nine months these girls have responded to every challenge they faced," Marsh said. "I have not been around a more special group of people and Amanda and I are honored to have the opportunity to coach them each day."
The top-ranked Sharks (298-285-296-301-1180) defeated No. 2 Rollins (306-306-302-306-1220) by 40-strokes for the title. No. 4 Florida Southern (317-302-303-299-1221) made it three Sunshine State Conference teams atop the leader board while No. 7 Tarleton State (311-305-306-300-1222) and No. 10 Sonoma State (313-305-305-313-1236) rounded out the top five positions.
"This was a great day and a great week for NSU Athletics," said NSU Director of Athletics Michael Mominey. "Winning back-to-back national championships is a tremendous accomplishment. This is truly a credit to Kevin and assistant coach Amanda Brown, who have done an outstanding job with these young ladies. They are not only two-time champions; they are great ambassadors for the department and the university. They represent the department in a first-class way on and off the course. Their talent, chemistry, drive and determination to be the best they can is obvious once you watch them play one round of golf and spend time with them."
While the team led from the start, three-time defending NCAA Division II National Player of the Year Sandra Changkija erased a four-shot final round deficit to win the first individual title in NSU women's golf program history. She finished the tournament at even-par (74-67-71-72-284).
Senior and four-time NGCA All-American Maria Garcia-Austt tied for fourth place (75-74-78-72-299) while junior Nicole Whitmore tied for seventh place (75-75-73-79-302) to have three Sharks finish among the top-10. 2010 NCAA Division II National Freshman of the Year Abbey Gittings tied for 16th place (74-80-74-79-307) and two-time All-American Taylor Collins came in a tie for 21st place (83-69-79-78-309) to conclude the scoring for Nova Southeastern. The Sharks were the only team to have three players place in the top-10 and to have all five players place among the top-21.
---
---