NSU Newsroom
SharkBytes
Horizons
This version of NSU News has been archived as of February 28, 2019. To search through archived articles, visit nova.edu/search. To access the new version of NSU News, visit news.nova.edu.
This version of SharkBytes has been archived as of February 28, 2019. To search through archived articles, visit nova.edu/search. To access the new version of SharkBytes, visit sharkbytes.nova.edu.
NSU to Present President's Excellence in Community Service Award
January 28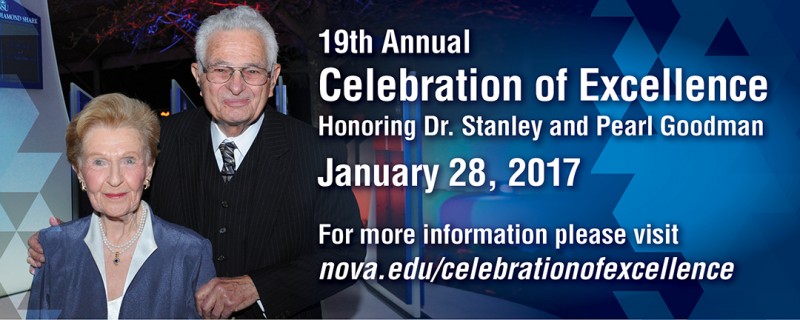 Join NSU President George L. Hanbury, Ph.D., as he showcases the university, shares its achievements and discusses its future at the 19th annual "Celebration of Excellence" gala. The event will take place Jan. 28 at NSU's Don Taft University Center Arena on the university's Fort Lauderdale/Davie campus. The reception will begin at 6:30 pm with the dinner program immediately following.
The gala serves as the signature annual event to celebrate one of NSU's core values–community. Each year, Dr. Hanbury presents the President's Excellence in Community Service Award, which recognizes superior professional engagement activities in the community.  The 2017 honorees are Dr. Stanley Goodman, and Pearl Goodman.
A retired cardiologist, Goodman spends his mornings in a Fort Lauderdale warehouse space creating art, mostly sculptures. Pearl Goodman, an educator who taught sixth grade in New York City's Bedford-Stuyvesant neighborhood with a panache for studying language and art, continues to stay active in real estate investment.
Together they share a passion for family, community service, and Latin American art. Most recently, the two designed a bequest that will make the NSU Art Museum home to their prestigious Latin American art collection as well as establish a research and study center.
They began their collection when they purchased a small watercolor by Mexican artist David Alfaro Siqueiros in Miami in 1990, "before the glorious days of Basel,'' according to Pearl Goodman.
COE also serves to recognize donors whose cumulative giving to NSU reaches $1 million or more. Each of these benefactors is welcomed into the "Shark Circle" and receives a limited edition Maquette replica of the Kent Ullberg specially commissioned mako shark statue located in front of the Don Taft University Center on NSU's Fort Lauderdale/Davie Campus.
New Shark Circle members to be recognized on January 28 include: The Florida Bar Foundation, Annie E. Casey Foundation, Zimmer Biomet, Mrs. Susie and Mr. Alan B. Levan, Save Our Seas, GRYCON, LLC and "The Cancer Immunotherapy Research Fund of Triangle Community Foundation."
Proceeds from this event help fund student scholarships. NSU recently surpassed the $150 million benchmark of Realizing Potential: The Campaign for Nova Southeastern University. This is NSU's and Broward County's largest fundraising effort to date which aims to expand support by $250 million from philanthropy. In addition, the university will raise another $300 million "in sponsored research, service, and training projects.
Sponsors as of December 2016 include: GRYCON, Lorraine Thomas, Hill York, Barnes & Noble, Fahlgren Mortine, Health Professions Division Foundation, ACAI, JMFamily  Enterprises and The Brandon Company.
To purchase tickets for the event, please visit www.nova.edu/celebrationofexcellence
---
---