NSU Newsroom
SharkBytes
Horizons
This version of NSU News has been archived as of February 28, 2019. To search through archived articles, visit nova.edu/search. To access the new version of NSU News, visit news.nova.edu.
This version of SharkBytes has been archived as of February 28, 2019. To search through archived articles, visit nova.edu/search. To access the new version of SharkBytes, visit sharkbytes.nova.edu.
NSU Sports Medicine Continues to Make Innovative Strides in Concussion Management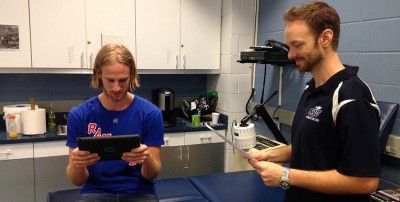 The Nova Southeastern University Sports Medicine Team continues its tradition of providing cutting-edge medical services to its student-athletes by taking major steps forward in concussion management during the 2014-15 season, most notably by implementing a standardized sideline concussion evaluation for all teams that includes the King-Devick Test.
According to the program's website, "The King–Devick Test was developed in 1976 by Alan King, O.D. and Steven Devick, O.D. as an indicator of saccadic performance as it relates to reading ability. In 1983, a sample of 1202 children ages six to fourteen was screened using the K–D Test. The study done by the State University of New York (SUNY) concluded that the test was quick and easy to score and could be administered by non-eye care practitioners. For more than 30 years, the King–Devick Test has been a proven indicator of oculomotor inefficiencies regarding eye movements during reading."
The implementation of a standardized sideline concussion evaluation, led by NSU's Head Athletic Trainer, Research and Development, Dustin Gatens, and NSU's Faculty Athletic Representative Stephen Russo, Ph.D., was put in place at the start of the year and has been one of NSU's tools in evaluating concussion symptoms. The athletic training staff uses several IPad applications to test students, including the eye-tracking K-D test, in which the student-athlete reads a series of numbers on multiple cards. The student-athlete is graded on accuracy and speed to determine whether or not they are showing signs of a concussion.
The K-D test gives proven results and is difficult to "cheat." It is also fatigue-resistant, in the sense that taking the test immediately following athletic activity will not hinder a student-athletes test score. In fact, a student-athlete will likely be more focused coming out of practice or competition and, when not suffering from a concussion, often performs better on the K-D test in these situations.
The King-Devick Test is one area in which NSU's Sports Medicine team stands out. The team, represented by five full time athletic trainers, three graduate assistant physicians, physical therapists, sport psychologists, sports nutritionist, and strength & conditioning coaches, provide the highest standard of care while promoting the health and well-being of NCAA student-athletes. They value the physical, social and emotional welfare of all NCAA student-athletes, exemplified through collaborative efforts in injury prevention, medical care, education, academic mentorship, service and research. They strive to assist student-athletes in achieving optimal performance and realizing their full potential in their chosen endeavors.
---
---