NSU Newsroom
SharkBytes
Horizons
This version of NSU News has been archived as of February 28, 2019. To search through archived articles, visit nova.edu/search. To access the new version of NSU News, visit news.nova.edu.
This version of SharkBytes has been archived as of February 28, 2019. To search through archived articles, visit nova.edu/search. To access the new version of SharkBytes, visit sharkbytes.nova.edu.
NSU Research Spotlight: NSU Researcher Secures Grant to Study Zika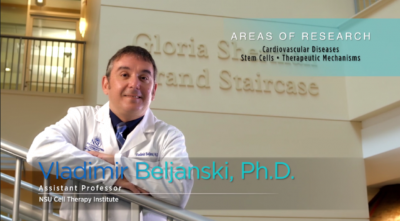 Vladimir Beljanski, Ph.D., associate professor in the NSU Cell Therapy Institute recently received grant award from the Florida Department of Health, Biomedical Research Program for a project titled, "A comparative analysis of Zika virus-induced antiviral response mechanisms in under-studied cell populations." Findings produced from this project can help to develop new treatments for Zika virus and improve understanding of how this virus contributes to other medical conditions.
The ongoing Zika virus disease epidemic is one of the largest epidemics ever recorded. Development of methods to reduce Zika infections and decrease longevity of infection could significantly reduce the number of infected individuals and alter clinical recommendations. While most of research focused on studying Zika's harmful effects on brain development in newborns, the study proposes to examine other potential Zika infection-related health issues with dramatic clinical manifestations. For example, ocular defects have been observed in infants exposed to the virus. In adults, several neurological complications including Guillian-Barre Syndrome, meningoencephalitis, acute myelitis, and sensory polyneuropathy have also been associated with Zika infection. These conditions can be readily explained by the infection of many cell types throughout the body with Zika – cells that have received little to no attention from researchers. Therefore, it is possible that Zika infection may play more extensive roles in pathological conditions affecting adults, including autoimmune disorders, cardiovascular disease, cancer, and neurodegenerative diseases. A deeper understanding of the scope of Zika infection in both developing babies and adults will help guide policy makers as they develop guidelines and direct public health efforts.
Because the antiviral mechanisms that clear Zika infection differ between cells and their developmental stages, the study proposes to stimulate antiviral pathways with drugs using a collection of critical cell types, including glial, neuronal, vascular, retinal, and immune cell types to examine both cell function in the presence of Zika infection and to examine antiviral response in such cells. This is a translational study that builds upon the mechanistic knowledge of antiviral signaling and cell differentiation and applies it to the evaluation of potent antiviral strategies with a goal to decrease severe deleterious health effects of Zika infection. This pilot proposal will provide novel information with regards to clinical targeting of antiviral mechanisms and will determine potential side effects of such targeting. This information may benefit all individuals diagnosed with Zika infection.
The research team consists of Vladimir Beljanski, Ph.D. (principal investigator), and Adil Duru, Ph.D., assistant professors at NSU Cell Therapy Institute, Benjamin Josey, Ph.D., a post-doctoral researcher in the institute, Outi Hovatta, Ph.D., a NSU visiting scientist from Karolinska Institutet, and Lubov Nathanson, Ph.D., from the NSU Institute for Neuro-Immune Medicine.
---
---