NSU Newsroom
SharkBytes
Horizons
This version of NSU News has been archived as of February 28, 2019. To search through archived articles, visit nova.edu/search. To access the new version of NSU News, visit news.nova.edu.
This version of SharkBytes has been archived as of February 28, 2019. To search through archived articles, visit nova.edu/search. To access the new version of SharkBytes, visit sharkbytes.nova.edu.
NSU Celebrates Homecoming 2013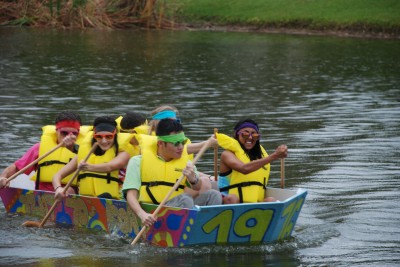 NSU celebrated Homecoming 2013 with a variety of events and great activities. Take a look back at the fun times and unforgettable moments of NSU's Homecoming 2013:  Click here to view photos from 2013 Homecoming events.
Homecoming Kick-off
This year's homecoming week started with a bang! More than 200 students attended our kick-off event on the Alvin Sherman Library quad featuring a zipline, inflatable, food trucks and more! This event also included student performances from the Sharkettes, Kappa Alpha Psi and Latin American Student Association (LASA) and a "fin-tastic" banner competition in which Ablaze, an NSU student organization, won $100 for creating the best banner representing homecoming week.
Flight Deck Follies
The 17th annual Flight Deck Follies was over the top! This pageant with a twist featured six male sharks competing to see who could most think like a man but walk like a woman. These contestants portrayed their female alter egos and participated in a three round show including casual, talent and formal. Overall winners were: Dominic Campenni, who took third place; Robbie Rodriguez, who was the runner-up; and Michael Harrington, who was crowned this year's Flight Deck Follies Queen.
Shark Rodeo
A new addition to homecoming week this year was an event called Shark Rodeo. Students took a ride on a mechanical shark! Students competed to stay on the longest. The top time was 47. 10 seconds!This event also featured giveaways like novelty retro sunglasses, stuff-a-shark, snowboarding inflatable, and of course, snow cones, popcorn, and cotton candy.
Anything That Floats Raft Race
Anything That Floats Raft Race winners, Scuba Crew, with NSU President George Hanbury.
The traditional Anything That Floats Raft Race is an event like no other! Students competed to race around NSU's Gold Circle Lake with homemade rafts using supplies that weren't necessarily intended for raft building. This year's race included 24 rafts. Some sank instantly, while others sailed with ease. The first place raft race winner, Scuba Crew, received the $1,000 prize for an impressive race time of 1 minute and 39 seconds.
Homecoming Court
Congratulations to our 2013 Homecoming Court winners: Homecoming Queen Natasha Madhyani, Homecoming King Esau Simpson, Freshman Princess Mackenzie Gasal, Freshman Prince Dominic Gonzalez, Sophomore Princess Nathalie Moreau, Sophomore Prince Anthony Bufi, Junior Princess Giana Buttacavoli, and Junior Prince Brandon Pratts.
Homecoming Bash
NSU students danced the night away at Passions Night Club at the Hard Rock for the 2013 "Shark Tales" Homecoming Bash! More than 1,000 students arrived at the Homecoming Bash dressed to impress, and they enjoyed listening to today's hits with their friends.
Laugh Your Fins Off Comedy Show
NSU's annual "Laugh Your Fins Off" comedy event featured headliner DeRay Davis as well as Richie Redding and Kevin Hart's plastic cup Boys, Na'im  Lynn, and William "Spank" Horton. This event was held on Saturday, November 16th in the NSU Arena in the Don Taft University Center. The night started off with the opening act, Richie Redding, which was then followed by William "Spank" Horton, and Ni'am Lynn. These comics had the audience laughing the entire time, which definitely prepared them for the main act of the night. DeRay Davis's performance was one to remember as the audience was in tears at the end of the night after laughing so hard. It was certainly a fantastic ending to an amazing Homecoming week here at NSU!
---
---