NSU Newsroom
SharkBytes
Horizons
This version of NSU News has been archived as of February 28, 2019. To search through archived articles, visit nova.edu/search. To access the new version of NSU News, visit news.nova.edu.
This version of SharkBytes has been archived as of February 28, 2019. To search through archived articles, visit nova.edu/search. To access the new version of SharkBytes, visit sharkbytes.nova.edu.
NSU Celebrates Homecoming 2010 with Tailgate, Basketball, Parties & More!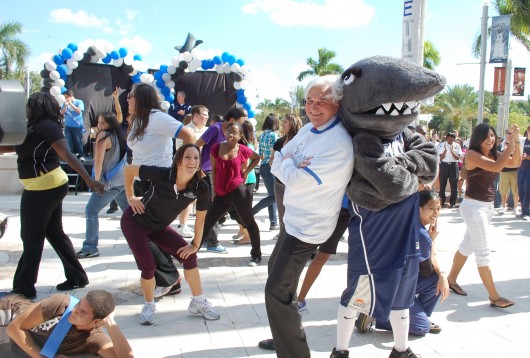 (Photo caption: NSU President George L. Hanbury, II with Razor and the Flash Mob Dancers during the Homecoming Tailgate.)
NSU Sharks, alumni, faculty and staff enjoyed a week full of fun as the university celebrated its 2010 Homecoming, themed "Ride the Wave."
The celebration kicked-off with the President's Tailgate in front of the Don Taft University Center on Nov. 11, featuring free food and ice cream sundaes, and the basketball free throw contest to win Homecoming T-Shirts. President Hanbury pumped up the crowd during the celebration, and joined a flash mob where students and staff came together spontaneously to dance. Check out a video by clicking here.
The Raft Races are an NSU tradition and this year's participants gave their all, paddling to one end and back of the Gold Circle Lake on Nov. 11. Congratulations to this year's winner, Rotaract, with the RecPlex coming in second. Get more details by clicking here.
Then, the Men's Basketball team pumped up the crowd on Nov. 12 as they successfully defeated their opponent, the Warner Royals, 85-83. More than 700 NSU fans came to support their home team and to watch the coronation of the 2010 Homecoming Royalty. During halftime, Raphael De La Rosa and Lisa Vignola were crowed NSU's Homecoming King and Queen. But the game wasn't the only thing keeping fans on edge with excitement. The winner of the "Free Textbooks 'til U Graduate" scholarship was announced: Congratulations to Daphne Wlasek.
The fun didn't end at the court. A post-game celebration immediately followed in the flight deck where NSU fans could enjoy free food and music from special guest Alexander Star with the help of Marc Solomon and the rest of his band. The first 75 students were also able to leave with his new album.
On Saturday afternoon, the NSU Women's Basketball team opened its season with a 77-70 win over Northern Kentucky, ending a seven year losing streak in opening games! Go Sharks!
The festivities concluded with the Homecoming Dance "Escape to Paradise" on Nov. 13 at Exit 66. The party lasted until the wee hours of the night with students dancing and celebrating a successful Homecoming.
To view more pictures of all the Homecoming 2010 activities, please click here.
For more information about these events and more, please call 954-262-7193 or email specialprojects@nova.edu.
---
---