NSU Newsroom
SharkBytes
Horizons
This version of NSU News has been archived as of February 28, 2019. To search through archived articles, visit nova.edu/search. To access the new version of NSU News, visit news.nova.edu.
This version of SharkBytes has been archived as of February 28, 2019. To search through archived articles, visit nova.edu/search. To access the new version of SharkBytes, visit sharkbytes.nova.edu.
Realizing Potential: NSU to Raise Half a Billion Dollars by 2020 through Philanthropy and Research Funding; Announcement Made at Celebration of Excellence
Scholarships and research opportunities for students from diverse backgrounds. Breakthrough stem cell research. New therapies for patients with cancer and autism. Interdisciplinary collaboration in science, technology, engineering, arts and mathematics (STEAM).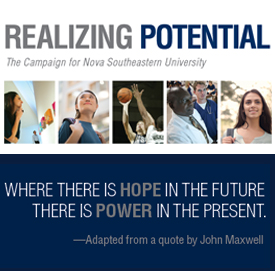 These are just a few of the goals on which Nova Southeastern University (NSU) has its sights set as it launches Realizing Potential: The Campaign for Nova Southeastern University, the largest externally-funded campaign in the university's more than 50-year history and in the history of Broward County. $250 million will be raised from philanthropic gifts with another $300 million to come from externally funded research.
NSU Board of Trustees members and Campaign Leadership Committee members joined President Hanbury to announce the official public launch of Realizing Potential at the university's annual Celebration of Excellence gala on January 30, 2016, held on the NSU's 314-acre Fort Lauderdale/Davie campus.
"At NSU, change and lofty goals are not new concepts; in fact, they are part of our foundation and have propelled us to become the institution we are today," said NSU President Dr. George Hanbury. "As we enter 2016, we do so at an exciting time for the university with tremendous energy building. As a result of the generous support we have received from the community and those who believe in NSU's Vision 2020, we are proud to announce the public phase of Realizing Potential."
Through this philanthropic campaign, NSU seeks to raise $250 million to support excellence for its students, faculty and 21st century educational initiatives by December 2020. Coupled with the university's goal of also raising $300 million in sponsored research, the Realizing Potential campaign is part of NSU's Vision 2020 goal to raise more than half a billion dollars in external funding. NSU has already raised more than half of the support in both philanthropy and sponsored programs since launching the silent phase of the campaign in July 2008.
"This campaign is about far more than realizing the potential of NSU," said J. Kenneth "Kenny" Tate, NSU Board of Trustees member and Campaign Leadership Committee chair. "It's about the benefits to our community that arise from realizing the potential of NSU: it's about being able to offer an affordable education to those of our students who could never have afforded the college of their choice otherwise, it's about being able to help our graduates find competitive employment opportunities by offering a superior educational environment, it's about being able to help our community by providing much needed affordable medical care, and it's about expanding our research and development efforts to find solutions to many of today's pressing and important issues."
President Hanbury added, "Over the past several years, NSU has been highly successful in reaching and exceeding its fundraising goals and translating these goals into impactful results for those we serve. Now, it is time for us to harness the power and impact of our more than 170,000 alumni around the world and realize the full promise of our potential as a doctoral research institution, a pioneer in online learning and a leader in higher education."
Realizing Potential is comprised of three overarching priorities, including:
Students ($125 million): NSU is helping the next generation of leaders find pathways to success, which includes priming them to excel in fields that are just emerging. This priority will fund scholarships and other essential resources that enable the university to attract and retain exceptional students, provide opportunities to students from diverse backgrounds and offer advanced experiential and applied learning opportunities.
Faculty ($75 million): Serving as a talent magnet for bright minds at the forefront of their fields is one of the best ways a university can serve its community. NSU's groundbreaking work covers cybersecurity, post-traumatic stress disorder, stem cell treatments, cancer therapies, immunology, bio materials, oceanography and coral reef restoration. NSU also provides leading-edge research and essential services in childhood care, autism spectrum disorder, special needs and veterans' needs. This priority will fund endowed chairs, professorships and research start-up costs that allow NSU to retain and attract the best-qualified researchers and educators.
21st Century Education ($50 million): NSU continues to evolve and excel as an innovative research institution because its approach is interprofessional, interdisciplinary and adapted to incorporate the latest methods of teaching, learning and assessing unique partnerships with community organizations. NSU educates students from junior kindergarten through doctoral degrees, and beyond, with outreach efforts applied locally, nationally and internationally. This priority will fund NSU initiatives that touch a great many lives, including expanded clinical services; academic collaborations with NSU Art Museum Fort Lauderdale; enhanced STEM, online and honors programing; and interprofessionally-bundled, child-related services.
NSU's $300 million goal for sponsored research includes private support and government-funded research from organizations such as the National Institutes of Health, U.S. Department of Defense and the National Oceanic and Atmospheric Administration. Examples of currently funded research include finding better treatments for patients with Gulf War Illness, examining the DNA of primitive species to help better understand the human genome, and helping educate marine industry workers to prevent oil spills and other catastrophic environmental hazards.
"I am proud to be a supporter of Nova Southeastern University and to be a part of the Realizing Potential campaign," said Lorraine Thomas, honorary co-chair of NSU's Campaign Leadership Committee. "My late husband, Dave, and I always believed in giving people opportunities to make themselves shine and NSU has very similar values. This is truly about giving people the tools they need to be successful and make a positive difference in the world."
NSU's Campaign Leadership Committee members include J. Kenneth "Kenny" Tate, chair; Lorraine Thomas, honorary co-chair; Joel and Beverly R. Altman; Bonnie Barnett; Alligator Ron Bergeron; Elliot Borkson, J.D.; James and Cathy Donnelly; Patricia DuMont; Ray Floyd, Gerald Greenspoon, J.D.; Mark Grosvenor, Guy Harvey, Ph.D.; Joel Hochberg; David Horvitz; H. Wayne and Marti Huizenga; Alice Jackson; Rick Latta; Bill Matz; Rose Miniaci; Ramola Motwani; Stephen Ross; Barry Somerstein, J.D.; Terry Stiles; Jason Taylor; and Enrique Vila del Corral.
Individuals and organizations that have donated lead gifts of $10 million or more to the Realizing Potential campaign include H. Wayne Huizenga and Huizenga Family Foundation, and Don Taft and Don Taft Foundation.
Individuals and organizations that have donated transformational gifts of $1 million to $10 million to the Realizing Potential campaign include The Alters Family; Ronald G. and Kathleen Assaf; AutoNation, Inc.; Biomet, Inc.; Mr. and Mrs. Keith A. Brown; DENTSPLY; Doctors Hospital Foundation; Dr. Stanley and Pearl Goodman; Dr. Guy and Gillian Harvey; Steven J. Halmos Family Foundation; Joel and Marcia Hochberg; Francie Bishop Good and David Horvitz; Mike and Alice Jackson; Albert and Beatriz Miniaci; Nobel Biocare USA; Panza, Maurer & Maynard, P.A.; Thomas Panza and Susan Maurer; Royal Dames of Cancer Research; Schemel Family Foundation; Lorraine Schramm; SEACOR Foundation; Mr. Alvin Sherman; Dr. William Spears; and Kenny & Sandy Tate and Family.
For the latest gift announcements and campaign information, please visit realizingpotential.nova.edu.
---
---