NSU Newsroom
SharkBytes
Horizons
This version of NSU News has been archived as of February 28, 2019. To search through archived articles, visit nova.edu/search. To access the new version of NSU News, visit news.nova.edu.
This version of SharkBytes has been archived as of February 28, 2019. To search through archived articles, visit nova.edu/search. To access the new version of SharkBytes, visit sharkbytes.nova.edu.
Women's Basketball Claims SSC Regular Season Title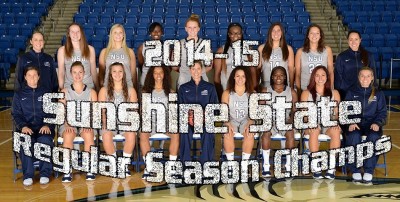 The No. 25 Nova Southeastern University women's basketball team wrapped up the 2014-15 Sunshine State Conference regular season championship on Saturday afternoon as they came back to defeat Saint Leo by the score of 65-61.
The Sharks (21-5, 13-3 SSC) trailed for just the third time this season at the half, 38-34 to the hot-shooting Lions (9-17, 4-12 SSC), who at that point were at 48.5 percent and had made six 3-pointers to NSU's one.
It was more of the same to start the second half, but the Sharks fought back with two straight Molly Blomer (Jr., West Chester, Ohio) 3-pointers, and with the NSU guards feeding the ball inside to Jasmine Wilkins (R-Sr., Miami). In fact, Blomer's shots each cut the deficit to one (10:08 and 9:31), while Wilkins' layin at 8:51 made it a 54-53 Sharks lead, their first since 15:33 in the first half (7-5).
After a Saint Leo jumper pushed them back ahead, Alexis Murphy's (Jr., Carlisle, Ohio) 3-pointer at 4:36 made it 57-55 in favor of NSU. They never relinquished the lead again, but the remainder of the game had plenty of drama, and multiple clutch Shark shots.
The final tie of the game after a Lion free throw came at 1:44, 59-59. The ensuing Shark possession was a Monaye Merritt (R-Jr., Philadelphia) 3-pointer, putting NSU ahead 62-59 with 1:22 to go. While a big shot, her next one was even bigger.
After Saint Leo again cut it to one, the Sharks ran down the clock. Merritt dribbled around the perimeter, eluded a Lion defender, and just before the shot clock horn, swished in a double-clutch jumper just inside the arc with 24.1 seconds to go.
Ahead by three (62-59) and the Lions attempting to tie with a long-range shot, Murphy provided some tough defense to force an errant shot with about 10 seconds left. Wilkins was fouled and made one more free throw to provide the icing on the cake, giving the Sharks the win and the outright conference championship.
"Our staff is very proud of our team," said NSU head coach LeAnn Freeland. "We have battled through injuries all season, but stuck together. The regular season title is a great accomplishment for our program since the SSC is such a strong league from top to bottom. We earned every win this season with toughness and grit, along with good leadership and team chemistry."
Wilkins made her first seven shots and finished 8-of-12 (and 3-of-3 from the line) for a game-high 19 points, along with seven rebounds. Danielle Robinson (Sr., Fort Lauderdale) added 10 points, going 6-of-6 from the line along with six rebounds and a Shark-best of five assists. Merritt also had 10 points, and Blomer and Murphy chipped in with nine apiece.
Wilkins and Robinson, NSU's seniors class, contributed a perfect 9-of-9 mark towards the Sharks' second-highest free throw percentage of the year at 82.4 (14-of-17). They outrebounded the Lions 38-33, led by Jessica Valley's (R-Jr., Lafayette, Ind.) 11.
Saint Leo had two in double digits: Aaliyah Ramirez with 15 and Chachi Guzman 14. The Sharks held the Lions to 37.5 percent shooting after the break (9-of-24) and just a 1-of-8 mark from 3-point land.
These two teams will match up again on Thursday in the opening game of the 2015 SSC Championships. The No. 1-seeded Sharks and No. 8 Lions will have their quarterfinal contest tipping off at noon from the Silver Spurs Arena in Kissimmee, Florida.
"Next week brings a brand new season, so we need to weed our garden before the tournament begins," said Freeland. "Our players know that we can get better, and that's one of the great things about this team."
---
---