NSU Newsroom
SharkBytes
Horizons
This version of NSU News has been archived as of February 28, 2019. To search through archived articles, visit nova.edu/search. To access the new version of NSU News, visit news.nova.edu.
This version of SharkBytes has been archived as of February 28, 2019. To search through archived articles, visit nova.edu/search. To access the new version of SharkBytes, visit sharkbytes.nova.edu.
New Advisor Resource Available on How to Create an Academic Plan for Satisfactory Academic Progress (SAP) Appeals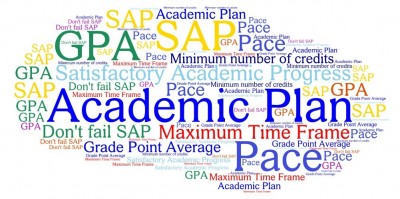 Each year, many NSU students lose their financial aid for failure to make Satisfactory Academic Progress (SAP). During the 2016-2017 academic year alone, 3,000 NSU students across all NSU colleges failed to meet SAP. If extenuating circumstances have hindered a student from meeting minimum progress requirements, the student may submit a SAP Appeal to have his or her eligibility reconsidered. A key component of most students' SAP Appeal is the academic plan. The academic plan, to be completed by the student's academic advisor, includes minimum credit and GPA requirements to help the student get back on track and regain financial aid eligibility. Of the 3,000 students who failed SAP in the 2016-2017 academic year, 440 were able to have their academic plan approved.
Sometimes, it can be challenging for advisors to create an academic plan. To assist advisors with this task, the Office of Student Financial Assistance has created a new webpage on ESS Community Net. The new webpage offers step-by-step instructions on entering required information on the SAP Appeal Form, how to calculate cumulative semester GPA, and how to determine number of credits needed in order for the student to meet the pace requirement.  This new NSU internal resource is now available at https://www.nova.edu/portal/ess/offices/financial-aid/academic-plan-for-satisfactory-academic-progress-sap.html (requires NSU SharkLink username and password for access).
Please note, this page is only available to NSU staff, and you must use your SharkLink username and password to access the site. Students should visit the SAP webpage on the financial aid website at www.nova.edu/sap for information on SAP.
About ESS Community Net: ESS Community Net is a password-protected intranet site especially designed for NSU faculty and staff. It contains a plethora of information and resources related to the university's central administrative unit, including contact information for administrators, descriptions of ESS offices and departments, ESS Summit and Administrative Student Services Council (ASSC) handouts, news and announcements, and more. Please visit www.nova.edu/esscommunitynet for more information.
---
---