NSU Newsroom
SharkBytes
Horizons
This version of NSU News has been archived as of February 28, 2019. To search through archived articles, visit nova.edu/search. To access the new version of NSU News, visit news.nova.edu.
This version of SharkBytes has been archived as of February 28, 2019. To search through archived articles, visit nova.edu/search. To access the new version of SharkBytes, visit sharkbytes.nova.edu.
Mominey to Assume Fulltime Role as NSU Athletic Director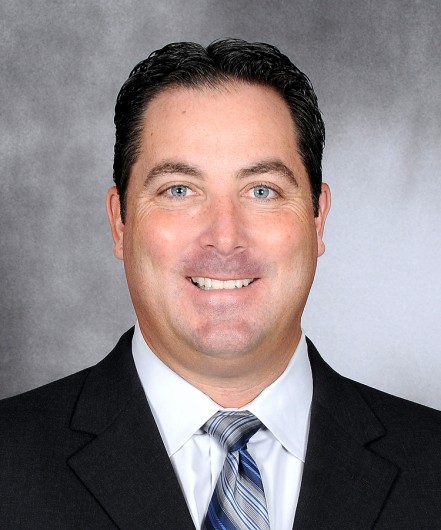 After nearly eight years of holding down two roles in the NSU athletic department, Michael Mominey announced that he will now focus his attention solely on his role as athletic director, while relinquishing his position as the head coach of the Sharks baseball team.
"Over the past eight years, Mike has done a tremendous job in building our athletic department," Chancellor Ray Ferrero, Jr. said. "His success has made all of us proud. However, this very success has created the need for Mike to focus his attention fully on the oversight of athletics. We will immediately open a search for a head baseball coach who will continue the development of our baseball program."
Mominey's decision comes during a period when the NSU athletic department is experiencing rapid growth and success. He has already played a pivotal role in NSU's transition to NCAA Division II, the development of several state-of-the-art facilities, NSU's first-ever NCAA Division II national championship (women's golf), and increasing the number of sports teams from 11 to17 in just eight short years. The athletic department has also maintained a cumulative 3.0 grade point average for seven consecutive years.
"Under Michael's leadership, we have expanded our sports program offerings to 17 with well over 300 student-athletes competing at a very high level in Division II while performing academically at outstanding levels," Provost Frank DePiano, Ph.D., said. "It is this growth, along with plans for continued athletic expansion that has necessitated Michael's decision to assume his responsibility as athletic director fulltime."
As the NSU athletic department enters the new decade, it is now clearer than ever that Mominey's decision came at the right time, as plans on the horizon indicate continued expansion.
"This is a positive decision for everyone involved – my family, the department and the university." Mominey said. "We are fortunate to have an administration and a Board of Trustees that are committed to supporting, building and expanding the intercollegiate athletic programs. I look forward to working toward this effort during this exciting time for the university."
During his 10 years as the head baseball coach at NSU, Mominey guided the Sharks to a 302-226 overall record. Since joining the NCAA in the 2003 season, his record is an impressive 261-164, which ranks him 30th in all-time winning percentage in NCAA Division II (.614 winning percentage). In 2009, the baseball team achieved a program-best 37 NCAA wins and the program's highest-ever national ranking at No. 8 as four players were drafted in the top 22 Rounds of the Major League baseball amateur draft. Mominey recorded six consecutive seasons with 30 or more wins and seven 30-plus win seasons overall. The Sharks baseball team was consistently ranked in the top-25 nationally and finished in the top-10 in the regional polls in each of the eight years of NCAA play.
---
---