NSU Newsroom
SharkBytes
Horizons
This version of NSU News has been archived as of February 28, 2019. To search through archived articles, visit nova.edu/search. To access the new version of NSU News, visit news.nova.edu.
This version of SharkBytes has been archived as of February 28, 2019. To search through archived articles, visit nova.edu/search. To access the new version of SharkBytes, visit sharkbytes.nova.edu.
Marine Environmental Education Center to Celebrate One-Year Anniversary
Event Open to South Florida Community
MEDIA ADVISORY
Historic Carpenter House Home to Sea Turtle Education Program
WHO: Nova Southeastern University's (NSU) Marine Environmental Education Center (MEEC,) Broward County, the Carpenter House, Broward County Sea Turtle Conservation Program and Captain, our "forever resident" green sea turtle
WHAT: One Year Anniversary Celebration
WHERE: Historic Carpenter House on Hollywood Beach, 4414 North Surf Road, Hollywood
WHEN: 10 a.m. – 4 p.m. Saturday, March 3
WHY: The Marine Environmental Education Center (MEEC) at the Carpenter House was opened with the desire to educate and delight locals and tourists alike through our educational resident green sea turtle, Captain, and the splendor of the South Florida coastal environment. The MEEC was fostered from a partnership between Broward County Parks and Recreation and NSU. The facility is located on the historic grounds of the Carpenter House at Hollywood North Beach Park in Hollywood, Florida. Along with Captain the green sea turtle, the Carpenter House features an interactive Interpretive Center with displays ranging on topics from sea turtle conservation to marine debris.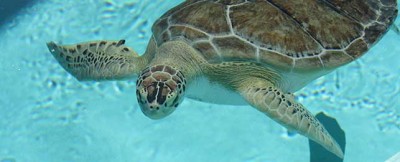 The Center has been open for one year, and we're celebrating!
The family-friendly event will feature face painting, a "kiss the Captain" photo booth (not the real Captain the sea turtle, of course,) arts and crafts and more. In addition, food trucks will be on hand for visitors to grab a quick snack. The cost is $3 per person, with the proceeds going directly to the operation of the MEEC at the Carpenter House.
There will also be a raffle for some really cool prizes, such as NSU branded items, a local shark-tagging trip with researchers from NSU's Guy Harvey Research Institute (GHRI), sea turtle ride-a-long with researchers and more. Costs are $1 per ticket or $5 for six tickets (you don't have to be present to win.)
Background on the Carpenter House and the MEEC
The Carpenter House was originally built in 1941 by Lieutenant Commander Henry Carpenter Jr., who, along with his wife June, were known for their environmentalism and community service. The Carpenters wanted to sell the property to Broward County for preservation and environmental education.
In 2010, renovations of the historic house and accompanying saltwater pool began. Following detailed restorations to the house and the addition of a state-of-the-art filtration system to the swimming pool, the MEEC is ready to open at the Carpenter House. The facility will provide outstanding marine education, interactive learning, and research with a focus on endangered sea turtles. This mission will carry on the traditions of the Carpenters and engage the community to learn about their local environment.
Although education will be the focus at this new center, a very large draw will be the center's ability to care for a rehabilitated sea turtle. Captain, a green sea turtle, was hit by a boat in 2010 and entered rehabilitation in Georgia. Unfortunately, after years in rehab, veterinarians decided that because of a floating issue and partial paralysis to her rear flippers, Captain would never be able to survive in the wild (that's why she has those attachments at the bottom of her shell – helps with her buoyancy.) Thankfully, the creation of this new center gives one of the many non-releasable sea turtles a "forever home" and a chance to teach younger generations about the importance of caring for the environment.
For more information, including bios on the staff working with the MEEC as well as Captain our resident green sea turtle, please visit us online at:
Be sure to sign up for NSU's RSS feed so you don't miss any of our news releases, guest editorials and other announcements. Please sign up HERE.
###
About Nova Southeastern University (NSU): Located in beautiful Fort Lauderdale, Florida, NSU is ranked among U.S. News & World Report's Top 200 National Research Universities and is a dynamic, private research university providing high-quality educational and research programs at the undergraduate, graduate, and first-professional degree levels. Established in 1964, NSU now includes 16 colleges, the 215,000-square-foot Center for Collaborative Research, a private JK-12 grade school, the Mailman Segal Center for Human Development with specialists in Autism, the world-class NSU Art Museum Fort Lauderdale, and the Alvin Sherman Library, Research and Information Technology Center, which is Florida's largest public library. NSU has campuses in Fort Lauderdale, Fort Myers, Jacksonville, Miami, Miramar, Orlando, Palm Beach, and Tampa, Florida, as well as San Juan, Puerto Rico, while maintaining a presence online globally. Classified as a research university with "high research activity" by the Carnegie Foundation for the Advancement of Teaching, NSU is one of only 50 universities nationwide to also be awarded Carnegie's Community Engagement Classification, and is also the largest private institution in the United States that meets the U.S. Department of Education's criteria as a Hispanic-serving Institution. For more information, please visit www.nova.edu.
MEDIA CONTACT
Joe Donzelli | Office of Public Affairs
954-262-2159 (office) | 954-661-4571 (cell)
jdonzelli@nova.edu | www.nova.edu
---
---