NSU Newsroom
SharkBytes
Horizons
This version of NSU News has been archived as of February 28, 2019. To search through archived articles, visit nova.edu/search. To access the new version of NSU News, visit news.nova.edu.
This version of SharkBytes has been archived as of February 28, 2019. To search through archived articles, visit nova.edu/search. To access the new version of SharkBytes, visit sharkbytes.nova.edu.
Jazz it up at the Circle of Friends Annual Meeting, May 10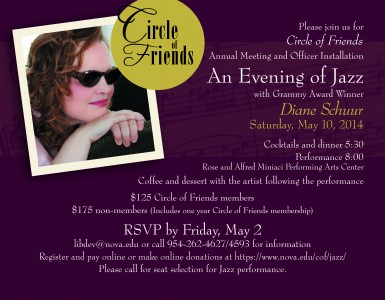 The Circle of Friends for the NSU Alvin Sherman Library will hold its annual meeting on Saturday, May 10 at the Alvin Sherman Library to recognize outgoing board members and install new board members. This very special evening will begin with cocktails at 5:30 pm followed by dinner in the library on the first floor.
After dinner, the guests will enjoy a jazz performance by Grammy award winner Diane Schuur, presented by South Florida Jazz in the adjoining Rose and Alfred Miniaci Performing Arts Center. Known for being one of contemporary music's leading vocalists, Ms. Schuur has built a stellar career by embracing traditional modern jazz repertoire and the American Songbook, then infusing it with contemporary pop and even some country music.
Tickets for the evening including the performance are $125 for Circle of Friends members, and $175 for non-members, which includes a one year membership to Circle of Friends. Proceeds from the evening will benefit the Alvin Sherman Library. Underwriting opportunities are available. To register for the event, click on this link: https://www.nova.edu/cof/jazz/ but don't delay because tickets are limited.  For more information, check out the Circle of Friends website www.nova.edu/library/cof or contact 965-262-4627/954-262-4593 or libdev@nova.edu.    
Since 2001, the Circle of Friends of the Sherman Library has had a long tradition of providing literacy and cultural programs for the NSU and Broward community.    Most people don't know that anyone living, working or going to school in Broward County can use this library just like a public library… that's really unique for a private not-for profit university to allow the public to use its academic resources.  Joining the Friends group lets you meet great people, opens the door to spectacular Friends and NSU events while raising funds to help support the mission of the library.  Last year alone, revenues through membership and fundraising helped the library purchase materials for AllStars Storytime for autistic children, bought essential research materials and added technology to help librarians teach students. We need friends like you to make people aware of the NSU Alvin Sherman Library as a community resource that is essential for promoting literacy and cultural arts!
---
---