NSU Newsroom
SharkBytes
Horizons
This version of NSU News has been archived as of February 28, 2019. To search through archived articles, visit nova.edu/search. To access the new version of NSU News, visit news.nova.edu.
This version of SharkBytes has been archived as of February 28, 2019. To search through archived articles, visit nova.edu/search. To access the new version of SharkBytes, visit sharkbytes.nova.edu.
NSU Receives Grant to Improve STEM Education for Hispanic Students
­
NSU received funding from the National Science Foundation (NSF) to hold a conference on strengthening pathways for Latino students in science, technology, engineering and math (STEM) and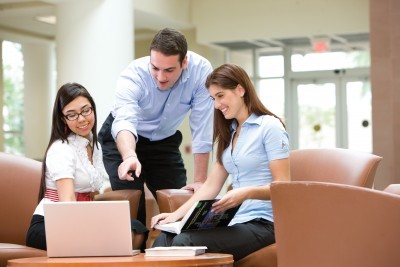 garner research to support improved Hispanic-focused STEM education.
Announced by the National Science Foundation (NSF), this $91,292 NSF inaugural grant is coordinated by NSU's Meline Kevorkian, Ed.D., associate provost of Academic Quality, Assessment and Accreditation and Professor of Education and Greg Simco, Ph.D., chair of the Engineering and Computer Science Department and professor of Computer Science in the College of Engineering and Computing.
The conference was held this past December and focused on two-year/four-year STEM pathways and collaboration involving Hispanic Serving Institutions. Attendees represented 32 Hispanic-serving institutions from throughout the country. NSU partnered with Broward College and Miami Dade College and the presentations, work sessions and more informal networking breaks were designed to both inform participants about inter-related common challenges, research-informed best practices, and to influence the development of innovative ideas. An industry and student panel was held to discuss key skills sets necessary for STEM student success. The panel included Ultimate Software, Los Alamos National Laboratory, Scripps, Max Planck Florida Institute, Modernizing Medicine, American Express, and the Central Intelligence Agency.
This project is designed to improve undergraduate Science, Technology, Engineering and Mathematics (STEM) education in Hispanic Serving Institutions (HSI), and identify the most critical challenges and opportunities regarding these subjects at the undergraduate level. The grant will provide a report of findings to be published later this year.
Keynote presentations included Sarita E. Brown, President of Excelencia in Education. Nova Southeastern University's President George L. Hanbury II is a proud member of Presidents for Latino Student Success, a network of presidents in post-secondary education collaborating with Excelencia in Education committed to a collective goal of making our country stronger with the talents, skills, and contributions of Latino college graduates.
Kevorkian and Simco shared that "Productive meetings such as these are crucial to closing the gap of underserved students in STEM and supporting our national economy for decades to come."
Established in 2017, the HSI Program is the result of NSF's work with the HSI community and lawmakers to find ways to bolster the quality of undergraduate STEM education. The program also seeks to build STEM capacity at HSIs that typically do not receive high levels of NSF funding.
"For decades, NSF has worked to provide members of communities traditionally underserved in STEM with access to STEM education and opportunities in STEM careers," said Jim Lewis, acting NSF assistant director for Education and Human Resources.
---
---