NSU Newsroom
SharkBytes
Horizons
This version of NSU News has been archived as of February 28, 2019. To search through archived articles, visit nova.edu/search. To access the new version of NSU News, visit news.nova.edu.
This version of SharkBytes has been archived as of February 28, 2019. To search through archived articles, visit nova.edu/search. To access the new version of SharkBytes, visit sharkbytes.nova.edu.
Fischler School Participates in Dominican Republic Leadership Conference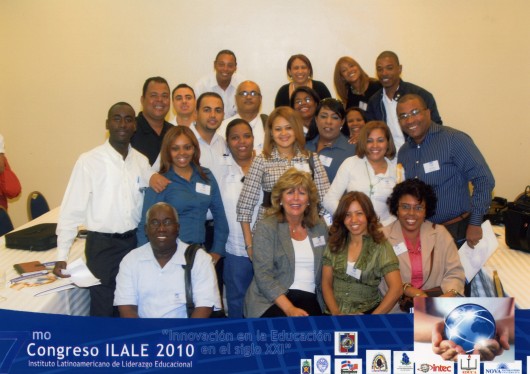 Several professors and administrators from NSU's Fischler School of Education and Human Services recently participated in the 7th Congreso ILALE (Instituto Latinoamericano de Liderazgo Educacional).
Congreso ILALE is a leadership conference held annually in Santo Domingo, Dominican Republic. The conference was started by Armando Rodriquez, Ed.D., and Pedro Hernandez, Ed.D., of NSU's Fischler School in 2002 as a showcase for the school's doctoral and masters programs in the Dominican Republic. Over the years, the event quickly became a prestigious international forum for exchanging ideas and best practices for Caribbean and Latin American educators.
ILALE has 122 doctoral students in South Florida, 32 in Belize and 120 doctoral students in the Dominican Republic, as well as more than 100 master's students. The outreach also houses the International Teachers Education Program (ITEP) that offers Hispanic students that need Spanish support in Miami, Broward, West Palm Beach and Tampa the opportunity to obtain a Master of Science degree in education.
More than 400 educators participated in the June 2010 Congreso ILALE, which featured the theme "Innovation in Education in the XXI Century." Participants listened and debated topics related to innovations in educational technology, early childhood education, leadership and administration, educational research and teaching.
Major television networks and newspapers also covered the conference opening where the country's Minister of Education, the Minister of Higher Education of Santo Domingo, and NSU Fischler School's Acting Education Provost and University Dean Nelson Diaz welcomed the participants.
"Many NSU students in the Dominican Republic are among the country's most distinguished educators," said Fischler School Director of Academic and Faculty Support Vesna Beck, Ed.D., about her experience attending the 2010 event. "I can say without reservation that in all my years of teaching I have never met a more competent, committed and diligent group of students. They are serious about learning and want to make a difference in the future of their country. Being experienced professionals makes engaging with them most stimulating and challenging."
Beck said that NSU has many dedicated faculty members who teach in the Dominican Republic on a regular basis, including Jorge Max Fernandez, Ph.D., and Lourdes Rovira, Ed.D.
---
---