NSU Newsroom
SharkBytes
Horizons
This version of NSU News has been archived as of February 28, 2019. To search through archived articles, visit nova.edu/search. To access the new version of NSU News, visit news.nova.edu.
This version of SharkBytes has been archived as of February 28, 2019. To search through archived articles, visit nova.edu/search. To access the new version of SharkBytes, visit sharkbytes.nova.edu.
Chronic Fatigue Syndrome Research Gets a Boost with NSU's New Institute for Neuro Immune Medicine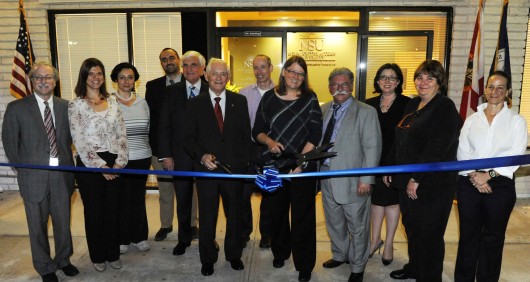 (Photo caption, L to R): Gary Margules Ph.D., NSU VP and dean of Research and Technology Transfer; Paula Waziry, Ph.D., assistant professor of Medicine at NSU's Institute for Nuero Immune Medicine (INIM); Lubov Nathanson, Ph.D., INIM assistant professor of Medicine; Nick Lewis, JD, INIM administrative director; NSU President George Hanbury, Ph.D.;  Ron Assaf, chair, NSU Board of Trustees; Gordon Broderick, Ph.D., INIM professor of Psychology;  Nancy Klimas, M.D., professor of Medicine and INIM director; Anthony Silvagni Pharm.D.,D.O., dean of NSU's College of Osteopathic Medicine; Irina Rozenfeld, ARNP, INIM assistant professor of Nursing;  Irma Rey, M.D., INIM assistant professor of Medicine;  Connie Sol, Ph.D., candidate, INIM exercise physiologist.
Nova Southeastern University's College of Osteopathic Medicine (NSU-COM) held a grand opening for America's first Institute for Neuro Immune Medicine on Feb. 12. Located at NSU's main campus in Davie, the Institute is the only one of its kind in the nation that will treat patients with conditions such as chronic fatigue syndrome/myalgic encephalomyelitis (CFS/ME) and Gulf War Illness (GWI), as well as conduct basic and clinical research under one roof in this field.
The Institute is also the first in the nation to study neuroinflammatory and neurodegenerative disorders such as CFS/ME, GWI, Parkinson's Disease and multiple sclerosis using the newest genomic techniques.  By studying individual genes and what they code for, the Institute's scientists will better understand the cause and point to new ways to treat these complex disorders. The idea is to challenge the patient with something like exercise and measure which genes turn  on or off and to better understand the cause of relapse and illness persistence and find points of intervention. This important basic research will provide answers that will help scientists develop new pharmaceutical medications to treat these illnesses.
The Institute has research laboratories, a patient clinic, a clinical research unit, faculty offices and conference facilities. It's designed to put together multiple core medical and scientific disciplines in one place: clinicians, educators and researchers in the areas of genomics, virology, immunology, cellular biology, computational biology and therapeutic modeling.
"We have created a one-of-a-kind think tank that will become the leading neuro immune medicine institute of its kind in the United States," said the Institute's director Nancy Klimas, M.D., who is one of the world's leading researchers and clinicians in chronic fatigue syndrome/myalgic encephalomyelitis (CFS/ME). "It will be a place to coordinate cutting edge thinking and research, train new practitioners, and offer the highest quality clinical care for a hugely underserved population. We are thrilled to take this giant step forward in the field of CFS/ME and Gulf War Illness care and research."
The Institute partners with the Miami VA Medical Center in the Gulf War Illness research program.  It will compliment an existing NSU-COM clinic Klimas oversees in Kendall, which treats CFS/ME, GWI and other patients suffering from neuro immune disorders. When the Institute begins seeing patients on March 1, both facilities will accommodate around 1,300 patients from South Florida, throughout the nation and around the world. By bringing together some of the best scientific minds in the world, the facility will act as both a working institute for research, train new clinicians, and provide diagnostic and therapeutic clinical care.
In addition to seeing patients and conducting research, Klimas and her team are conducting clinical trials for the drug Ampligen, which would be the first-ever medication to treat CFS/ME if approved by the Food and Drug Administration (FDA).
CFS/ME is a debilitating immune disorder that affects more than one million Americans. A majority of CFS/ME sufferers are women, who remain mostly untreated. The disease damages the patient's immune system and causes symptoms such as extreme fatigue unabated by sleep, faintness, widespread muscle and joint pain, sore throat, severe headaches, cognitive difficulties, and severe mental and physical exhaustion. CFS/ME symptoms typically last for more than six months, often decades. Those suffering from the disease find their lives dramatically altered to the extent that working and completing simple tasks become difficult or impossible.
Gulf War Illness is a medical condition that affects veterans and civilians who were exposed to a number of triggers, including chemical weapons during the 1991 Gulf War. Symptoms include musculoskeletal pain, fatigue, skin rashes, cognitive problems, and diarrhea.
The Institute is part of NSU's initiative to bring world renowned researchers to campus.  The Schemel Family Foundation has generously donated $2 million to establish an additional endowed professorship, the Schemel Professor for Neuro Immune Medicine in neuroimmunology, at the Institute to work directly with Klimas. In addition, a beautiful patient waiting area was generously contributed by the Maroone Family.
---
---