NSU Newsroom
SharkBytes
Horizons
This version of NSU News has been archived as of February 28, 2019. To search through archived articles, visit nova.edu/search. To access the new version of NSU News, visit news.nova.edu.
This version of SharkBytes has been archived as of February 28, 2019. To search through archived articles, visit nova.edu/search. To access the new version of SharkBytes, visit sharkbytes.nova.edu.
Chancellor Launches New NSU Leadership Program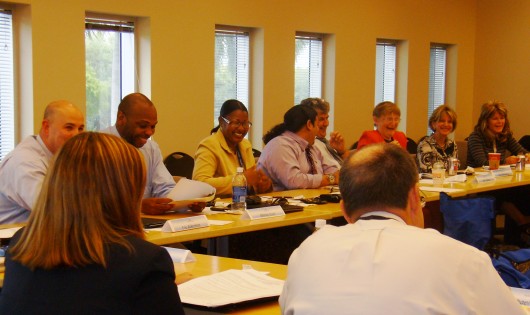 During NSU's recent Town Hall meetings, numerous requests were received to create an NSU Leadership/Supervisory Program that would enhance the skills of our supervisors.
In response to these requests, the Office of Human Resources and a Task Force appointed by Chancellor Ray Ferrero, Jr. created a training curriculum to develop leaders who will help propel NSU toward premiere status among peers in higher education. The ultimate goal of the program is to realize NSU's 2020 vision as presented by President George L. Hanbury II and Provost Frank DePiano, and endorsed by NSU's Board of Trustees.
The first class subject was "Legal Employment Issues & Management Philosophy/Expectations," which is a part of the Performance Management module. This interactive day-long workshop was led by Associate Vice President of Human Resources Mark Andrew Jones on Friday, May 20 and Wednesday, May 25.
Taken from an anonymous survey, here's what some  participants said about the inaugural class:  
"Excellent facilitator, who kept the session moving, engaged participants by using humor and a variety of scenarios to emphasize his points; very responsive to participant interaction."
"I enjoyed being provided foundation information and then being able to discuss how the legal issues might affect our employees at NSU.   I feel much more knowledgeable following this program."
The five modules will include "Communication Skills," "Managing Conflict/Change," "Measurement/Project Management," and "Leadership Visioning & Planning," following the first workshop.  Content specialists for each module have been selected from within NSU's extensive cadre of experts.
With the feedback received from the University community, NSU's senior administration has identified this curriculum to be critical for the current and future leaders of NSU. Congratulations to:
Group One Class:
Frank De Piano, Alice Aschbrenner, Glenn Bigsby, Larry Calderon, Aarika Camp, Rick Davis,  Lisa Deziel-Evans, Andrew Dunne, Nancy Fowles, Karen Goldberg, Cindy Gross, Preston Jones, Hal Lippman, Jennie Lou, Dian Moorhouse, Kathleen (Bay) O'Leary, Susan Peirce, Joe Pepe, Sandy Pierce, Cecilia Rokusek, Sam Snyder, Julie Spechler, Robin Supler, Pete Witschen, and Honggang Yang.
Group Two Class:
George Hanbury II, Eric Ackerman, Joseph Baldelomar, Tommie Boyd, Stephanie Brown, Ron Chenail, Marlon Clarke, Sandee Dunbar, Kimberly Durham, Joanne Ferchland-Parella, Michael Fields, David Heron, Kenneth Johnson, Meg Malmberg, Wren Newman, Susan Ohrablo, Robert Oller, Barbara Packer-Muti, Linda Rouse, Shari Saperstein, Alex Soloviev, Thorny Steele, Zevon Stubblefield, and Sarah Valley-Gray.
 For more information please contact Maureen Simunek-Appelt, M.B.A., Learning Manager, NSU Office of Human Resources at 954 262-7869 or maureens@nsu.nova.edu.
---
---