NSU Newsroom
SharkBytes
Horizons
This version of NSU News has been archived as of February 28, 2019. To search through archived articles, visit nova.edu/search. To access the new version of NSU News, visit news.nova.edu.
This version of SharkBytes has been archived as of February 28, 2019. To search through archived articles, visit nova.edu/search. To access the new version of SharkBytes, visit sharkbytes.nova.edu.
Carl DeSantis Enlightens Audience About His "Life After Sundown"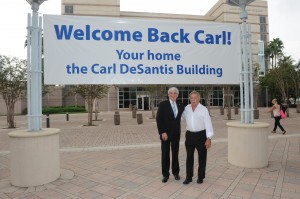 The H. Wayne Huizenga School of Business and Entrepreneurship's Distinguished Lecture Series welcomed Carl DeSantis, former Chairman of the Board of Rexall Sundown, Inc. and namesake of the building that houses the business school, to the University's Davie campus for a lecture titled "Life After Sundown." Speaking in front of a full house, DeSantis addressed students, faculty and staff in the Miniaci Performing Arts Center on Tuesday, Sept. 25.
DeSantis handed out copies of his book, Vitamin EnRICHed, as well as an offer to receive a  free DVD copy of "The Art of Tying The Knot" from his DeSantis Collection of clothing as his gift to audience members.
DeSantis regaled the audience with accounts of his entrepreneurial endeavors while imparting business advice, such as:
Look for voids in life.
DeSantis told attendees to create a business based on voids in life – in other words, to look for where there are consumer needs/demands, and fill them. He told about how after his dogs passed away it was difficult to locate a service provider to remove the animal carcasses. See a need, and fill it!

Don't ever put the brakes on.
DeSantis insists that it takes persistence, dedication, and hard work to get the job done. While at Rexall Sundown, he had no set working hours, but instead stayed at work until everything that needed to be done was done.
Know what you are capable of.
Knowing one's strengths and skill sets is imperative, as well as knowing what you will need to achieve your goals, such as surrounding yourself with good people. DeSantis' right hand man, Jim Steinhauser, has worked with him for more than 25 years; Bill Milmoe, president of CDS International Holdings, Inc., has worked with Carl for 15 years.
DeSantis' entrepreneurial spirit dates back to his working-class boyhood, when he sold newspapers and raised parakeets to help his family. He entered the health industry as a stock boy at Walgreens and soon became one of the chain's top store managers. In response to consumer demand, DeSantis created Sundown, an effective but inexpensive sunburn treatment.
Recognizing the increasing interest in nutrition and health products, he started the successful company Rexall Sundown, Inc., which was the leading developer, manufacturer, and marketer of vitamins, nutritional supplements, and other consumer health products. Since his days at Rexall Sundown, Inc., DeSantis authored the best-selling book, Vitamin Enriched.
DeSantis, ever the entrepreneur, is currently running eight separate businesses including:
•    Tabañero – Tabañero sauce is 100% all natural and like no other hot sauce. The unique blend of ingredients gives Tabañero a tangy flavor with a hint of sweetness from the agave nectar. Along with other natural ingredients and mixed with the perfect amount of 'heat', it spices up any dish without over powering it.
•    CELSIUS is a great tasting drink that burns calories, reduces body fat, increases endurance and provides greater resistance to fatigue. Celsius comes in a variety of flavors and one 12 ounce can burns up to 100 calories – a powerful benefit unique to Celsius. Also loaded with vitamins and "good-for-you" ingredients like Green Tea with EGCG, Ginger, Calcium, Chromium, B vitamins, and vitamin C, the blend works together to raise metabolism leading to sustained calorie burn.
(Product information provided by CDS International Holdings, Inc)
To receive your free DVD copy of "The Art of Tying The Knot," click on the URL below and enter the code: "NOVA" at checkout. The DVD shows viewers five different necktie knots and how to tie them.
http://www.desantiscollection.com/ProductDetails/ProductDetails.aspx?pid={b81c993e-d171-4418-aa1d-bb9591687f6a}&gid={388c64ca-7fcb-415d-8aed-74e3a6d73240}&GroupName=Neckties&pname=The+Art+of+Tying+The+Knot&ptct=GL1-SR&CTitle=
---
---