NSU Newsroom
SharkBytes
Horizons
This version of NSU News has been archived as of February 28, 2019. To search through archived articles, visit nova.edu/search. To access the new version of NSU News, visit news.nova.edu.
This version of SharkBytes has been archived as of February 28, 2019. To search through archived articles, visit nova.edu/search. To access the new version of SharkBytes, visit sharkbytes.nova.edu.
NSU & Patel Family Foundation Organize Relief Flights to Puerto Rico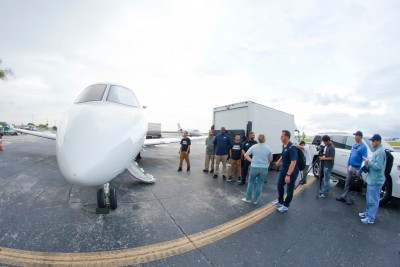 – UPDATE 10/5/17, 8:00 a.m. –
Thanks to the generosity of Dr. Patel, we have been able to deliver over 2,500 lbs. of goods directly to our campus. Items provided via the transport of Dr. Patel's plane included: water, batteries, tarps, flashlights, power packs, toiletries, t-shirts, crackers, canned goods, paper towels, etc.
Having NSU Facilities Management officials helped facilitate tracking down more than 100 cases of water that were stuck at a FEDEX facility, which were then transferred to campus. Without physically being on the island, this water would still be sitting in a warehouse unused.
Finally, being onsite has made a tremendous difference with the recovery/remediation efforts for the NSU facility. NSU officials were able to make contact with local companies and laborers to help expedite the repairs and moisture extraction from the facility. These face-to-face contacts have been invaluable and will be instrumental in expediting the opening of the building. Where remediation contractors have been giving us time estimates of three weeks before they could get to our campus, our local contacts (made possible by Dr. Patel) are beginning to mobilize now. It is also through these local contacts that NSU's IT Department was successful in restoring internet connection to the facility.
"I can say with certainty that the impact of Dr. Patel's kindness has been felt by hundreds on the island and will be felt by hundreds more by the end of the week," said Jessica Brumley, NSU's Vice President for Facilities Management, who went on the relief trips. "The support and love our Puerto Rican NSU community has felt from these missions is without measure. I, personally, am forever grateful for Dr. Patel's generosity and humbled to have been part of these missions."
We've all seen the images on TV news or via social media – the scenes coming out of Puerto Rico are truly heartbreaking. And as the official response works to meet basic needs, many have looked for other ways in which they can help those on the island impacted by Hurricane Maria.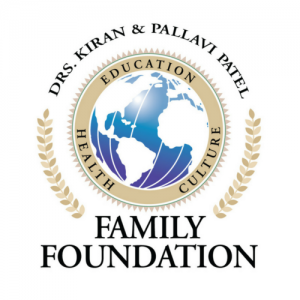 It was in this spirit that Nova Southeastern University (NSU) President Dr. George Hanbury reached out to NSU's newest Shark, Dr. Kiran C. Patel. Having just made a significant commitment to NSU via the Patel Family Foundation, resulting in the university naming two colleges in their honor – the Dr. Kiran C. Patel College of Osteopathic Medicine and the Dr. Pallavi Patel College of Healthcare Sciences, he was eager to help.
"Seeing what is happening in Puerto Rico, and knowing that NSU has a regional campus on the island, I knew I had to do something to help," said Dr. Kiran C. Patel. "I'm part of the NSU family and they are hurting; as a physician, a husband, a father – as a person – how could I not help?"

As Drs. Hanbury and Patel talked they came up with the idea of flying much-needed supplies to the island to be distributed to NSU's students, faculty and staff who are in desperate need. One of NSU's regional campuses is located in San Juan, Puerto Rico.

In roughly 36 hours, NSU officials worked to determine what essentials were needed, and then made arrangements for Dr. Patel to have his private jet fly to Fort Lauderdale so it could be loaded with those items and taken to the island.

"NSU stands with the entire Puerto Rican community as everyone works to bring normalcy back to the island after the devastating Hurricane Maria," said NSU President Dr. George Hanbury. "We are thankful to the Patel Family Foundation for supporting NSU's relief efforts by helping us transport much-needed supplies to our students, faculty and staff at a time when it's difficult to even communicate with the Shark family on the island. Our goal is to enable our students to return to their coursework, and ensure the safety of all our constituents in Puerto Rico. One way everyone can help is to volunteer or provide financial assistance through the NSU CARES fund, supporting students, faculty and staff affected by Hurricanes Irma and Maria."
In the spirit of One NSU and to provide assistance to those in the NSU community who are most in need of assistance, we have established the NSU CARES fund. Since its inception more than $12,000 has been raised. NSU is standing SHARK STRONG with a wonderful outpouring of volunteer efforts to gather much needed relief supplies and deliver them to our affected communities.
If you have not already done so, please consider making a donation or volunteering to help others in our Shark family return to a sense of normalcy, in what are quite abnormal times. You may donate online at nova.edu/nsucares or by texting 'NSUCARES' to 41444.
If you know of a fellow student, faculty, staff member or alumni of NSU who needs assistance in the wake of these storms, please send your request for support to NSUCares@nova.edu. All requests will remain confidential unless stated otherwise. If you are in Puerto Rico and haven't "checked in" with NSU, or know of someone who is safe but cannot communicate, visit www.nova.edu/PRsafety to learn how to check in.
To view photo gallery, click here.
---
---