NSU Newsroom
SharkBytes
Horizons
This version of NSU News has been archived as of February 28, 2019. To search through archived articles, visit nova.edu/search. To access the new version of NSU News, visit news.nova.edu.
This version of SharkBytes has been archived as of February 28, 2019. To search through archived articles, visit nova.edu/search. To access the new version of SharkBytes, visit sharkbytes.nova.edu.
1964-2014: NSU Celebrating 50 Years of Innovation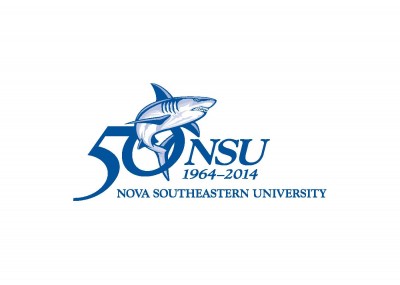 Below is the article published in the Sun-Sentinel, January 5, 2014 by reporter Scott Travis:
http://www.sun-sentinel.com/news/broward/fl-nova-50th-anniversary-20140103,0,7815050,full.story
Nova Southeastern University was envisioned a half-century ago as a high-tech university different from anything Florida had ever seen. And it has been pioneering ever since.
Long before most people had home computers, NSU offered online classes in the mid-1980s. It also became one of the nation's first universities to bring its degrees to other states. In recent years, it has constructed one state-of-the-art building after another, and is now planning an education park and giant science and engineering web lab research center.
Based in Davie but with campuses in nine other locations in Florida, Puerto Rico and the Bahamas, NSU plans to spend all of 2014 celebrating the 50th anniversary of its Dec. 4, 1964, charter. It will hold weekly "Coffee and Conversation" gatherings at its Davie library. The 50th anniversary also will be the theme for its annual Celebration of Excellence gala as well as its CommunityFest, fishing tournament and golf tournament. Events at other campuses are expected as well.
"I think Nova is an amazing success story," said Tinsley Ellis, 80, an attorney who oversaw the incorporation of the university and has served on the Board of Trustees since the beginning. "It had a very, very rocky beginning, and a lot of people were skeptical that we could have a full four-year college and graduate school. It was hard to raise the money."
But the school managed to turn its struggles into opportunities, growing from its first class of 17 students in 1967 to an enrollment of 26,000 today. It's the largest private university in Florida and one of the 10 largest in the country.
Nova was conceived as part of a "womb-to-tomb" educational complex to serve fast-growing Broward County, said Abe Fischler, 85, one of Nova's first faculty members and its second president.
The plan was to locate K-12 schools, a junior college and a university on Forman Field, an abandoned airfield used during World War II. Fischler said the state wasn't going to fund a public university in Broward County because it already had established Florida Atlantic University in Boca Raton.
The Junior College of Broward County, now known as Broward College, moved to the space in 1963. Nova High, an innovative public school with no ties to the university, opened in 1964, followed by two elementary schools and a middle school with the Nova name in the late 1960s and 1970s. The university opened its own private K-12 school on campus in 1971.
Nova University of Advanced Technology, as it was known then, struggled to raise the money until several key donations from philanthropists Edwin M. Rosenthal, Louis Parker and Abraham Mailman allowed buildings to be constructed.
NSU's first president, Warren Winstead, even persuaded the Legislature to extend the racing and jai alai season by one day in Broward County, so the venue operators could donate that day's proceeds to Nova, according to the book "The Making of Nova Southeastern University: A Tradition of Innovation" by Julian Pleasants.
"Nova came close to never opening at all, and when it did so, it came close to failing on several occasions," Pleasants wrote.
Nova was on the verge of collapse in 1970, with just a few dozen students, little money and no accreditation, when Fischler took steps to repair the school. These included a merger with the New York Institute of Technology, which pumped $1.2 million into the university and helped Nova receive accreditation from the Southern Association of Colleges and Schools.
To raise more money, Fischler came up with the idea of serving students who didn't live in South Florida.
The Internet was still many years off, but Fischler developed a distance-learning program for principals and superintendents who wanted to earn a PhD but couldn't leave their jobs. He flew adjunct faculty into cities around the country where they met with clusters of students on weekends.
"The concept was ahead of its time and in many ways was the forerunner of today's online education programs," Pleasants wrote.
But many questioned the quality of the programs. After the Cincinnati Enquirer labeled it a diploma mill, the school sued and the newspaper was forced to run a retraction.
Joe Pace, 66, a psychologist who earned a doctorate in education from Nova in 1983, said the school's reputation of having inferior academic quality was unfounded.
"It was a tough curriculum," he said. "It was very rigorous, and there were several times I didn't think I was going to finish. I started with about 50 professionals in my class in 1979, and in the end, only 10 or 11 finished after four years."
Nova continued to grow, adding new colleges for business, law and pharmacy. But perhaps its most significant milestone was its 1994 merger with Southeastern University of the Health Sciences in North Miami. The doctor of osteopathy program, focused on a holistic approach to medicine, gave Broward County its first medical school.
The arrangement also pumped $60 million worth of assets into the university, helping its bottom line and enabling it to attract higher caliber students.
Lawyer Ray Ferrero, Jr. took over in 1998, and during his 12-year tenure as president added nearly 2 million square feet of space, including a joint-use library with the county, a College of Business building, athletic facilities, a large student center and new facilities for its Health Professions Division.
In 2001, the school built a large facility for the Mailman Segal Center, which focuses on early childhood and autism research and services.
While NSU's enrollment nearly doubled during Ferrero's tenure, growth has slowed in recent years. The student population went from about 29,000 four years ago to about 26,000 this year. Nova officials say their goal is not more students, but better students. To that end, it is implementing tougher admissions standards for undergraduate students next year.
It also is moving forward with a science research center, a high-tech office and research park, and a teaching hospital.
The state recently turned down a proposal to create a teaching hospital with HCA East Florida, but President George Hanbury said HCA plans to resubmit a plan more focused on research.
"If it's just another community hospital, it will be turned down again. What we're talking about is a $150 million, 100-bed research hospital to complement research we're doing on campus."
Hanbury is optimistic about NSU's future.
"We've really had a wonderful and glorious history in the last 50 years," he said. "I'm really thinking the next 50 years will be even greater, even more transforming."
Nova Southeastern University through the years
1960: The Oatmeal Club, a group of local businessmen, meet to discuss the county's education needs. One of their ideas is to create a private nonprofit technology-based university.
Dec. 4, 1964: Nova University of Advanced Technology is chartered as a graduate institution in the physical and social sciences. Warren J. Winstead is the first president.
1965: Gifts from Edwin Rosenthal, Louis Parker and Abraham Mailman allowed for the construction of Nova's first three buildings.
1967: Classes begin with 17 PhD students. The first building, the Rosenthal Student Center is completed.
1970: Abe Fischler becomes president. Nova merges with the New York Institute of Technology. The Oceanographic Research Center opens in its permanent location on the Intracoastal Waterway opposite of Fort Lauderdale.
1971: Nova opens University of School, a private, college preparatory school that educates students in grades pre-K to 12.
1972: Nova starts a distance-learning program for educators all over the country.
1974: Nova's law school opens with 175 students.
1975: The Mailman-Segal Family Center, a learning laboratory for early childhood care, opens.
1981: The Southeastern College of Oceanographic Medicine admits its inaugural class of 40 students.
1985: Nova offers its first online classroom. Nova severs ties with New York Institute of Technology.
1994: Nova merges with Southeastern University of the Health Sciences in North Miami, and the name is changed to Nova Southeastern University.
1998: Ray Ferrero Jr. is selected as the fifth president, overseeing a period of extensive construction and enrollment growth.
2008: NSU acquires The Museum of Art Fort Lauderdale.
2010: George Hanbury becomes Nova Southeastern University's president.
2011: NSU announces plans to build a Center for Collaborative Research that will house one of the largest wet-lab research facilities in Florida and will serve the university's medical, pharmaceutical, dental and oceanographic research needs.
2013: NSU and HCA East Florida announce plans to construct a 100-bed teaching and research hospital. The state turns down the proposal, but officials say they plan to resubmit the proposal.
---
---