NSU Newsroom
SharkBytes
Horizons
This version of NSU News has been archived as of February 28, 2019. To search through archived articles, visit nova.edu/search. To access the new version of NSU News, visit news.nova.edu.
This version of SharkBytes has been archived as of February 28, 2019. To search through archived articles, visit nova.edu/search. To access the new version of SharkBytes, visit sharkbytes.nova.edu.
NSU Researchers Using iPads to Treat Spinal Cord Injuries
The university is giving iPads and designing treatment plans for patients with limited mobility
FT. LAUDERDALE-DAVIE Fla. —- A little iPad can go a long way.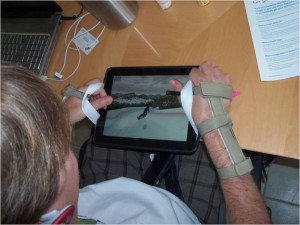 At Nova Southeastern University (NSU), the tiny, flat screen, touch pad is being used by the Occupational Therapy Department researchers to treat disabled patients who suffer from spinal cord injuries and other disabilities.
The department, which is a part of NSU's College of Allied Health and Nursing, is using a $13,000 grant from the Christopher & Dana Reeve Foundation to purchase 20 iPads to treat those individuals.
Because spinal cord injury victims have very limited mobility, using a desktop computer or laptop can be difficult for them. NSU researchers in occupational therapy believe that the iPad, with its lightweight, portability characteristics, as well as its touch screen, will help patients have greater access to the Internet, applications, social media outlets, music, games, GPS, and other functions.
Additionally, the iPad will make it much easier for them to read books and newspapers, which they would not have to pick up anymore.
So far, eight iPads have been distributed to patients with spinal cord injuries, as well as, those suffering from traumatic brain injuries, cerebral palsy, and an amputee. Another 12 iPads are will be given to this disabled population in Broward County.
"The iPad program has been very successful so far," said Adrienne Lauer, Ed.D., OTR/L, the program director and an assistant professor of occupational therapy at NSU. "It has really made a positive impact on this disabled population, allowing them to easier get access to mainstream technology they have previously struggled with."
###
About NSU's College of Allied Health and Nursing: The College endeavors to train health care professionals in the art and science of improving the quality of life and health of their patients and communities. Through undergraduate, graduate and post-graduate degree programs, its goal is to produce highly motivated and well educated practitioners who will be integral members of the healthcare team.
About Nova Southeastern University: Located in Davie, Florida, Nova Southeastern University (NSU) is a dynamic fully accredited Florida University dedicated to providing high-quality educational programs of distinction from preschool through the professional and doctoral levels. NSU has more than 29,000 students and is the seventh largest not-for-profit independent institution nationally. The University awards associate's, bachelor's degrees, master's degrees, specialist, and first-professional degrees in a wide range of fields, including business, counseling, computer and information sciences, education, medicine, optometry, pharmacy, dentistry, various health professions, law, marine sciences, early childhood, psychology and other social sciences.  Classified as a research university with "high research activity" by the Carnegie Foundation for the Advancement of Teaching, NSU was also awarded Carnegie's Community Engagement Classification in 2010 for the University's significant commitment to and demonstration of community engagement.   For more information about Nova visit www.nova.edu.
Media Contact:
Ken Ma, NSU Office of Public Affairs
954-262-5408 (office), 954-830-4177 (cell), ken.ma@nova.edu
---
---