NSU Newsroom
SharkBytes
Horizons
This version of NSU News has been archived as of February 28, 2019. To search through archived articles, visit nova.edu/search. To access the new version of NSU News, visit news.nova.edu.
This version of SharkBytes has been archived as of February 28, 2019. To search through archived articles, visit nova.edu/search. To access the new version of SharkBytes, visit sharkbytes.nova.edu.
Nova Southeastern University Offering Nearly $1 Million In Scholarships For Aviation Students
One-of-a-Kind Program to Award $878,000 Every 18 Months to 12 Qualified Students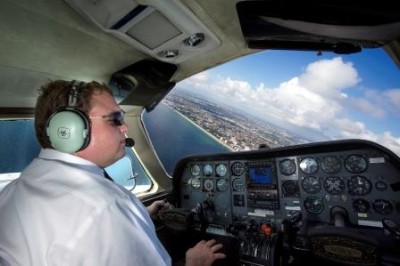 FORT LAUDERDALE-DAVIE, Fla. – Since the day humans took to the skies in flying machines, young boys and girls have dreamed of becoming pilots. Posters of the coolest airplane hanging on the bedroom wall was a rite of passage for many children, and many flight-related video games are among the most popular.
As they grew older, some children saw these dreams fade due to a myriad of factors, including finances. Now, however, thanks to a new scholarship program at Nova Southeastern University, those dreams can be rekindled once again.
"This is an unbelievable opportunity for our students," said Kimberly Durham, Psy.D., dean of NSU's Institute for the Study of Human Services, Health and Justice. "NSU's bachelor's in human services administration, with an emphasis on human factors in aviation, is unique and thanks to our business partner, we can help ensure students who want an education can get one – it's tremendous."
The partner Durham referred to is American Flyers, where NSU students get cockpit time as they learn how to fly. Through this one-of-a-kind program, American Flyers is providing 12 scholarships every 18 months at $73,000 per student – that's nearly a $1 million every year and a half, which will be administered by NSU. The funds will cover the costs associated with flight training. Given that the total cost for this four-year program, including pilot license training and ratings is nearly $160,000, these scholarships can truly make a difference whether a student can enroll or not.
"For those individuals interested in getting a four year degree – and the opportunity to earn all flight certifications – this scholarship could mean all the difference in the world," Durham said. "It could be the difference between following their dream or having to pursue another career because of affordability."
The scholarship program will begin for students during the Fall 2015 semester.
This is the only scholarship program of its kind in the United States. What makes it even more unique is that along with online course offerings available via NSU, students who live in the other areas American Flyers serves (Morristown, NJ; DuPage, IL; Santa Monica, CA; Dallas and Houston, TX) are eligible for to apply for these scholarships as well – you don't have to be on NSU's campus to qualify.
"We are very excited about our relationship with NSU," said Andrew Henley, Executive Board Member of American Flyers. "While only in place for a few years, it has been very popular and transformative for our organization. American Flyers is celebrating its 75th Anniversary, and we can now help to pave the way for a young person to start their college and flying career at the same time. Ultimately, in a few short years, through our scholarship and airline agreements, students will have the opportunity, with a single interview to continue their career as a professional pilot; cradle to cockpit as we say."
In order to qualify for the new scholarships, participants must be a fully admitted NSU undergraduate student, successfully complete a 16-week practicum at American Flyers, maintain a minimum 3.0 GPA and provide a 1,000 word essay on why they're interested in the aviation program and why they should be granted a scholarship.
In addition to this new scholarship, NSU aviation students have the opportunity to participate in paid internships, which provide them with real-world learning experiences in the field and the ability to continue to accrue needed flight hours.
The employment outlook for airline pilots is excellent. With the explosive growth of international carriers and an increasing number of pilots reaching the mandatory retirement age of 65, there is a growing need for pilots and other aviation personnel within the airline industry.
NSU's aviation program, which is entering its third year, is designed to provide students with a comprehensive understanding of the human factors associated with flight. These include problem solving skills, decision-making, communication, attention, stress management and physical condition – many of which are not addressed in other aviation programs.
"What we provide is much more than just an opportunity to get your pilot's license, along with your bachelor's degree" Durham said. "We want our students to understand all the factors that play a role in being a pilot – the goal is to train and graduate the most well rounded aviators we can, which will help increase safety for the industry."
Those students interested in the program should contact Kimberly Durham, Psy.D. at 954-262-8601 or via e-mail (durham@nova.edu.) More information about NSU's aviation program can be found online at www.nova.edu/aviation
###
About Nova Southeastern University: Situated on 314 beautiful acres in Ft. Lauderdale, Florida, Nova Southeastern University (NSU) is a dynamic research institution dedicated to providing high-quality educational programs at all levels.  NSU is an independent, not-for-profit institution with 26,000 students at campuses in Fort Lauderdale, Fort Myers, Jacksonville, Miami, Orlando, Palm Beach and Tampa, Florida as well as San Juan, Puerto Rico. NSU awards associate's, bachelor's, master's, specialist, doctoral and first-professional degrees in a wide range of fields. NSU is classified as a research university with "high research activity" by the Carnegie Foundation for the Advancement of Teaching, and it is one of only 37 universities nationwide to also be awarded Carnegie's Community Engagement Classification. For more information, please visit www.nova.edu. Celebrating 50 years of academic excellence!
Media Contact
Joe Donzelli | Office of Public Affairs
954-262-2159 (office)
954-661-4571 (cell)
jdonzelli@nova.edu
---
---