NSU Newsroom
SharkBytes
Horizons
This version of NSU News has been archived as of February 28, 2019. To search through archived articles, visit nova.edu/search. To access the new version of NSU News, visit news.nova.edu.
This version of SharkBytes has been archived as of February 28, 2019. To search through archived articles, visit nova.edu/search. To access the new version of SharkBytes, visit sharkbytes.nova.edu.
U.S. News & World Report Ranks NSU's Shepard Broad Law Center No. 5 Nationally for Diversity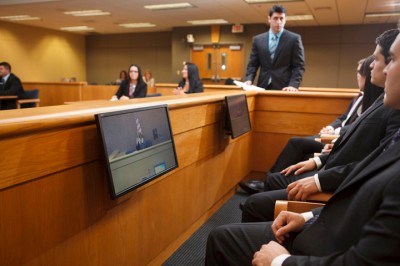 FORT LAUDERDALE-DAVIE, Fla.– March 18, 2014 –
Nova Southeastern University's Shepard Broad Law Center was ranked No. 5 nationally, for diversity in U.S. News & World Report's "Best Graduate Schools for Law," released March 11. The Law School Diversity Index also indicates that the Law Center ranks first for diversity amongst all law schools in Florida.
The Diversity Index identified law schools in which students are most likely to encounter classmates from a different racial or ethnic group, according to the website. In compiling the data, U.S. News did not include law schools enrolling a large proportion of students from any one ethnic group, since there is a low likelihood that law students at that school will encounter peers from a different ethnic group other than their own.
"As a minority-majority university, as well as a designated Hispanic serving institution, we are very proud of our ranking by U.S. News and World Report," said NSU President George L. Hanbury, Ph.D. "As we celebrate our 50th anniversary this year, we recognize that the university has not only grown in size and capacity, but so too has the community around us. Our students have the opportunity to learn not only in the classroom, but to learn how to live in a competitive global economy. Diversity is one of NSU's eight core values and our student population is reflective of a global society with many different cultures, races, values and nationalities."
The ranking was based on data collected by U.S. News. To be included, each law school must be accredited by the American Bar Association (ABA). There are currently 203 ABA-approved law schools across the U.S.
"We are proud of our commitment to diversity and the community at large," said Elena Langan, J.D., interim dean at the Law Center. "We recognize that our students come from a variety of backgrounds, with wide-ranging perspectives. We are pleased to be able to provide our students with boundless opportunities and support so that they are successful both during and after law school."
###
About the Shepard Broad Law Center: Nova Southeastern University's Law Center offers a rigorous traditional academic program in three-year day and four-year evening versions. NSU Law prides itself on preparing graduates to make a smooth transition from the classroom to the courtroom or boardroom. Lawyering Skills and Values (LSV)-Every student completes a four-semester LSV sequence that combines traditional legal reasoning, writing, and research with an introduction to lawyer interviewing, counseling, negotiating, mediating, advocating, and other critical skills in a simulated law firm experience.
About Nova Southeastern University: Situated on 314 beautiful acres in Ft. Lauderdale, Florida, Nova Southeastern University (NSU) is a dynamic fully accredited research institution dedicated to providing high-quality educational programs at all levels.  NSU is a not-for-profit independent institution with 27,000 students. NSU awards associate's, bachelor's, master's, specialist, doctoral and first-professional degrees in a wide range of fields. NSU is classified as a research university with "high research activity" by the Carnegie Foundation for the Advancement of Teaching, and it is one of only 37 universities nationwide to also be awarded Carnegie's Community Engagement Classification. For more information, please visit www.nova.edu.  Celebrating 50 years of academic excellence!
Media Contact:
Felecia Henderson, Ed.D | Office of Public Affairs
954-262-5315 (office)
954-383-4695 (cell)
fhenders@nova.edu
---
---