NSU Newsroom
SharkBytes
Horizons
This version of NSU News has been archived as of February 28, 2019. To search through archived articles, visit nova.edu/search. To access the new version of NSU News, visit news.nova.edu.
This version of SharkBytes has been archived as of February 28, 2019. To search through archived articles, visit nova.edu/search. To access the new version of SharkBytes, visit sharkbytes.nova.edu.
Two Mako Sharks Tagged by NSU Researchers Spending Spring Break Off South Carolina Coast
Sharks Tagged as Part of NSU's Guy Harvey Research Institute Ongoing Studies
FOR IMMEDIATE RELEASE
FORT LAUDERDALE-DAVIE, Fla. – Who knew that sharks like to hit the beach for Spring Break, too!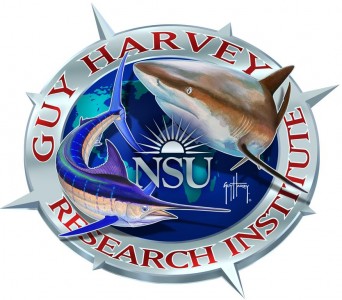 Well, they aren't exactly hitting the beach, but two mako sharks tagged by Nova Southeastern University's (NSU) Guy Harvey Research Institute (GHRI) are enjoying the waters off the South Carolina coast.
"We've been tracking mako sharks for many years, and we're continually amazed at their migratory patterns," said Mahmood Shivji, a professor at NSU's Halmos College of Natural Sciences and Oceanography. "Many of our makos have made huge journeys very far offshore into the Atlantic, but these two males decided just to migrate up and down the U.S. coast over the past 10 months, although still covering more than 4,000 miles each. Just when you think you know what they will do, the sharks surprise you – there is still so much to learn about these truly incredible animals."
Shivji is the director of NSU's GHRI, which has been tagging and tracking various shark and billfish species since 2006. This program is in partnership with world-renowned artist, scientist and explorer Dr. Guy Harvey. The mission of the GHRI is to provide the scientific information necessary to understand, conserve and effectively manage the world's marine fishes and their ecosystems.
See a video of the two sharks' animated tracks
You can follow these two mako sharks, and a host of other sharks and billfish, via the GHRI Tracking Website (www.ghritracking.org).
The two mako sharks in question, both males, are Bruce and Matt J – so named by those who sponsored the satellite (SPOT) tag that pinpoints their location as they swim in the ocean. What's interesting is that both of these animals have now been detected very close to each other off the Carolinas, 10 months after being tagged very close to each other off Ocean City, Maryland and going as far north as Massachusetts in the meantime.
"These animals swim incredibly long distances both on the continental shelf and out in the open ocean, but they do tend to return to nearly the same spots each year," said Shivji, who is also director of NSU's Save our Seas Shark Research Center. "Humans have GPS systems and we still get lost, so it's pretty remarkable that these animals can return to the same locations year after year – without the help of a smartphone!"
Shivji said his researchers have special interest in understanding mako shark migratory behavior because this information is essential for proper fisheries management and conservation of this internationally roving and heavily fished species.
Be sure to sign up for NSU's RSS feed so you don't miss any of our news releases, guest editorials and other announcements. Please sign up HERE.
###
 About Nova Southeastern University (NSU): Located in beautiful Fort Lauderdale, Florida, Nova Southeastern University (NSU) is a dynamic research institution dedicated to providing high-quality educational programs at the undergraduate, graduate, and first-professional degree levels. A private, not-for-profit institution with more than 26,000 students, NSU has campuses in Fort Lauderdale, Fort Myers, Jacksonville, Miami, Miramar, Orlando, Palm Beach, and Tampa, Florida, as well as San Juan, Puerto Rico, while maintaining a presence online globally. For more than 50 years, NSU has been awarding degrees in a wide range of fields, while fostering groundbreaking research and an impactful commitment to community. Classified as a research university with "high research activity" by the Carnegie Foundation for the Advancement of Teaching, NSU is 1 of only 37 universities nationwide to also be awarded Carnegie's Community Engagement Classification, and is also the largest private, not-for-profit institution in the United States that meets the U.S. Department of Education's criteria as a Hispanic-serving Institution. Please visit www.nova.edu for more information about NSU and realizingpotential.nova.edu for more information on the largest fundraising campaign in NSU history.
About NSU's Halmos College of Natural Sciences and Oceanography: The college provides high-quality undergraduate (bachelor's degree) and graduate (master's and doctoral degrees and certificates) education programs in a broad range of disciplines, including marine sciences, mathematics, biophysics, and chemistry. Researchers carry out innovative basic and applied research programs in coral reef biology, ecology, and geology; fish biology, ecology, and conservation; shark and billfish ecology; fisheries science; deep-sea organismal biology and ecology; invertebrate and vertebrate genomics, genetics, molecular ecology, and evolution; microbiology; biodiversity; observation and modeling of large-scale ocean circulation, coastal dynamics, and ocean atmosphere coupling; benthic habitat mapping; biodiversity; histology; and calcification. The college's newest building is the state-of-the-art Guy Harvey Oceanographic Center, an 86,000-square-foot structure filled with laboratories; offices; seminar rooms; an auditorium; and indoor and outdoor running sea water facilities. Please visit cnso.nova.edu for more information.
About Guy Harvey: Guy Harvey is a unique blend of artist, scientist, diver, angler, conservationist and explorer, fiercely devoted to his family and his love of the sea. His childhood passion for the ocean and its living creatures not only inspired him to draw, but fueled a burning interest that prompted a formal education in marine science. Having graduated with honors in Marine Biology from Aberdeen University in Scotland in 1977, Guy returned home to Jamaica to resume his education, earning his Ph.D. from the University of the West Indies in 1984. Though he gave up a budding career as a marine biologist for that of a highly acclaimed artist, Guy has continued his relentless pursuit to unravel the mysteries of the sea, traveling the world to better understand the habits and habitats of the marine wildlife he paints. For more information, please visit www.guyharvey.com.
March 16, 2016
Joe Donzelli | Office of Public Affairs
954-262-2159 (office) | 954-661-4571 (cell)
jdonzelli@nova.edu | www.nova.edu
---
---