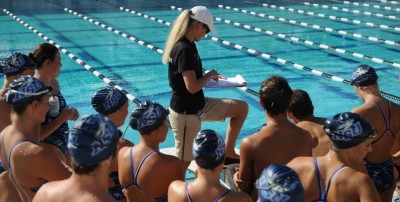 FORT LAUDERDALE, Fla.– March 3, 2014 -
The Nova Southeastern swimming and diving program will send eight swimmers, one female and seven males, to the NCAA National Championship, held in Geneva, Ohio at the SPIRE Institute from March 12-15. 
Lauren Chapple (Jr., London, England) will represent the women's team at nationals after being invited for the 400-yard IM with a time of 4:24.59. Chapple will have a busy weekend, competing in a total of four events. She was also invited to compete in the 200-yard IM, the 100-yard backstroke and the 200-yard butterfly. In addition, Emma Lawrenz (Jr., Minnetonka, Minn.) was selected as an alternate in the 100-yard freestyle race.
 
The men were led by Marco Aldabe (Fr., Alicante, Spain) who earned NSU's only A cut time in the 400- IM with a time of 3:52.96. That time was less than a second off the fastest time in the nation in that event, posted by a fellow freshman in Lindenwood's Felix Eigel. Aldabe was honored as a qualifier in the 200- IM, 100 and 200-yard backstroke. He has also qualified in the 400-yard freestyle relay event. 
For the complete release click here. 
###
About Nova Southeastern University: Situated on 314 beautiful acres in Ft. Lauderdale, Florida, Nova Southeastern University (NSU) is a dynamic fully accredited research institution dedicated to providing high-quality educational programs at all levels.  NSU is a not-for-profit independent institution with 27,000 students. NSU awards associate's, bachelor's, master's, specialist, doctoral and first-professional degrees in a wide range of fields. NSU is classified as a research university with "high research activity" by the Carnegie Foundation for the Advancement of Teaching, and it is one of only 37 universities nationwide to also be awarded Carnegie's Community Engagement Classification. For more information, please visit www.nova.edu.
Media Contact:
Keith Smith | Assistant AD
(954) 262-8261 (office)
bs746@nova.edu
Tags: athletics, diving, Emma Lawrenz, Lauren Chapple, Marco Aldabe, NCAA National Championship, sharks, swimming