NSU Newsroom
SharkBytes
Horizons
This version of NSU News has been archived as of February 28, 2019. To search through archived articles, visit nova.edu/search. To access the new version of NSU News, visit news.nova.edu.
This version of SharkBytes has been archived as of February 28, 2019. To search through archived articles, visit nova.edu/search. To access the new version of SharkBytes, visit sharkbytes.nova.edu.
Subject Matter Expert on Middle Eastern Politics/Fundamentalism Available for Reporters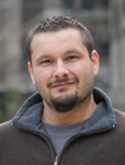 FORT LAUDERDALE-DAVIE, Fla. – Every day it seems that the Middle East is falling deeper and deeper into turmoil. There are several reasons why these conflicts exist, but for many outside the region, it's a mystery. To help explain the region's history and why things are the way they are today, Nova Southeastern University has a local expert in the area of Middle East politics, fundamentalism and religious extremism available to assist reporters working on related stories.
Dustin Berna, Ph.D., is an assistant professor in Nova Southeastern University's GraduateSchool of Humanities and Social Sciences (SHSS.) He is also the liaisonof M.S. and Graduate Certificate Programs in NSU's Department of Conflict Analysis and Resolution (DCAR) and SHSS-Institutional Assessment.
Berna earned his doctorate from the University of New Orleans in 2008.  His two major fields of study were Middle Eastern politics and international relations.  American political institutions were third and minor field.  His dissertation was a quantitative study that evaluated the causes and electoral success of Islamic fundamentalist movements.  Berna has collected and coded every Islamic fundamentalist group that is, or has been, in operation in the Islamic world since 1970.
Berna's research specializations include Middle Eastern politics, Islamic fundamentalism, religious extremism, social movements, terrorism, and political institutions.  He has taught classes on the Iraq War, Islamic politics, Middle Eastern politics, terrorism, political violence, international relations, U.S. foreign policy, the politics of developing states, revolutions, international negotiation and violence prevention. Berna has written numerous articles on topics that range from terrorism and Islamic fundamentalism to Iranian political institutions and Islamic democracy. Berna has experience working with print and broadcast media.
Along with his Ph.D., Berna has two Masters Degrees – an M.A. in political science and a M.S. in history education.  Dr. Berna also has two baccalaureate degrees; a B.A. in political science and a B.A. in English literature.
###
About Nova Southeastern University: Situated on 314 beautiful acres in Ft. Lauderdale, Florida, Nova Southeastern University (NSU) is a dynamic research institution dedicated to providing high-quality educational programs at all levels.  NSU is a not-for-profit independent institution with 26,000 students. NSU awards associate's, bachelor's, master's, specialist, doctoral and first-professional degrees in a wide range of fields. NSU is classified as a research university with "high research activity" by the Carnegie Foundation for the Advancement of Teaching, and it is one of only 37 universities nationwide to also be awarded Carnegie's Community Engagement Classification. For more information, please visit www.nova.edu. Celebrating 50 years of academic excellence!
---
---