NSU Newsroom
SharkBytes
Horizons
This version of NSU News has been archived as of February 28, 2019. To search through archived articles, visit nova.edu/search. To access the new version of NSU News, visit news.nova.edu.
This version of SharkBytes has been archived as of February 28, 2019. To search through archived articles, visit nova.edu/search. To access the new version of SharkBytes, visit sharkbytes.nova.edu.
Three South Florida Business Leaders to Be Honored by NSU
NSU's Huizenga Business School Announces 2012 Entrepreneur Hall of Fame Inductees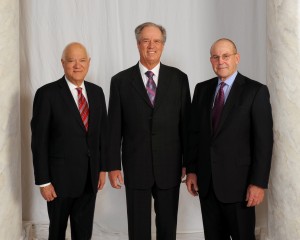 FORT LAUDERDALE-DAVIE, Fla. – Nova Southeastern University's (NSU) H. Wayne Huizenga School of Business and Entrepreneurship has announced the names of three South Florida business leaders who will be inducted into its Entrepreneur Hall of Fame, the Huizenga Business School's highest honor.
Joining the distinguished ranks of Hall of Fame members are Joel L. Altman, Chairman and Chief Executive Officer, The Altman Companies; George Feldenkreis, Chairman and Chief Executive Officer, Perry Ellis International; and Philip P. Smith, Chairman and Chief Executive Officer, Phil Smith Management, Inc.
"NSU has a proud tradition of educating current and future business leaders.  We are proud to honor these three CEOs for their legacies and commitment to our community as we welcome them to the Entrepreneur Hall of Fame," said Huizenga Business School Dean Michael Fields, Ph.D.
The Entrepreneur Hall of Fame was established in 1990 to honor the lifetime achievements of outstanding entrepreneurs who contributed not only to the growth of a phenomenal entrepreneurial business, but have also demonstrated a willingness to contribute time, effort and financial resources to programs and activities that enhance the quality of life in the communities in which we live.
The invitation-only event, which hosts 400-500 guests annually, will take place on April 18, 2012 at the Signature Grand in Davie, FL For more information on the 2012 Entrepreneur Hall of Fame, visit: http://www.huizenga.nova.edu/EHoF/HOF.htm

ABOUT THE HONOREES
Joel L. Altman
Joel Altman is the Chairman and Chief Executive Officer of The Altman Companies, which is developing or has developed, constructed, acquired and managed in excess of 21,000 multifamily units in Florida, Michigan, Illinois, Tennessee, Georgia, North Carolina and Texas since 1968. The Altman Companies incorporates multifamily development, general contracting acquisitions and property management among its many services, has its corporate headquarters in Boca Raton, Florida and has 300 employees.
Altman is active in the South Florida community through his participation in the World President's Organization, Young President's Organization, Junior Achievement and Broward Workshop. He has received the Sun-Sentinel Excalibur Award, South Florida Business Journal's Palm Beach Ultimate CEO Award and Multifamily Executive Magazine's Community Service Award, and others. In 1993, Altman founded The Altman Foundation for Children which provides grants to children's service organizations focused on bettering the lives of abused and neglected children. In 2000, he founded Kids@Home to help tackle the complex problems facing transitioning foster teens. Altman previously served on the Board of Directors for the Boca Raton Regional Hospital and its Hospital Foundation.  He is a member of the Broward Workshop and serves on its Urban Core and Juvenile Justice Committees.
George Feldenkreis
George Feldenkreis, Chairman and Chief Executive Officer, is the visionary who leads Perry Ellis International. Born in Havana, Cuba to Russian immigrants, Feldenkreis moved to Miami in 1961 and founded Supreme International, a company known for importing school uniforms and guayaberas, a 4-pocket tropical-inspired shirt. Supreme International went public in 1993 and became Perry Ellis International after the acquisition of said company in 1999.
Feldenkreis founded the Universal National Bank of Miami and currently serves on the Board of Trustees for the University of Miami and the boards of the Simon Wiesenthal Center and the Greater Miami Jewish Federation. He is a benefactor of numerous health, educational and social organizations. Feldenkreis has been honored by many organizations for his business achievements and civic contributions, including the Lincoln-Marti award for his role in the Cuban Refugee Program and the Man of the Year award from the American Apparel and Footwear Association.
Philip P. Smith
Philip P. Smith is Chairman and Chief Executive Officer of Phil Smith Management, Inc.  where he is responsible for the overall operations of the organization, including working with the equity partners at all locations, as well as orchestrating the acquisitions and growth strategies of the organization. Smith has more than 30 years experience with direct hands-on sales and management of automobile dealerships, and has built the organization from the ground up starting from his first equity venture in a Toyota dealership in Homestead, FL, in 1980. Currently, he runs 14 auto dealerships throughout Florida, Georgia and North Carolina. The Group also owns the Coral Ridge Country Club.
The Phil Smith Automotive Group has received numerous awards including the J.D. Powers Quality Dealer Award, Toyota President's Award, Ford Chairman's Award, and Acura Dealership of Distinction. Smith is past chairman of the Southeast Toyota Dealer Council, past member of the National Toyota Dealer Council, past president of the South Florida Auto-Truck Dealers Association and is a past director of the Florida Automobile Dealers Association. Raised in South Florida, Smith is active in the community with the Humane Society of Broward County, the Cystic Fibrosis Foundation, American Cancer Society, Make a Wish foundation and others.
About the H. Wayne Huizenga School of Business and Entrepreneurship: Serving more than 6,000 students, the H. Wayne Huizenga School of Business and Entrepreneurship at Nova Southeastern University offers bachelor's, master's and doctoral degree programs in areas such as accounting, finance, human resource management, public administration, sales and sales certificate programs. The Huizenga Business School has the largest Master of Business Administration program in Florida.  The school is housed in the five-story state-of-the-art Carl DeSantis Building on Nova Southeastern University's main campus in Fort Lauderdale-Davie, Florida, but programs are available at multiple locations and online. For more information, visit http://www.huizenga.nova.edu/.
About Nova Southeastern University: Located in Davie, Florida, Nova Southeastern University (NSU) is a dynamic fully accredited Florida University dedicated to providing high-quality educational programs of distinction from preschool through the professional and doctoral levels. NSU has more than 28,000 students and is the eighth largest not-for-profit independent institution nationally. The University awards associate's, bachelor's degrees, master's degrees, specialist, and first-professional degrees in a wide range of fields, including business, counseling, computer and information sciences, education, medicine, optometry, pharmacy, dentistry, various health professions, law, marine sciences, early childhood, psychology and other social sciences.  Classified as a research university with "high research activity" by the Carnegie Foundation for the Advancement of Teaching, NSU was also awarded Carnegie's Community Engagement Classification in 2010 for the University's significant commitment to and demonstration of community engagement.   For more information about NSU visit www.nova.edu.
# # #
Media Contact:
Brandon Hensler, NSU Office of Public Affairs
954-262-5385/5170(office), 954-393-5926(cell), Brandon.Hensler@nova.edu
---
---