NSU Newsroom
SharkBytes
Horizons
This version of NSU News has been archived as of February 28, 2019. To search through archived articles, visit nova.edu/search. To access the new version of NSU News, visit news.nova.edu.
This version of SharkBytes has been archived as of February 28, 2019. To search through archived articles, visit nova.edu/search. To access the new version of SharkBytes, visit sharkbytes.nova.edu.
Sir Richard Branson to Race Guy Harvey – It's Gonna Be EPIC!
NSU Guy Harvey Research Institute to Conduct One-of-a-Kind Shark Race for Conservation Science
FORT LAUD
ERDALE-DAVIE, Fla. – Renowned marine wildlife artist and conservationist Dr. Guy Harvey and Sir Richard Branson are going to race each other!
Well, sort of.
They have signed up for the Great Shark Race, and they are challenging others to step up and sponsor a shark in this one-of-a-kind race. But time is running out – there's less than two weeks until the start of the race.
"This is a great way for people or corporations to get directly involved with cutting-edge shark research," said Guy Harvey, Ph.D. "Plus, participants can promote their support and have bragging rights as family, friends and business associates follow their own shark online."
Nova Southeastern University (NSU,) NSU's Guy Harvey Research Institute (GHRI) and the Guy Harvey Ocean Foundation (GHOF,) have created an innovative race that allows businesses and/or individuals to sponsor sharks through the purchase of satellite tags that not only gather valuable data, but also enable researchers and the public to follow these animals via the internet as they travel in near real-time.
The Great Shark Race consists of two "divisions" – the Shortfin Mako Shark Division and the Oceanic Whitetip Shark Division. Participants sponsor satellite tags ($5,000 each,) which are affixed to either a mako or an oceanic whitetip shark. The shark in each division that travels the furthest in six months wins. The winning sponsor will receive an incredible prize, including a diving and/or a fishing expedition at the Guy Harvey Outpost in Islamorada, Florida and Guy Harvey original artwork. Existing sponsors are Virgin Unite, GHOF, Florida Sea Grant and Guy Harvey Outpost.
The race was created as a way to shine a spotlight not only the incredible distances these and other sharks swim through the waters of many countries, but also to draw attention to the effects of overfishing and to get people and corporations involved in the science and the data gathering process. Without the reliable data, fishery managers are hampered in their management and conservation efforts.
"Given the large reductions and declining population trends both species are in need of better management and immediate conservation," said Mahmood Shivji, Ph.D., professor at NSU's Oceanographic Center and the director of NSU's GHRI. "Both species are known to travel long distances but hardly anything is known about the details of these movements in terms of their timing, orientation, scales of movement, differences between sexes and sizes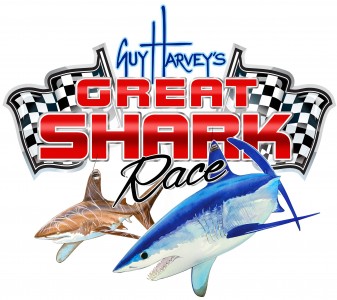 and what factors drive these migrations. This knowledge is essential for developing effective conservation measures, such as time and area closures for shark fisheries."
The GSR kicks-off on Thursday, April 2 after GHRI researchers return from an expedition to Isla Mujeres, Mexico to deploy satellite tags on mako sharks. The second leg of the race starts on June 1, 2015, when researchers will be in Grand Cayman to tag oceanic whitetip sharks. The fin-mounted satellite tags utilize the latest in tracking technology to allow researchers and the public to follow the sharks online.
Sir Richard Branson is pushing to have all Caribbean nations provide legislated protection for sharks within the next five years as part of the Caribbean Challenge Initiative. So far the Bahamas, Honduras, the British Virgin Islands (BVI) and the Cayman Islands have such legislation in place.
These two species of ocean-going sharks have become the focus of a long-term research effort by NSU and GHRI researchers. Both species have been extensively overfished worldwide with the mako listed by the International Union for Conservation of Nature (IUCN) as vulnerable to extinction, and the oceanic whitetip as critically endangered in the Atlantic. Shivji said this knowledge is essential for developing effective conservation measures, such as time and area closures for shark fisheries.
There has been very little research work conducted on mako sharks until a study to track these ocean-going speedsters was started three years ago off the Yucatan in Mexico by researchers at the GHRI. As the study has expanded, several corporations have now increased their support. Notably Sir Richard Branson and Virgin Unite are supporting shark tracking efforts by the GHRI in the western Caribbean.
"We want to have some fun, but even more importantly use the race to bring added awareness to the plight of these magnificent animals," said Shivji. "It's vital that we learn the migratory patterns and other aspects of these animals' lives so we can ensure they survive and thrive for years to come."
Guy Harvey and Sir Richard Branson have taken the challenge and sponsored a shark – and they want others to join the race, too! There is still time for individuals or corporations to get involved. Be active, take part and make a difference in shark studies and conservation. Please visit www.greatsharkrace.com or www.guyharveyoceanfoundation.org to sign up as a sponsor.
###
About Nova Southeastern University (NSU): Located in beautiful Fort Lauderdale, Florida, NSU is a dynamic research institution dedicated to providing high-quality educational programs at the undergraduate, graduate and first-professional degrees levels.  An independent, not-for-profit institution with approximately 25,000 students, NSU has campuses in Fort Lauderdale, Fort Myers, Jacksonville, Miami, Miramar, Orlando, Palm Beach and Tampa, Florida as well as  San Juan, Puerto Rico and online globally.  For more than 50 years, NSU has been awarding degrees in a wide range of fields, while fostering groundbreaking research and an impactful commitment to community. Classified as a research university with "high research activity" by the Carnegie Foundation for the Advancement of Teaching, NSU is one of only 37 universities nationwide to also be awarded Carnegie's Community Engagement Classification. For more information, please visit www.nova.edu
About NSU's Oceanographic Center: The Oceanographic Center provides high-quality graduate education programs (i.e. master's, doctoral, certificate) in a broad range of marine science disciplines. Center researchers carry out innovative, basic and applied marine and research programs in coral reel biology, ecology, and geology; fish biology, ecology, and conservation; shark and billfish ecology; fisheries science; deep sea organismal biology and ecology; invertebrate and vertebrate genomics, genetics, molecular ecology, and evolution; microbiology; biodiversity; observation and modeling of large scale ocean circulation, coastal dynamics, and ocean atmosphere coupling; benthic habitat mapping; biodiversity; histology; and calcification. For more information, please visit http://www.nova.edu/ocean
Media Contact
Joe Donzelli | Office of Public Affairs
954-262-2159 (office)
954-661-4571 (cell)
jdonzelli@nova.edu
---
---