NSU Newsroom
SharkBytes
Horizons
This version of NSU News has been archived as of February 28, 2019. To search through archived articles, visit nova.edu/search. To access the new version of NSU News, visit news.nova.edu.
This version of SharkBytes has been archived as of February 28, 2019. To search through archived articles, visit nova.edu/search. To access the new version of SharkBytes, visit sharkbytes.nova.edu.
Sharks Increase Gold Medal Count To 16
NSU continues to sit in first place on both sides
FOR INMEDIATE RELEASE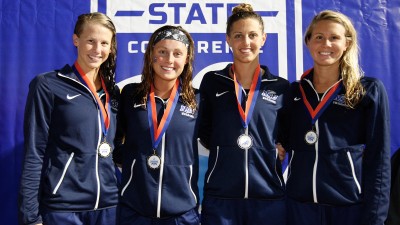 FORT LAUDERDALE/DAVIE, Fla. – On day three of the Sunshine State Conference Championships, the Sharks earned sic gold medals, broke three SSC-meet records, two SSC record and two NSU record.   INSIDE THE MEET: WOMEN TOTAL SCORES: Nova Southeastern Sharks (742.5, 1st Place) MEN TOTAL SCORES: Nova Southeastern Sharks (665, 1st Place) LOCATION: The Long Center | Clearwater, Fla. FOLLOW US: @NSUSHARKS on Twitter, Facebook, Instagram and YouTube TOP PERFORMERS: 
HOW IT HAPPENED:
Sundstedt started the morning strong for the Sharks with a first-place finish in the 500 freestyle with a B-Cut time of 4:53.37.
Blake Woodrow and Samuel Brettman grabbed the second and third spot in the 500 free prelims, finishing in 4:29.46 and 4:30.08, respectively, both B-Cut times, as well.
Jenna Johns took the first seed in the 100 backstroke prelims, finishing with her B-Cut time of 55.13.
DeVeny and Caroline Oster took the first and second seeds in the 200 fly, with the times of 2:00.68 and 2:02.06, respectively.
Westman took first in the 100 breaststroke with a time of 1:02.63.
UP NEXT: 
The four-day SSC Championship meet will conclude tomorrow, Sunday, Feb. 25. The prelims will remain at 10:00 a.m., but finals will begin at 5:00 p.m. preceded by senior student-athlete recognition.
SHARKS ON SOCIAL MEDIA:
Follow along with live updates on Twitter by following @NSU_Swim.
###
About Nova Southeastern University (NSU): Located in beautiful Fort Lauderdale, Florida, NSU is ranked among U.S. News & World Report's Top 200 National Research Universities and is a dynamic, private research university providing high-quality educational and research programs at the undergraduate, graduate, and first-professional degree levels. Established in 1964, NSU now includes 16 colleges, the 215,000-square-foot Center for Collaborative Research, a private JK-12 grade school, the Mailman Segal Center for Human Development with specialists in Autism, the world-class NSU Art Museum Fort Lauderdale, and the Alvin Sherman Library, Research and Information Technology Center, which is Florida's largest public library. NSU has campuses in Fort Lauderdale, Fort Myers, Jacksonville, Miami, Miramar, Orlando, Palm Beach, and Tampa, Florida, as well as San Juan, Puerto Rico, while maintaining a presence online globally. Classified as a research university with "high research activity" by the Carnegie Foundation for the Advancement of Teaching, NSU is one of only 50 universities nationwide to also be awarded Carnegie's Community Engagement Classification, and is also the largest private institution in the United States that meets the U.S. Department of Education's criteria as a Hispanic-serving Institution. For more information, please visit www.nova.edu.
February 26, 2018
Contact Information:
Jameson Carter
Athletics Communications
954-262-8275 (office)
jcarter1@nova.edu
---
---