NSU Newsroom
SharkBytes
Horizons
This version of NSU News has been archived as of February 28, 2019. To search through archived articles, visit nova.edu/search. To access the new version of NSU News, visit news.nova.edu.
This version of SharkBytes has been archived as of February 28, 2019. To search through archived articles, visit nova.edu/search. To access the new version of SharkBytes, visit sharkbytes.nova.edu.
Shark Tagged by NSU's Guy Harvey Research Institute Apparently Enjoying Time in Warm, Tropical Waters
FORT LAUDERDALE-DAVIE, Fla. – Like his human counterparts, it seems a shortfin mako shark tagged by researchers at Nova Southeastern University's Guy Harvey Research Institute (GHRI) has decided to visit the tropical waters off Puerto Rico.
The shark, dubbed "St. Mary's" as it's named for a school in Ohio, has "pinged" off the coast of Puerto Rico. The shark was originally tagged off Ocean City, Maryland last May.
The five-and-a-half-foot juvenile male shark is among more than 40 mako sharks satellite tagged and being tracked by researchers at NSU's GHRI. The institute began tagging mako sharks in 2009 to study their migratory patterns and now undertakes expeditions worldwide to study them. The school's marine experts have tagged mako sharks as far away as Mexico and New Zealand. In addition to makos, GHRI scientists are also tracking tiger, oceanic white tip and sand tiger sharks, as well as blue and white marlin.
This particular shark has shown quite the dramatic swim track – spending time in northern waters and then suddenly, and dramatically, turning and heading almost due south. St. Mary's, which was caught, tagged and released on May 17, 2014, has traveled more than 7,300 miles, visiting the waters off Nova Scotia, south through the open Atlantic to Venezuela and north towards Puerto Rico.
Mahmood Shivji, Ph.D., professor at NSU Oceanographic Center and director of NSU's GHRI and Save our Seas Research Center said his researchers have special interest in understanding mako shark migratory behavior because this information is essential for proper fisheries management and conservation of this internationally roving species.
The public can follow St. Marys and other shark movements in near real-time online at (www.ghritracking.org).
Another unique project und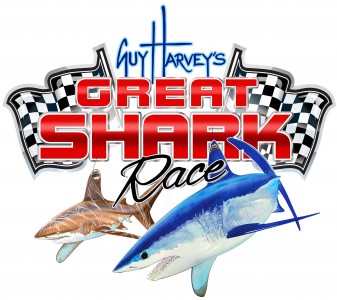 erway by NSU's Oceanographic Center, GHRI and The Guy Harvey Ocean Foundation is The Great Shark Race. This one-of-a-kind project allows businesses and/or individuals to enhance research on these declining species by sponsoring sharks through the purchase of satellite tags. The tags enable researchers to study the sharks' migratory behavior and the public to follow these animals in near real-time via the internet as they travel.
The Great Shark Race consists of two "divisions" – the Shortfin Mako Shark Division and the Oceanic Whitetip (OWT) Shark Division. Participants sponsor satellite tags ($5,000 each,), which are affixed to either a mako shark or an oceanic whitetip shark in the Caribbean. Then the shark in each division that travels the furthest in six months wins. Renowned marine wildlife artist and conservationist Guy Harvey Ph.D. and Sir Richard Branson are "competing in the first race" by sponsoring tags for mako sharks. To learn more about the Great Shark Race visit www.GreatSharkRace.com.
###
About Nova Southeastern University (NSU): Located in beautiful Fort Lauderdale, Florida, NSU is a dynamic research institution dedicated to providing high-quality educational programs at the undergraduate, graduate and first-professional degrees levels.  An independent, not-for-profit institution with approximately 25,000 students, NSU has campuses in Fort Lauderdale, Fort Myers, Jacksonville, Miami, Miramar, Orlando, Palm Beach and Tampa, Florida as well as  San Juan, Puerto Rico and online globally.  For more than 50 years, NSU has been awarding degrees in a wide range of fields, while fostering groundbreaking research and an impactful commitment to community. Classified as a research university with "high research activity" by the Carnegie Foundation for the Advancement of Teaching, NSU is one of only 37 universities nationwide to also be awarded Carnegie's Community Engagement Classification. For more information, please visit www.nova.edu
About NSU's Oceanographic Center: The Oceanographic Center provides high-quality graduate education programs (i.e. master's, doctoral, certificate) in a broad range of marine science disciplines. Center researchers carry out innovative, basic and applied marine and research programs in coral reel biology, ecology, and geology; fish biology, ecology, and conservation; shark and billfish ecology; fisheries science; deep sea organismal biology and ecology; invertebrate and vertebrate genomics, genetics, molecular ecology, and evolution; microbiology; biodiversity; observation and modeling of large scale ocean circulation, coastal dynamics, and ocean atmosphere coupling; benthic habitat mapping; biodiversity; histology; and calcification. For more information, please visit http://www.nova.edu/ocean
About NSU's Guy Harvey Research Institute: Established in 1999, the Guy Harvey Research Institute (GHRI) at NSU is collaboration between the renowned marine artist, scientist and explorer, Dr. Guy Harvey, and Nova Southeastern University's Oceanographic Center. The mission of the GHRI is to provide the scientific information necessary to understand, conserve, and effectively manage the world's marine fishes and their ecosystems. The GHRI is one of only a handful of private organizations dedicated exclusively to the science-based conservation of marine fish populations and biodiversity. The research, education and outreach activities of the GHRI are supported by the Guy Harvey Ocean Foundation, AFTCO Inc., extramural research grants, philanthropic donations by private businesses and individuals, and NSU. Please visit http://www.nova.edu/ocean/ghri/index.html
Media Contact
Joe Donzelli | Office of Public Affairs
954-262-2159 (office)
954-661-4571 (cell)
jdonzelli@nova.edu
---
---