NSU Newsroom
SharkBytes
Horizons
This version of NSU News has been archived as of February 28, 2019. To search through archived articles, visit nova.edu/search. To access the new version of NSU News, visit news.nova.edu.
This version of SharkBytes has been archived as of February 28, 2019. To search through archived articles, visit nova.edu/search. To access the new version of SharkBytes, visit sharkbytes.nova.edu.
Satellite-Tagged Shortfin Mako Shark Has Ocean Journey Cut Short
Mako Was Tagged off the Coast of Ocean City, Md. as Part of Ongoing Shark Research
FOR IMMEDIATE RELEASE
FORT LAUDERDALE/DAVIE, Fla. – For one week every year people seem glued to their televisions watching program after program about sharks. After that week, the spotlight on sharks seems to fade – but not for the researchers who are studying these apex predators all 52 weeks of the year.
One thing they've learned in the decades of study – sharks have way more to fear from humans than the other way around. For evidence of such, look no further than research being done at Nova Southeastern University's (NSU) Guy Harvey Research Institute.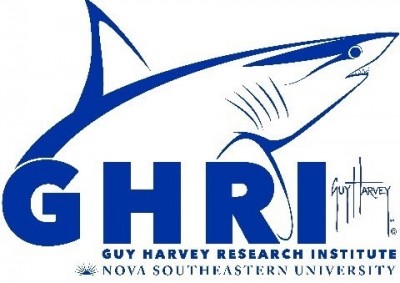 Earlier this year a team of researchers were off the coast of Ocean City, Maryland catching, tagging and releasing shortfin mako sharks. They have been doing this for more than a decade as a way to gather information about these animals so they can be better protected.
Unfortunately one of the sharks tagged during that excursion has been caught by fisherman off the coast of Rhode Island. The shark, named SeaWorld 5 (after the organization that sponsored the satellite tags), was tagged on May 25, 2018.
"We've had our satellite tagged sharks captured often during the study, and it's always sad when this happens because it not only interrupts the shark's migration but also hinders collection of data aimed at creating a sustainable fishery," said Mahmood Shivji, Ph.D., the director of NSU's GHRI. "At the same time we also understand that most of the tagged makos that have been captured have been taken in legal fisheries. But it does illustrate the gauntlet of hooks these sharks have to navigate on their migrations."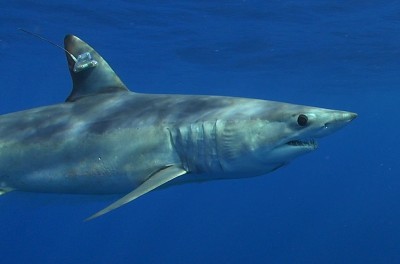 Turns out SeaWorld 5 lasted just 37 days after being tagged, logging 1,565 miles. The shark was captured by the longline fishing vessel 'Eagle Eye' and the tag was turned over by Captain John Caldwell after seeing a story in the local media about the missing tag. According to Caldwell, the shark was harvested in compliance with all rules and regulations.
"We appreciate Captain Caldwell getting in touch with us so he could return the satellite tag," said Brad Wetherbee, Ph.D. "The tags are a significant cost to our research, so we work with all fishing boat captains so they understand what's at stake and what to do if they catch one of our tagged makos. It's never a wrong time to do the right thing."
NSU's GHRI has tagged almost 100 mako sharks, with more than 30% having been caught and killed. This rate of fishing mortality is 10 times higher than previously thought and has helped convince fishery managers to increase protections for this economically and ecologically important species. Many of these sharks can be followed online in near real-time at www.nova.edu/sharktracking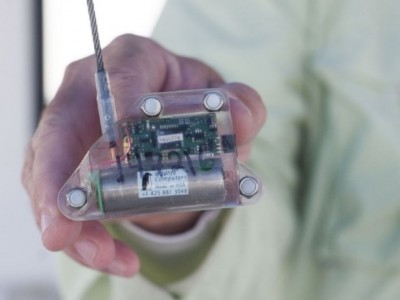 "The satellite tags, which are affixed to a shark's dorsal fin, report the shark's location every time it breaks the surface of the water and are used to better understand the migration patterns of these open ocean travelers," said Greg Jacoski, executive director of the Guy Harvey Ocean Foundation. "Recovering the tag back allows researchers to refurbish and deploy it on another shark, helping reduce costs."
This shark is one of a handful that were sponsored by SeaWorld Parks & Entertainment (SEA) as part of a partnership with world-renowned marine artist and scientist, Dr. Guy Harvey. The partnership, announced in 2016, focuses on ocean health and the plight of sharks in the wild. The two organizations partnered to raise awareness of these important issues and to collaborate on science and research to increase understanding of how to better protect these critical predators and their habitats.
For more information on how to support the Guy Harvey Ocean Foundation, please contact Executive Director Greg Jacoski at greg@guyharvey.com or by calling (954) 424-6389. To learn how to support the ongoing research at NSU's Guy Harvey Research Institute, please contact Dr. Mahmood Shivji at mahmood@nova.edu.
Be sure to sign up for NSU's RSS feed so you don't miss any of our news releases, guest editorials and other announcements. Please sign up HERE.
###
About Nova Southeastern University (NSU): Located in beautiful Fort Lauderdale, Florida, NSU is ranked among U.S. News & World Report's Top 200 National Research Universities and is a dynamic, private research university providing high-quality educational and research programs at the undergraduate, graduate, and first-professional degree levels. Established in 1964, NSU now includes 16 colleges, the 215,000-square-foot Center for Collaborative Research, a private JK-12 grade school, the Mailman Segal Center for Human Development with specialists in Autism, the world-class NSU Art Museum Fort Lauderdale, and the Alvin Sherman Library, Research and Information Technology Center, which is Florida's largest public library. NSU has campuses in Fort Lauderdale, Fort Myers, Jacksonville, Miami, Miramar, Orlando, Palm Beach, and Tampa, Florida, as well as San Juan, Puerto Rico, while maintaining a presence online globally. Classified as a research university with "high research activity" by the Carnegie Foundation for the Advancement of Teaching, NSU is one of only 50 universities nationwide to also be awarded Carnegie's Community Engagement Classification, and is also the largest private institution in the United States that meets the U.S. Department of Education's criteria as a Hispanic-serving Institution. For more information, please visit www.nova.edu.
About NSU's Guy Harvey Research Institute: Established in 1999, NSU's Guy Harvey Research Institute (GHRI) is a collaboration between the renowned marine artist, scientist and explorer, Dr. Guy Harvey, and Nova Southeastern University's Halmos College of Natural Sciences and Oceanography. The mission of NSU's GHRI is to provide the scientific information necessary to understand, conserve, and effectively manage the world's marine fishes and their ecosystems. It is one of only a handful of private organizations dedicated exclusively to the science-based conservation of marine fish populations and biodiversity. The research, education and outreach activities of NSU's GHRI are supported by the Guy Harvey Ocean Foundation, AFTCO Inc., extramural research grants, philanthropic donations by private businesses and individuals and NSU.  Please visit nova.edu/ocean/ghri/index.html for more information.
About Guy Harvey: A unique blend of artist, scientist, diver, angler, conservationist and explorer, Guy Harvey is fiercely devoted to his family and his love of the sea. His childhood passion for the ocean and its living creatures not only inspired him to draw, but fueled a burning interest that prompted a formal education in marine science. Having graduated with honors in Marine Biology from Aberdeen University in Scotland in 1977, Guy returned home to Jamaica to resume his education, earning his Ph.D. from the University of the West Indies in 1984. Though he gave up a budding career as a marine biologist for that of a highly acclaimed artist, Guy has continued his relentless pursuit to unravel the mysteries of the sea, traveling the world to better understand the habits and habitats of the marine wildlife he paints. For more information, please visit www.guyharvey.com.
About the Guy Harvey Ocean Foundation: The Guy Harvey Ocean Foundation (GHOF) conducts scientific research and hosts educational programs aimed at conserving the marine environment. The GHOF also funds affiliated researchers working to better understand our ocean ecosystem and educators helping to foster the next era of marine conservationists. The GHOF will help ensure that future generations can enjoy and benefit from a properly balanced ocean ecosystem.
About SeaWorld Entertainment, Inc.: SeaWorld Entertainment, Inc. (NYSE: SEAS) is a leading theme park and entertainment company providing experiences that matter, and inspiring guests to protect animals and the wild wonders of our world. The company is one of the world's foremost zoological organizations and a global leader in animal welfare, training, husbandry and veterinary care. The company collectively cares for what it believes is one of the largest zoological collections in the world and has helped lead advances in the care of animals. The company also rescues and rehabilitates marine and terrestrial animals that are ill, injured, orphaned or abandoned, with the goal of returning them to the wild. The SeaWorld® rescue team has helped more than 27,000 animals in need over the last 50 years.
SeaWorld Entertainment, Inc. owns or licenses a portfolio of recognized brands including SeaWorld, Busch Gardens® and Sea Rescue®. Over its more than 50-year history, the company has built a diversified portfolio of 11 destination and regional theme parks that are grouped in key markets across the United States, many of which showcase its one-of-a-kind zoological collection of over 800 species of animals. The company's theme parks feature a diverse array of rides, shows and other attractions with broad demographic appeal which deliver memorable experiences and a strong value proposition for its guests.
MEDIA CONTACTS
July 30, 2018
Joe Donzelli | Office of Media Relations
Nova Southeastern University
954-262-2159 (office) | 954-661-4571 (cell)
jdonzelli@nova.edu | www.nova.edu | @NSU_Joe
Carlos Goycochea
Pierson Grant Public Relations
cgoycochea@piersongrant.com
954-776-1999 ext. 239
---
---