NSU Newsroom
SharkBytes
Horizons
This version of NSU News has been archived as of February 28, 2019. To search through archived articles, visit nova.edu/search. To access the new version of NSU News, visit news.nova.edu.
This version of SharkBytes has been archived as of February 28, 2019. To search through archived articles, visit nova.edu/search. To access the new version of SharkBytes, visit sharkbytes.nova.edu.
S. Fl. Visitors to Get Experience of a Lifetime – Shark Tagging with Renowned NSU Researchers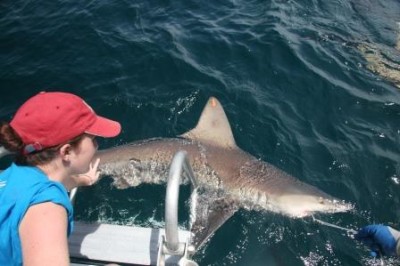 FORT LAUDERDALE-DAVIE, Fl –  It's one of the only vacation experiences you can have where you work side-by-side with world-class scientists and researchers.
For the inaugural vacation package, six intrepid vacationers have signed up (so far) to receive an exclusive, behind-the-scenes tour of NSU's Oceanographic Center and NSU's Guy Harvey Research Institute to learn more about shark conservation and the outstanding work being done by NSU faculty and researchers. More people are calling about possible shark tagging packages in the future.
"As word is spreading about this unique vacation package, we're receiving calls from all over," said Amaury Piedra, general manager of The Westin Beach Resort & Spa, Fort Lauderdale. "We are quickly adding additional dates to allow travelers to add this experience to their vacation plans – it's not every day you get to help researchers tag sharks."
The guests will join NSU's researchers on the high seas Saturday, July 26th.
After learning about NSU's shark research, the guests will then hit the water to help researchers. While on board, participants will help put fishing equipment together, bait the hooks used to catch the sharks and then place the gear in the water. Once a shark is caught and brought safely on the boat by the NSU research team, guests will be able help measure and tag the animal, collect samples of tissue and take photos before the shark is released back into the ocean.
"Our continuing goal over many years at Nova Southeastern University Oceanographic Center has been to understand the world's oceans and the abundance and distribution of the creatures that call them home," said Richard Dodge, Ph.D., NSU's Oceanographic Center's dean.  "Sharks are majestic creatures and as top predators, actually structure the entire ecosystem.  Our research programs are generating important knowledge, and this one in particular is allowing a unique sharing opportunity in a very hands-on way."
Some of the possible sharks that may be tagged include nurse, blacktip, spinner, sandbar, blacknose, lemon, Atlantic sharp nose, tiger, bull, mako and great hammerhead.
ATTENTION MEDIA: Reporters interested in accompanying the guests on the shark tagging excursion must RSVP to Joe Donzelli, Nova Southeastern University Public Affairs, no later than noon Friday, July 25th. You can RSVP either by phone (954-262-2159) or e-mail (jdonzelli@nova.edu).
For more information on pricing and vacation package details, those interested should call 954-467-1111 or visit The Westin Beach Resort & Spa, Fort Lauderdale.
###
About Nova Southeastern University: Situated on 314 beautiful acres in Ft. Lauderdale, Florida, Nova Southeastern University (NSU) is a dynamic research institution dedicated to providing high-quality educational programs at all levels.  NSU is a not-for-profit independent institution with 26,000 students. NSU awards associate's, bachelor's, master's, specialist, doctoral and first-professional degrees in a wide range of fields. NSU is classified as a research university with "high research activity" by the Carnegie Foundation for the Advancement of Teaching, and it is one of only 37 universities nationwide to also be awarded Carnegie's Community Engagement Classification. For more information, please visit www.nova.edu. Celebrating 50 years of academic excellence!
About NSU's Oceanographic Center: The Oceanographic Center provides high-quality graduate education programs (i.e. master's, doctoral, certificate) in a broad range of marine science disciplines. Center researchers carry out innovative, basic and applied marine and research programs in coral reel biology, ecology, and geology; fish biology, ecology, and conservation; shark and billfish ecology; fisheries science; deep sea organismal biology and ecology; invertebrate and vertebrate genomics, genetics, molecular ecology, and evolution; microbiology; biodiversity; observation and modeling of large scale ocean circulation, coastal dynamics, and ocean atmosphere coupling; benthic habitat mapping; biodiversity; histology; and calcification. For more information, please visit http://www.nova.edu/ocean    
---
---