NSU Newsroom
SharkBytes
Horizons
This version of NSU News has been archived as of February 28, 2019. To search through archived articles, visit nova.edu/search. To access the new version of NSU News, visit news.nova.edu.
This version of SharkBytes has been archived as of February 28, 2019. To search through archived articles, visit nova.edu/search. To access the new version of SharkBytes, visit sharkbytes.nova.edu.
Rowing Captures Bronze at 2018 SSC Championships
Two Sharks earn spots on the SSC All-Tournament Teams
FOR IMMEDIATE RELEASE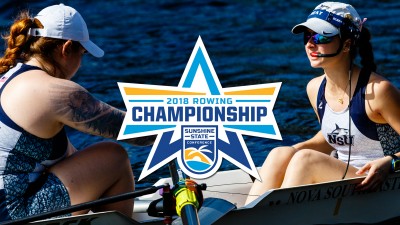 FORT LAUDERDALE/DAVIE and SARASOTA, Fla. – The Nova Southeastern rowing squad grabbed third place in the 2018 Sunshine State Championships after claiming fourth in the varsity four and third in the varsity eight on Friday morning. The Championships were held at Nathan Benderson Park in Sarasota and among the pool of conference opponents were reigning SSC Champions No. 3 Florida Tech, No. 2 Barry, Rollins, Tampa and SSC Newcomer Embry-Riddle.
INSIDE THE RACE:
LOCATION: Nathanson Benderson Park | Sarasota, Fla.
HOST: 2018 Sunshine State Conference Championships
FOLLOW US: @NSUSHARKS on Twitter, Facebook, Instagram and YouTube
RESULTS:
In the first race of the day, NSU's exhibition four claimed second with a time of 7:57.90. The second varsity four boat was comprised of coxswain Miranda Sadlow, Samantha Loriot, Barbara Sansur, Nicole Baliszewski and Emma Brownawell.
NSU's varsity four boat made of coxswain Maydelissa Pinell, Mikayla Switzer, Mikayla Shelton, Danica Buse and Jessica Cavalier finished in fourth in 7:35.57, more than 28 seconds ahead of the fifth-place boat.
The varsity eight boat had a strong showing in their race, taking third place with a time of 7:12.50. The boat was led by veteran coxswain Victoria Poretti, Ariel McAffrey, Rayna Stuart, Jasmine Morris, Emily Stewart, Kassie Moss, Ayelen Vegas, Marnie McLean and Lisette Villarreal.
AN EXTRA BITE
For their performances in the championship, Switzer was named to the All-Conference Team and Morris earned a spot on the All-Freshman/Novice Team.
UP NEXT
The Sharks will compete once more this season in the prestigious Dad Vail Regatta before the preparation for the NCAA Tournament will begin. The regatta will take place on May 11 and 12 in Philadelphia on the Schuylkill River.
SHARKS ON SOCIAL MEDIA:
Follow along with live updates on Twitter by following @NSU_Rowing.
###
About Nova Southeastern University (NSU): Located in beautiful Fort Lauderdale, Florida, NSU is ranked among U.S. News & World Report's Top 200 National Research Universities and is a dynamic, private research university providing high-quality educational and research programs at the undergraduate, graduate, and first-professional degree levels. Established in 1964, NSU now includes 16 colleges, the 215,000-square-foot Center for Collaborative Research, a private JK-12 grade school, the Mailman Segal Center for Human Development with specialists in Autism, the world-class NSU Art Museum Fort Lauderdale, and the Alvin Sherman Library, Research and Information Technology Center, which is Florida's largest public library. NSU has campuses in Fort Lauderdale, Fort Myers, Jacksonville, Miami, Miramar, Orlando, Palm Beach, and Tampa, Florida, as well as San Juan, Puerto Rico, while maintaining a presence online globally. Classified as a research university with "high research activity" by the Carnegie Foundation for the Advancement of Teaching, NSU is one of only 50 universities nationwide to also be awarded Carnegie's Community Engagement Classification, and is also the largest private institution in the United States that meets the U.S. Department of Education's criteria as a Hispanic-serving Institution. For more information, please visit www.nova.edu.
April 27, 2018
Contact Information:
Jameson Carter
Athletics Communications
954-262-8275 (office)
jcarter1@nova.edu
---
---