NSU Newsroom
SharkBytes
Horizons
This version of NSU News has been archived as of February 28, 2019. To search through archived articles, visit nova.edu/search. To access the new version of NSU News, visit news.nova.edu.
This version of SharkBytes has been archived as of February 28, 2019. To search through archived articles, visit nova.edu/search. To access the new version of SharkBytes, visit sharkbytes.nova.edu.
Renowned Marine Artist Guy Harvey Joins NSU Marine Researcher Dr. Mahmood Shivji to Talk Sharks & Billfish
Presentation Part of New Marine Research Hub Featured at 2017 Fort Lauderdale International Boat Show
FOR IMMEDIATE RELEASE
F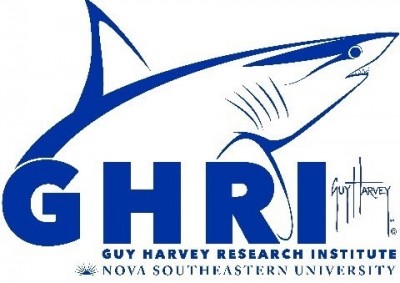 ORT LAUDERDALE/DAVIE, Fla. – Having one shark expert in one location out of the water is rare; having two in the same place at the same time is almost unheard of.
Well, that's exactly what's happening when internationally renowned marine artist, scientist and explorer Dr. Guy Harvey joins forces with fellow shark and billfish expert, Dr. Mahmood Shivji, a professor at Nova Southeastern University (NSU.) The two are teaming up at this year's Fort Lauderdale International Boat Show to deliver a presentation about their work researching sharks and billfish in waters around the world.
The presentation is scheduled for 2 p.m. Sunday, Nov. 5 at the show's Coral Reef Pavilion, booth 6 (map below) at the show's Bahia Mar location, 801 Seabreeze Blvd, Fort Lauderdale.
If you're looking for a unique story related to the annual Fort Lauderdale International Boat Show, this is it!
"This is a great opportunity to share information about the research that's being done in NSU's Guy Harvey Research Institute," said Shivji, who is the institute's director. "We've been studying sharks and billfish for many years, and the boat show gives us a great platform to talk about what needs to be done to ensure these animals continue to thrive for generations to come."
Established in 1999, NSU's Guy Harvey Research Institute is a collaboration between Dr. Guy Harvey, and NSU's Halmos College of Natural Sciences and Oceanography. The mission of the GHRI is to provide the scientific information necessary to understand, conserve, and effectively manage the world's marine fishes and their ecosystems. Their research involves a number of species – from tiger sharks to mako sharks to oceanic whitetip sharks to blue marlin.
This presentation is born from the newly created Marine Research Hub, which includes NSU, the University of Miami, Florida International University and Florida Atlantic University. This alliance of marine research universities and community supporters is creating global change through awareness, conservation and collaborative study of our natural Florida marine habitat and ocean life. 
Be sure to sign up for NSU's RSS feed so you don't miss any of our news releases, guest editorials and other announcements. Please sign up HERE.
###
About Nova Southeastern University (NSU): Located in beautiful Fort Lauderdale, Florida, NSU is ranked among US News & World Report's Top 200 National Research Universities and is a dynamic, private research university providing high-quality educational and research programs at the undergraduate, graduate, and first-professional degree levels. Established in 1964, NSU now includes 16 colleges, the 215,000-square-foot Center for Collaborative Research, a private JK-12 grade school, the Mailman Segal Center for Human Development with specialists in Autism, the world-class NSU Art Museum Fort Lauderdale, and the Alvin Sherman Library, Research and Information Technology Center, which is Florida's largest public library. NSU has campuses in Fort Lauderdale, Fort Myers, Jacksonville, Miami, Miramar, Orlando, Palm Beach, and Tampa, Florida, as well as San Juan, Puerto Rico, while maintaining a presence online globally. Classified as a research university with "high research activity" by the Carnegie Foundation for the Advancement of Teaching, NSU is one of only 50 universities nationwide to also be awarded Carnegie's Community Engagement Classification, and is also the largest private institution in the United States that meets the U.S. Department of Education's criteria as a Hispanic-serving Institution. Please visit www.nova.edu for more information about NSU and realizingpotential.nova.edu for more information on the largest fundraising campaign in NSU history.
About NSU's Halmos College of Natural Sciences and Oceanography: The college provides high-quality undergraduate (bachelor's degree) and graduate (master's and doctoral degrees and certificates) education programs in a broad range of disciplines, including marine sciences, mathematics, biophysics, and chemistry. Researchers carry out innovative basic and applied research programs in coral reef biology, ecology, and geology; fish biology, ecology, and conservation; shark and billfish ecology; fisheries science; deep-sea organismal biology and ecology; invertebrate and vertebrate genomics, genetics, molecular ecology, and evolution; microbiology; biodiversity; observation and modeling of large-scale ocean circulation, coastal dynamics, and ocean atmosphere coupling; benthic habitat mapping; biodiversity; histology; and calcification. The college's newest building is the state-of-the-art Guy Harvey Oceanographic Center, an 86,000-square-foot structure filled with laboratories; offices; seminar rooms; an auditorium; and indoor and outdoor running sea water facilities. Please visit cnso.nova.edu for more information.
About Guy Harvey: Guy Harvey is a unique blend of artist, scientist, diver, angler, conservationist and explorer, fiercely devoted to his family and his love of the sea. His childhood passion for the ocean and its living creatures not only inspired him to draw, but fueled a burning interest that prompted a formal education in marine science. Having graduated with honors in Marine Biology from Aberdeen University in Scotland in 1977, Guy returned home to Jamaica to resume his education, earning his Ph.D. from the University of the West Indies in 1984. Though he gave up a budding career as a marine biologist for that of a highly acclaimed artist, Guy has continued his relentless pursuit to unravel the mysteries of the sea, traveling the world to better understand the habits and habitats of the marine wildlife he paints. Please visit www.guyharvey.com for more information.
November 1, 2017
Joe Donzelli | Office of Public Relations
954-262-2159 (o) | 954-661-4571 (c)
jdonzelli@nova.edu | www.nova.edu | @NSU_Joe
---
---