NSU Newsroom
SharkBytes
Horizons
This version of NSU News has been archived as of February 28, 2019. To search through archived articles, visit nova.edu/search. To access the new version of NSU News, visit news.nova.edu.
This version of SharkBytes has been archived as of February 28, 2019. To search through archived articles, visit nova.edu/search. To access the new version of SharkBytes, visit sharkbytes.nova.edu.
Performance Uses Role-Playing Improv Exercises to Explore Aspects of Teenage Bullying – Nov. 22
FT. LAUDERDALE-DAVIE, Fla. – Recent headlines about Florida teens accused of lighting another boy on fire, and an Ohio teen committing suicide after being mercilessly taunted by classmates, are enough to make any parent afraid of the rising tide of increasingly violent bullying activity American teens are facing.
While bullying is a complex issue without a clear-cut solution, local activist and Nova Southeastern University (NSU) graduate student Patricia Cabal has created project Speak Up! to help address and explore some of this violent behavior.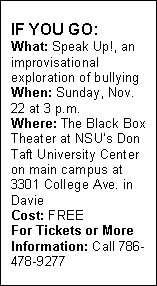 Cabal's SpeakUp! project is a collaboration involving Broward area middle school students, who utilized improvisational acting techniques to create a dynamic, one-act play to explore the different aspects of bullying. The result is a performance that resonates on a whole new level.
Speak Up! is also Cabal's capstone project for the Master's of Education in Interdisciplinary Arts program, offered through NSU's Fischler School of Education and Human Services. Speak Up! will be performed on Sunday, Nov. 22 at 3 p.m. in the Black Box Theater at NSU's Don Taft University Center.
Cabal's goal is to use Speak Up! as a model for an ongoing role-playing and improvisational acting project in area schools as a method for students to cope with bullying and look for solutions.
"This project has a future in school communities where students can use the arts to understand how to make a difference in their own schools," said Cabal, who is also pursuing graduate studies in NSU's Marriage and Family Therapy program. "It is essential to educate our youth to acknowledge the roles that they play in any conflict."
Creating Speak Up! was a six-week, intensive process. Cabal guided students, who used role play to identify the many factors and multiple perspectives present in adolescent and teenage bullying. Using the "Yes And! Rule" for improvisation, which emphasizes accepting each troupe member's ideas and building upon them, the group took ownership of the whole process including creating, transcribing and editing each scene.
"As the children improvised the play they noticed that different choices had different outcomes and that positive peer pressure was a key factor to help a victim," said Cabal, who graduated with a BFA in theater from New York University's Tisch School of the Arts. "By the end of the process, the students then realized that they can make a difference in their own school scenarios."
Tickets for SpeakUp! are FREE, and the performance is open to the public.
To request tickets, please email speakupnov2009@gmail.com or call 786-478-9277. Tickets will also be available at the theater on the day of the performance.
About Fischler School of Education and Human Services: Serving more than 15,000 students in approximately 40 countries, Nova Southeastern University's Fischler School of Education and Human Services is one of the largest schools of education at an accredited university in the United States. When we opened our doors more than 35 years ago, we shattered the barriers of traditional learning, causing a ripple effect that can still be felt today. Online, On-site, Or on our modern, 18-acre campus in North Miami Beach, Florida, our ideas, our approach, and our programs—found nowhere else in the nation—inspire our students to inspire the people around them to move the world. The Interdisciplinary Arts Program is offered through the Fischler School. Upon completion of the master's program, alumni are prepared to initiate innovative arts programs, events, and original new works:   www.schoolofed.nova.edu/iap
About Nova Southeastern University: Situated on 300 beautiful acres in Davie, Florida, Nova Southeastern University is a dynamic fully accredited institution dedicated to providing high-quality educational programs of distinction from preschool through the professional and doctoral levels. NSU has more than 28,000 students and is the sixth largest not-for-profit independent institution nationally. The university awards associate's, bachelor's, master's, specialist, doctoral, and first-professional degrees in a wide range of fields, including business, counseling, computer and information sciences, education, medicine, optometry, pharmacy, dentistry, various health professions, law, marine sciences, early childhood, psychology and other social sciences. For more information visit www.nova.edu.
Media Contact:
Andra Liwag, NSU Office of Public Affairs
954-262-5309 office, 954-873-8494 cell, andrali@nova.edu
---
---