NSU Newsroom
SharkBytes
Horizons
This version of NSU News has been archived as of February 28, 2019. To search through archived articles, visit nova.edu/search. To access the new version of NSU News, visit news.nova.edu.
This version of SharkBytes has been archived as of February 28, 2019. To search through archived articles, visit nova.edu/search. To access the new version of SharkBytes, visit sharkbytes.nova.edu.
NSU's Women's Cross Country Team Books Trip to Nationals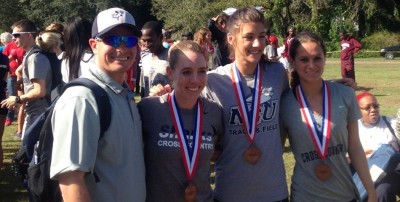 Nova Southeastern University will once again be represented at the NCAA Division II Cross Country National Championship, as the women's team finished third at the NCAA South Region Championship Saturday at the Dover Trails. The men's team finished sixth, with senior Long Tran (Saigon, Vietnam) individually qualifying for nationals.
The women had three All-South Region runners to push them through to the final race of the season. Alexandria Palm (Sr., Winnebago, Ill.) once again led the Sharks with a second-place finish. She was first among Sunshine State Conference runners with a time of 22:44.04, 40 seconds behind the individual regional champion. Behind Palm was junior Rose Howell (St. Louis, Mo.), who claimed ninth overall with a time of 22:06.20. Peri Bowman (Sr., Virginia Beach, Va.) wrapped up her team's all-region runners with an 18th-place finishing time of 23:47.10.
"Qualifying for nationals was no surprise," stated head coach Bryan Hagopian. "We have been running great all season, today was just another great day for us. I'm confident our team will have a great showing in Spokane, Washington in two weeks and I believe Alex has a great shot at becoming the team's first All-American."
Tran qualified for nationals as an individual, taking the final spot for a runner on a team that did not qualify. Tran claimed 11th place with a time of 33:07.30. Tran's time beat West Florida's Tim Wenger by more than 16 seconds to book his ticket to Spokane.
"He had a great race," stated Hagopian. "He got off to a great start and got better as the race went along. We did not know he qualified until we saw the results after the race, so it was a nice surprise. The whole team was excited for Tran, it was great to see as a coach."
Two other runners claimed top-25 finishes, earning all-region distinction. Wade White (Fr., Bangor, Pa.) claimed 21st place with a time of 34:12.30. It's the third fastest time ever for a freshman at NSU in the 10K. Four spots behind him was senior Timo Kilp (Tallinn, Estonia) with a time of 34:23.40. Kilp earns all-region honors for the second straight season.
On the women's side, Brittaney Smash (Sr., Arlington, Texas) and Aimee Sims (Jr., St. Anne, Ill.) finished back-to-back in 27th and 28th place with times of 24:30.50 and 24:34.50, respectively. Wade White's sister Brittany White (Jr., Bangor, Pa.) finished in 33rd place with a time of 25:06.30, while Katey CoDyre (So., Bowmanville, Canada) clocked in at 25:17.90 for 39th place.
Freshman Luis Gonzalez (Hereford, Ariz.) was one second behind the all-region cutoff, claiming 26th place with a time of 34:24.90. Fellow freshman Ben Manuel (Willemstad, Curacao) finished in 34:42.30. Nicholas Hogan (Peoria, Ariz.) was the next finisher in 48th place with a time of 35:48.30.  Rounding out all Sharks was Nicholas Hogan (So., Gainesville, Fla.) with a 65th-place time of 37:14.70.
Tran and the women's team will compete at nationals in Spokane, Wash. on Saturday, Nov. 23.
###
About Nova Southeastern University: Situated on 314 beautiful acres in Ft. Lauderdale, Florida, Nova Southeastern University (NSU) is a dynamic fully accredited research institution dedicated to providing high-quality educational programs at all levels.  NSU is a not-for-profit independent institution with 27,000 students. NSU awards associate's, bachelor's, master's, specialist, doctoral and first-professional degrees in a wide range of fields. NSU is classified as a research university with "high research activity" by the Carnegie Foundation for the Advancement of Teaching, and it is one of only 37 universities nationwide to also be awarded Carnegie's Community Engagement Classification. For more information, please visit www.nova.edu.
Media Contact:
Keith Smith | Assistant AD
(954) 262-8261 (office)
bs746@nova.edu
---
---