NSU Newsroom
SharkBytes
Horizons
This version of NSU News has been archived as of February 28, 2019. To search through archived articles, visit nova.edu/search. To access the new version of NSU News, visit news.nova.edu.
This version of SharkBytes has been archived as of February 28, 2019. To search through archived articles, visit nova.edu/search. To access the new version of SharkBytes, visit sharkbytes.nova.edu.
NSU's Oceanographic Center Researchers Continue to Study and Protect Marine Life With Help From a Federal Grant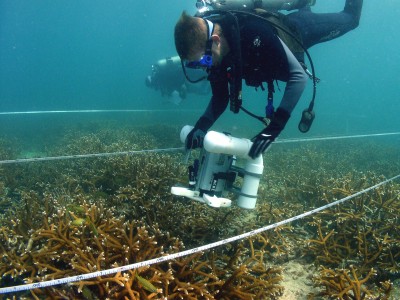 FORT LAUDERDALE-DAVIE, Fla. – Companies and government agencies continue exploring new, cleaner ways to produce energy – with some focus being placed on offshore electricity-generating systems. As the push for alternative energy sources continues, researchers want to explore how these electricity-producing systems may affect underwater marine life.
To help in this area, Nova Southeastern University's Oceanographic Center has recently been awarded part of a $400,000 grant from the U.S. Department of Energy (DOE) that will help fund a project in conjunction with Florida Atlantic University's SeaTech facility.
Richard Spieler, Ph.D., a professor and Director of Academic Programs at NSU's Oceanographic Center and Manhar Dhanak, Ph.D., director of FAU's SeaTech – Institute for Ocean and Systems Engineering were awarded the DOE grant to help monitor electromagnetic field (EMF) emissions associated with transmission of power from an offshore energy generating device (i.e. windmill) to an onshore station and measure its effect on marine life.
"We are pleased to be partnering with FAU on this project," said Spieler. "The research will add substantial knowledge to our understanding of the interactions between electrical fields and marine life."
Dhanak and Spieler will lead a team of graduate students, engineers and researchers from NSU's Oceanographic Center and FAU's SeaTech while collaborating with personnel from Naval Surface Warfare Center Carderock Division's South Florida Ocean Measurement Facility (SFOMF). The observational work will be carried out at SFOMF in Fort Lauderdale, Florida.
The purpose of the project is to monitor and assess how electromagnetic fields generated by an offshore electricity-generating device may affect the behavior of local marine species and seafloor communities.
Researchers will monitor EMF emissions from existing cables on the SFOMF range and their impact on marine life using sensors and cameras mounted on an autonomous underwater vehicle as well as on the sea bottom. These existing cables on the sea floor represent typical marine hydrokinetic equipment that may be sited offshore and could affect marine life activity.
The project will establish a database of field measurements that will be used to assess the potential ecological impacts of the electromagnetic fields on individual organisms, populations and communities in the area. The research data gathered from this project will help ensure that potential environmental impacts are addressed proactively as wave, tidal and offshore wind devices are developed for alternative energy sources.
For more information, contact Dr. Richard Spieler at NSU (spielerr@nova.edu) or Dr. Manhar Dhanak at FAU (dhanak@fau.edu).
###
About NSU's Oceanographic Center: NSU's Oceanographic Center, situated at Port Everglades in Hollywood, Florida, carries out innovative, basic and applied research and provides high-quality graduate and undergraduate education in a broad range of marine science and related disciplines. The Center also serves as a community resource for information, research and education on oceanographic and environmental issues. Areas of academic study and research include: coral reel studies, modeling of large scale ocean circulation, coastal dynamics, ocean atmosphere coupling, benthic ecology, marine biodiversity, calcification of invertebrates, marine fisheries, marine microbiology, molecular ecology and evolution, and wetlands ecology. For more information, please visit http://www.nova.edu/ocean
About Nova Southeastern University: Situated on 300 beautiful acres in Ft. Lauderdale, Florida, Nova Southeastern University (NSU) is a dynamic fully accredited research institution dedicated to providing high-quality educational programs at all levels.  NSU is a not-for-profit independent institution with an enrollment of approximately 27,000 students. NSU awards associate's, bachelor's, master's, specialist, doctoral and first-professional degrees in a wide range of fields. NSU is classified as a research university with "high research activity" by the Carnegie Foundation for the Advancement of Teaching, and it is one of only 37 universities nationwide to also be awarded Carnegie's Community Engagement Classification. For more information, please visit www.nova.edu
For more information contact:
Joe Donzelli | Office of Public Affairs
954-262-2159 (office)
jdonzelli@nova.edu
---
---