NSU Newsroom
SharkBytes
Horizons
This version of NSU News has been archived as of February 28, 2019. To search through archived articles, visit nova.edu/search. To access the new version of NSU News, visit news.nova.edu.
This version of SharkBytes has been archived as of February 28, 2019. To search through archived articles, visit nova.edu/search. To access the new version of SharkBytes, visit sharkbytes.nova.edu.
#NSU50 Top Moment No. 8: NSU Wins First Conference Championship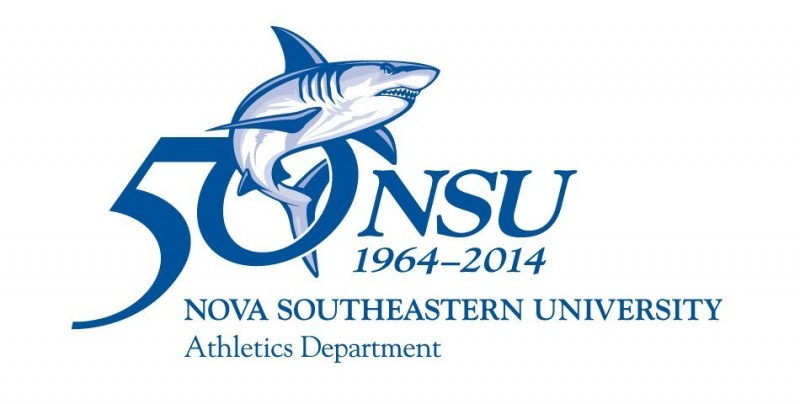 FORT LAUDERDALE, Fla.– March 17, 2014 –
The #NSU50 "Top Moments in NSU Athletics History" continues with the eighth moment on the list: NSU wins first conference championship in men's soccer.
NSU joined the Florida Intercollegiate Athletic Conference in the fall of 1990, forming a new conference that would eventually become the Florida Sun Conference. NSU entered conference play with an established men's soccer program that had made the NAIA postseason several years in a row. Several players from the 1980's are still highly recognized in the men's soccer record books.
In 1990, the Knights had four opponents in their way of capturing a conference title, none of which would come close to threatening NSU. The Knights did not give up a single goal in conference play, shutting out Flagler (1-0), Embry-Riddle (5-0), Palm Beach Atlantic (7-0) and Warner Southern (6-0). Other notable wins that season came against Florida Atlantic (3-2), Eckerd (4-0) and Florida Southern (5-3).
Hal Henderson led the Knights to the title in his third season as head coach. In a time when the Knights were still building its program, Henderson both served as coach and athletic trainer. Already inducted in the NAIA Hall of Fame in 1988, Henderson would retire from coaching a year later to become the Team USA U-17 athletic trainer and head administrator.
On the field, Jonas Westher was named a second-team NAIA All-American. Westher was a premier playmaker for the Knights and finished his career as a four-time all-region honoree. He was the fourth player in program history to record three assists in a single game, a mark that has never been topped. Current Shark Stefano Fanfoni (So., Cremona, Italy) tied the mark against No. 2 Rollins in 2013, the only time the single-game record has been challenged in the past five seasons.
Check back with NSUSharks.com next Tuesday for the next #NSU50 "Top Moments in NSU Athletics History."
Moment No. 1: NSU Athletics is Born
Moment No. 2: Knights Chosen as School Mascot
Moment No. 3: Hansley Hired as Director of Athletics
Moment No. 4: Nova Adds Four Sports
Moment No. 5: Nova Joins NAIA
Moment No. 6: Nova Adds Three More Teams
Moment No. 7: Nova Helps Form FIAC
For the latest NSU news and results, be sure to visit www.NSUSharks.com. To have results sent directly to your cell phone via text message, sign up for SMS text message delivery by clicking here. For the latest news, be sure to sign up for the Shark Alert E-newsletter by clicking here.
###
About Nova Southeastern University: Situated on 314 beautiful acres in Ft. Lauderdale, Florida, Nova Southeastern University (NSU) is a dynamic fully accredited research institution dedicated to providing high-quality educational programs at all levels.  NSU is a not-for-profit independent institution with 27,000 students. NSU awards associate's, bachelor's, master's, specialist, doctoral and first-professional degrees in a wide range of fields. NSU is classified as a research university with "high research activity" by the Carnegie Foundation for the Advancement of Teaching, and it is one of only 37 universities nationwide to also be awarded Carnegie's Community Engagement Classification. For more information, please visit www.nova.edu. Celebrating 50 years of academic excellence!
Media Contact:
Keith Smith | Assistant AD
(954) 262-8261 (office)
bs746@nova.edu
---
---